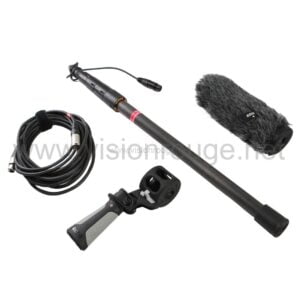 Rycote G5 Carbon Kit
¥120
In stock
SKU

RycoteG5Kit

Categories

Tagged as
Rycote Carbone G5 fiber boom stick + Pistol Rod G2 + Dead Kitten + XLR Cable
Imported from UK,
Rycotte Length: Collapsed: 0.66 m (2'2″); Extended: 2.50 m (8'2″) with XLR internal cabling.
Only 720g, easy to setup with 90 degrees lock for the stick alone.
The PG2 can be operated by hand or attached to a boompole via the 3/8″ thread attachment at the base.
It supports microphones with a diameter of 19-20mm or 21-22.5mm using the supplied interchangeable mounts.
Please ask before in order to prepare it for you.
Dead Kitten Rode WS6 included.
Suitable for the RØDE NTG-1, NTG-2 and VideoMic, as well as any shotgun microphone with a maximum slot length of 160.5mm (6 1/4″) and a diameter of 21-22.5mm.
2 kits available.
Related products