Shooting in China: FAQ
Here are few elements to help you choose the right team and gear when planing a video production or photography project in China mainland and Hong-Kong. We have been there since 2005 and will be happy to assist with your shooting in China.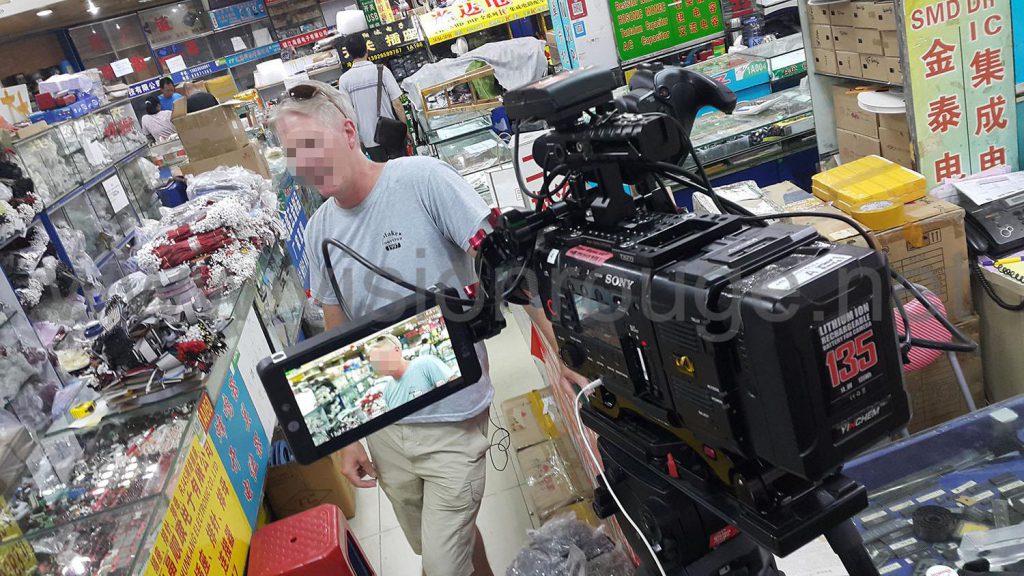 Our Sony PMW-F55 4K camera rented for a shooting at Shenzhen Electronic market.
Why not simply bringing the all gear with me?
Even with the right paperwork, you may face a very bad surprise when landing there.
Don't forget that any shooting in China may look suspicious. Media and communication are extremely controlled. I have countless examples where the full gear kit got confiscated on arrival and the crew had to pay a second time to rent over the filming equipment, looking for decent suppliers at the last minute.
We can provide specific setup with Sony as PMW-F55 or Canon/Zeiss prime lenses. The main difference with our competitors is that we actually owned the camera or have been using it ourselves. You can will be assure to get the last firmware installed, also.
All the gear you will be renting will have been tested and will come in bags easy to carry during your shooting.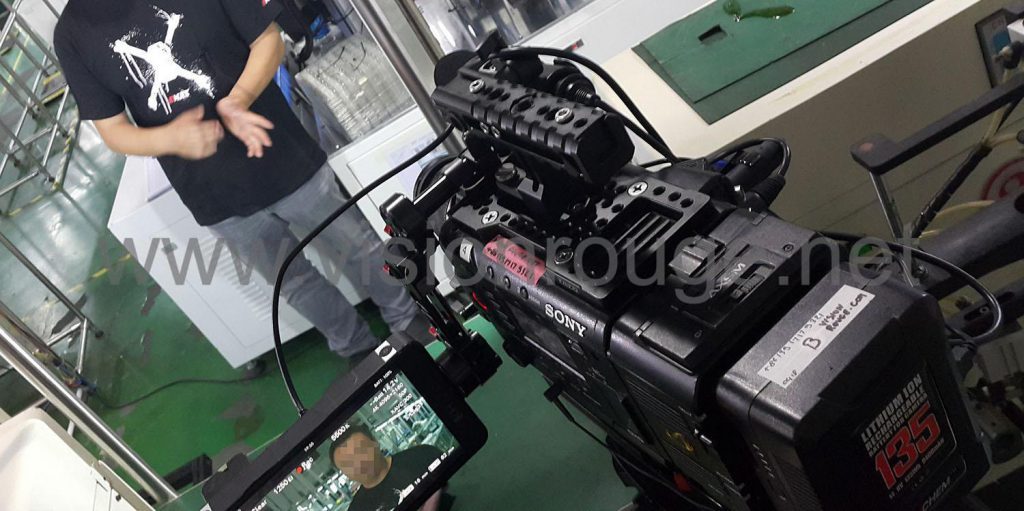 This is the actual picture of our shooting on May 2018 in Shenzhen and Dongguan where we provided a F55 as shooting drones required a global shutter.
So many time, local rental houses are just renting without shooting themselves; so they have very little idea of the details which going to make a equipment working or not. A Sony 4K capable FS7 camera is just a number for them, and offering a full ENG shoulder pad and viewfinder will not cross their mind. A tripod is a tripod, so why should I give s Vinten when a Chinese branded copy is available?
There are also plenty of china based websites claiming they can provide you this or this, but it's mainly subcontractor with no equipment at all. They will start wondering how to get your gear only few days prior to your shooting; looking for the cheapest sub-rental house. I guess it's easy to imagine in which condition your camera will arrive on site!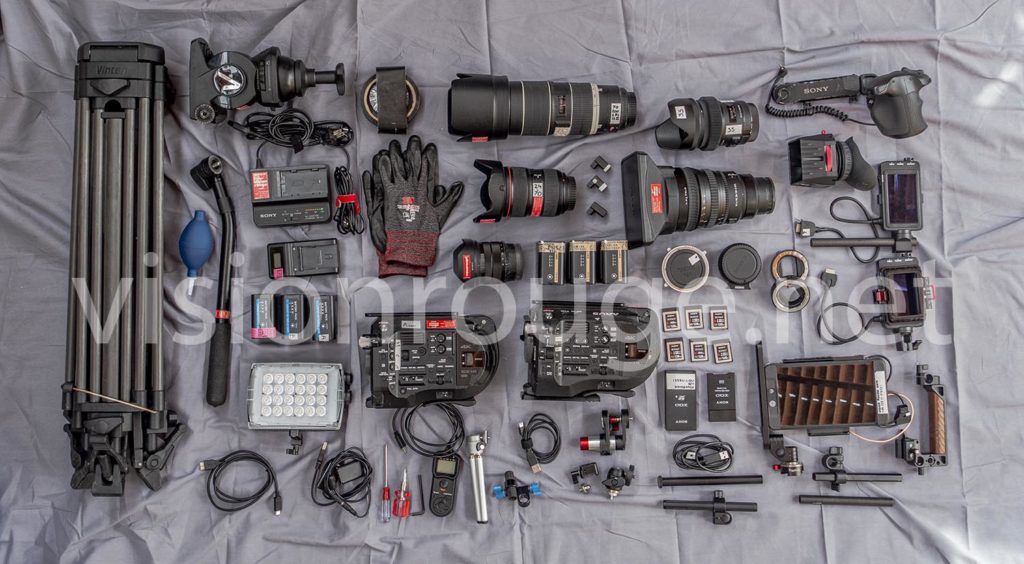 Here is the content of our bag on our way to a shooting. all our gear come with labels and is under our name.
One very easy way to check the reliability of your provider is to ask, prior to your shooting, for the serial number of the camera body for instance.
The second part of these will actually contact us and take percentage by CC your emails to us. Save your time and money; work with the one who actually do the job
Don't take risks; contact us prior to your filming to see what we can help you with. With have a large selection of 4K cameras, from Sony, Panasonic and Canon, plenty of lenses and light kit available to rent. We will be happy to assist you also on other aspects of shooting in China. We are based in Shenzhen, Shanghai and Hong-Kong and can meet you directly in other cities around Asia.
Why not hiring a freelancer?
Freelancing is not allowed in China: period.
Hiring someone doing something illegal is clearly a bad idea to start with. You may end with your shooter getting controlled and the filming canceled. Even worst, his visa may be revoked if they found out that he was working on providing filming services for oversea's based TV. On your side, you will be flagged as well and it may be impossible to request a visa for China on your next visit. Saving money at first but you may regret later.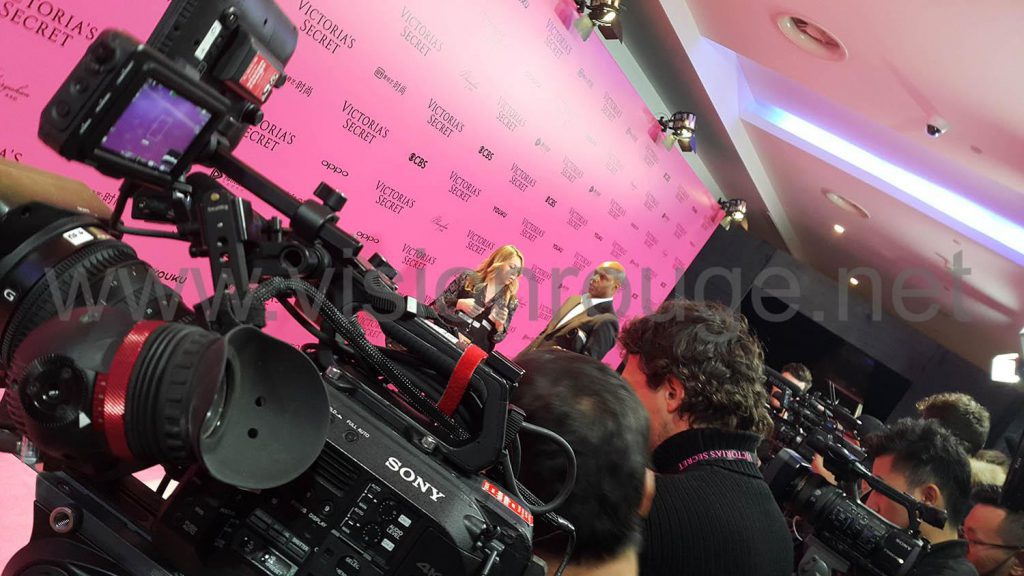 At Victoria's Secret Fashion Show in Shanghai, on November 2017, Visas got checked at he entrance of the venue. Many teams got rejected just few minutes before event launch: you got warned! Of course, we were inside!
The second issue is the lack of reliable rental house in China where a single operator will have to go and pick up the camera at the last minute. There are way too many stories where the cameraman got gear promises but the rental house canceled at last minute to serve larger client. Service level is far from what you may expect. Working with us and our trusted providers, in case we can't supply few part of your kit, is the insurance you need.
Our advice is to ask the business licence of the company you want to work with. Next step is to check the working permit of the crew members. If your chosen production company find excuses to not provide these: walk away.
Choosing Vision Rouge for your shooting in China ensure that the crew will know the equipment as we own it. There is no last minute surprise where you feel trapped and have to pay extra to get another unit more expensive (classic excuses). It's a lot of trouble and final price may be the same than working with a registered company as we are. All is clear from the beginning: price include a full service package from A to Z.
Contact us for legal team in China →
What about wireless system and regulation?
Wireless system, as the one for your lavalier microphone, will need to use different frequencies in China. Frequencies allocation are different and you should not use others than the one allowed. Be aware that authorities have a large panel of tracking systems especially if you are planing to use it at a fair.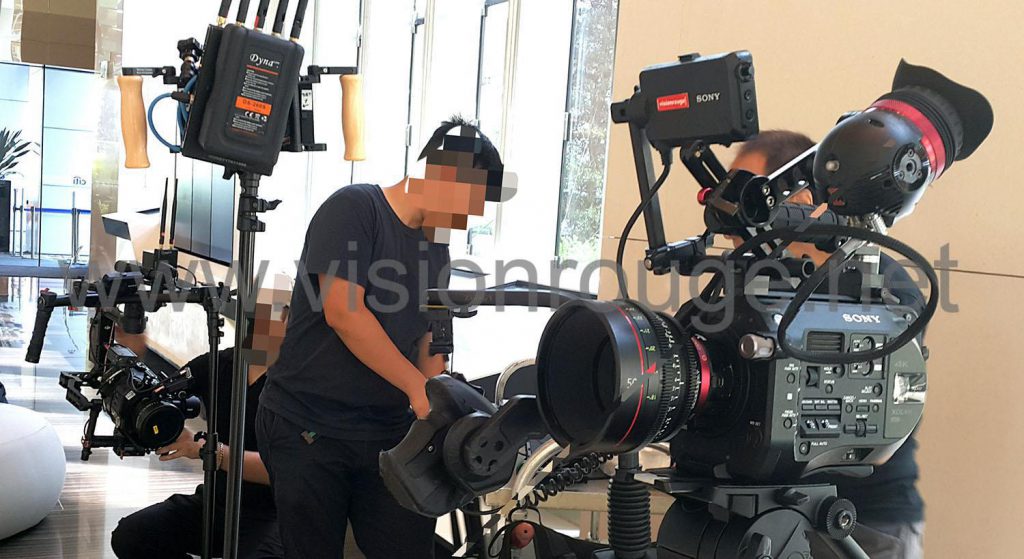 Actual picture of our Sony FS7 with wireless SDI system and nice Canon Prime EF in Hong-Kong last April 2018.
Renting your wireless system locally makes complete sense to avoid fine and getting your gear confiscated. Using forbidden frequencies will also jammed your signal and make your system useless. Check on our audio section to find the right lavalier and wireless system at the right price.
Contact to get wireless video system →
And the GPS on my UAV?
Bringing your drone is not recommended for the same frequencies reasons. First, the wireless 2.4 allocation channel are specific to China. Second the GPS system suffer from a shift when using google map and most of foreign based map services. You will end doing something very dangerous and renting locally our drone system is way safer.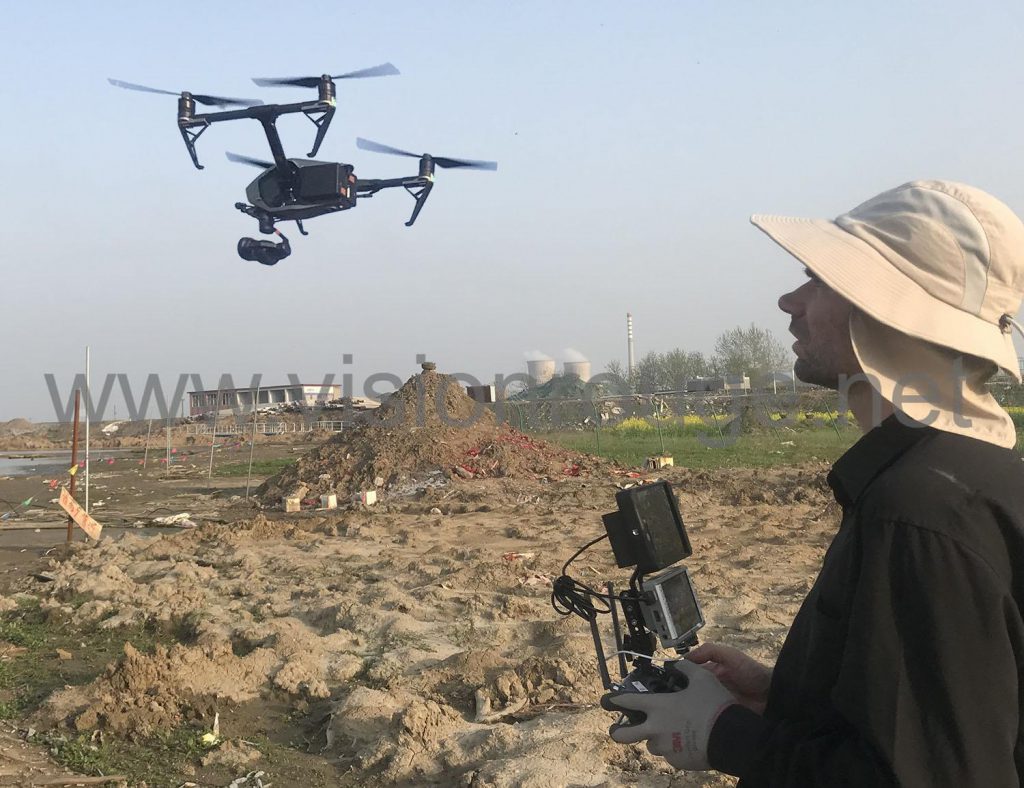 Our DJI inspire 2 and X5S head in Hefei for the world largest floating farm being built.
The second big issue is the drone registration process that you have to comply with. A QR Code on your drone should be visible with the registration number.
Our drone have been registered and use frequencies allowed in mainland China. You can use it for your shooting in China. Be aware of Chinese regulation, check the No Flight Zone online, you may have surprises!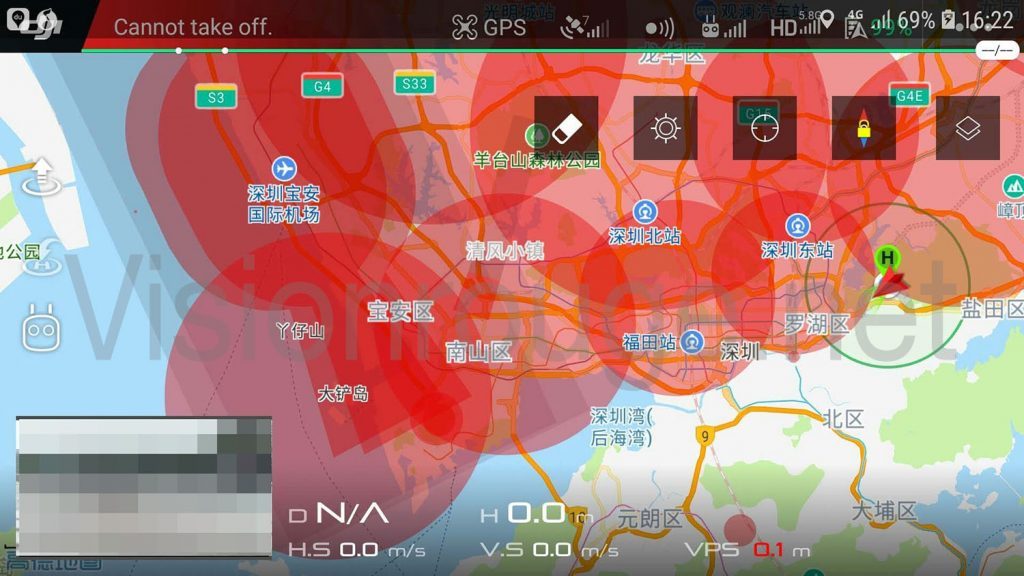 Contact us to book our pilot and drone →
How to pay or book VisionRouge camera's crew?
You will always heard that you should bring a lot of cash when going in China to cover all unexpected surprises. Working with Visionrouge will makes all easier as we have accounting based overseas as well working with any foreign currencies. We also have PayPal, Alipay or Wechat pay account to let you even use your credit card. Of course, you can also use local RMB and get a fapiao and the new VAT invoice for local mainland business.
Can I drive in China with my international licence ?
No, you can't. Renting a van with a driver is the way to go as parking are also very expensive.
If your shooting is a bit far away from downtown, a van can provide you a nice way to get to your shooting location. Price is also cheaper than in developed country. We even have trusted English speaking driver.
Contact us to book our van →
How bad is the pollution ?
Winter time use to be the worst time to get nice blue sky, but with rapid development, even middle of summer can now be complicated. If your shooting involve a lot of aerial views and large city landscape; We strongly suggest to add few "weather days". Be aware that most weather forecast do not include pollution level.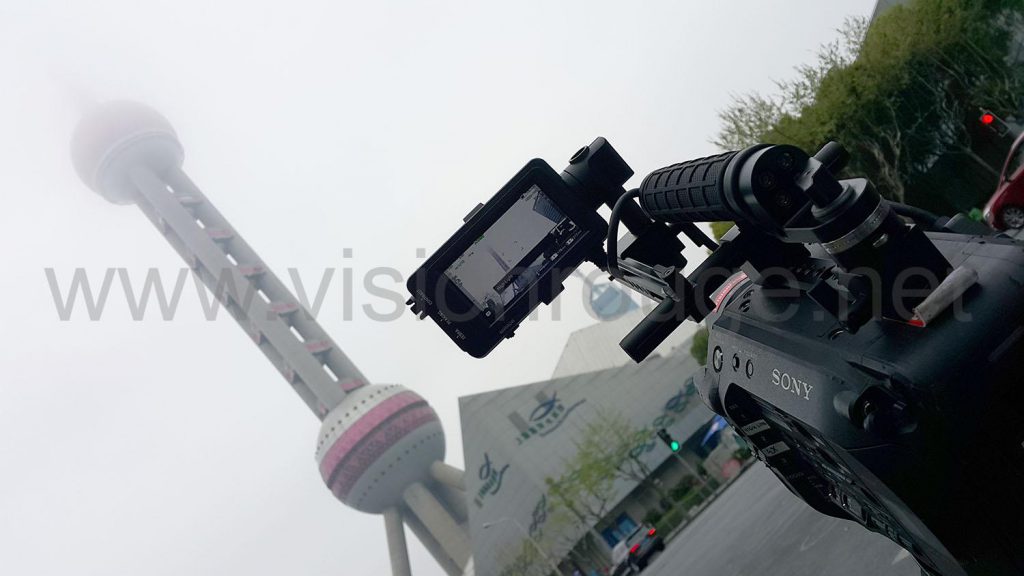 The sky in winter all over China; landscape may be limited.
Pollution is not something you can't get away with a filter. Windy days or rainy day will actually push the dust. The days following a typhoon are always the best to get amazing clouds and clear skies.
In a healthy point of view, I can only recommend to come with mask and wear them as much as possible if you are sensitive to this issue. Chirurgical mask that you can buy around the corner do not protect you from pollution. Shooting in China can be a real issue for people sensitive to pollution.
Contact us to know more about shooting conditions →
How is internet in China ?
Chinese internet is more a large intranet than anything else. You simply can't access most of it.
Coming with a phone and international plan will be the way to go as website are not blocked for foreign Sim card. This may work in large cities, but not if you are planning to shoot in remote locations. After few days, your account will be blocked too.
Another ways get access to the full version of the web exists but you will always be facing a limitation in upload speed.
It's quite impossible to upload more than few Giga per hour in the best situation from our office. It will be worst from any hotel room or media center. We can still help you compress and upload proxy to let your team start their editing.
These limitations do not exist yet from Hong-Kong. It's quite common for us to fly there in order to get your footage in less than 24h uploaded and available anywhere in the world. We have built cloud servers who can handle quite some data and will be glad to offer this service for you too.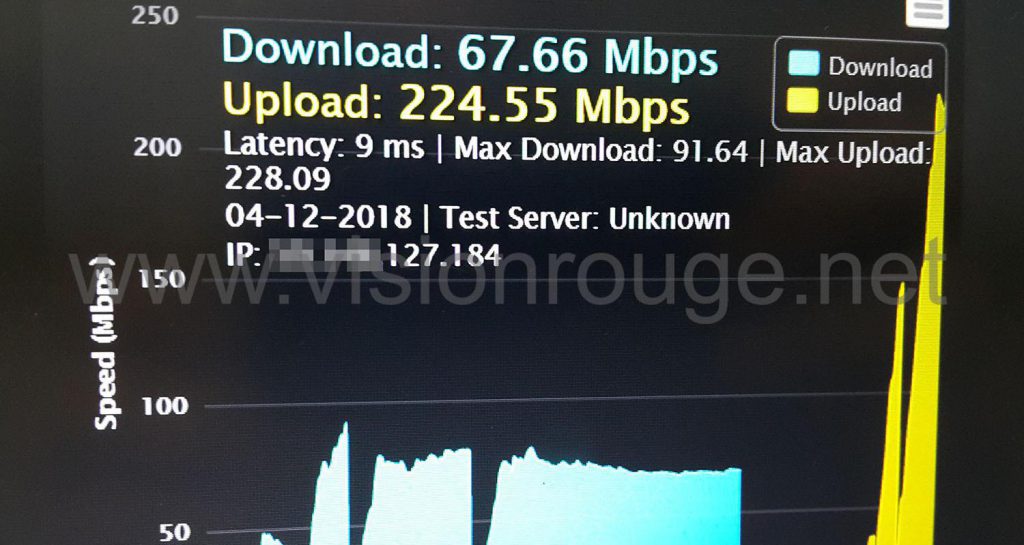 This is a screen cap of our access to our cloud.
Cash or electronic wallet?
Shooting in China may means get prepare to spend more money than expected. Here are few facts.
The largest bill in China is 100 元 which represent about 12 USD. So it's easy to understand that carrying cash is a hassle as numbers starts to pill up if you need to pay a crew ad gear this way. Hotel deposit can easily go for 1,000 元 per night per room. I let you do the math for a 5 days stay and 3 room booked… 15,000 元 and so 150 bank notes to count.
There is also some funny trick to be aware where the deposit paper do not represent the amount cash you actually gave upfront.  Giving 5,000 元 but receiving a receipt in Mandarin of 3,000 元 is common "mistake".
Most ATM will restrict the maximum withdraw per week at about 500 USD despite what your bank stated prior to your trip. It's very important to plan in advance how you will spend your money if you are deciding to do all on your own. You can exchange a very limited amount of USD/EUR to almost any bank by providing your passport, but this is not really convenient.
Even if almost every locals have a Wechat account linked to their bank account and, even the simple banana in the street, can be bought this way; as a foreigner, you will not have access to this. You will need a local phone number and verified friend to connect with. Brand new Wechat accounts are restricted for few weeks before you can start paying and using it. They also will be banned after few months without use. I would recommend opening it way before coming to China.
It happens that some place goes completely cashless, so you can't even by your dinner without having a app as Wechat or Alipay. Again, we are here to help support you with our local connection and bank account!
The last important thing is that hospitals and doctors need to be paid upfront and mostly do not take credit card. Going to the ATM before reaching the emergency room is not a great experience.
Be also aware that any communication is subject to censorship and what you are posting, even privately, can be checked and blocked. Don't try to outsmart the system by posting forbidden content. You account will be blocked and the money associated not accessible anymore. Some message will appear as sent even if the receiver did not get them. I also experienced a modification of the content of the message few hour after sending it.
Other app as What'sApp are half blocked and only text message can sometime be sent. Voice message or picture can't be received within mainland China
By working with us, you will save a lot of hassle on money transfer and conversion rate as we will handle these for you.
We do hope these few elements will help you choosing the right team and gear for your next shooting in China or Hong-Kong. Of course we are offering a full package with one-man-band, 2 person crew, or even more to let you also save on the travel expenses. We are working on assignment most of the time.  Having foreign staffed professional helps understand your reference when we will be shooting for you.
Let us know if you have extra questions.
Disclaimer:
We are a local registered Chinese company and breaking the law is not in our line of work. You need to comply with Chinese regulations first in order to get our support too. Don't be too optimistic when asking around. If the answer is "no problem", you may want to double check…
We have been shooting in China since 2003 and adapt to all the changes.