Medical products Photography
On-Location
Suzhou, July 2019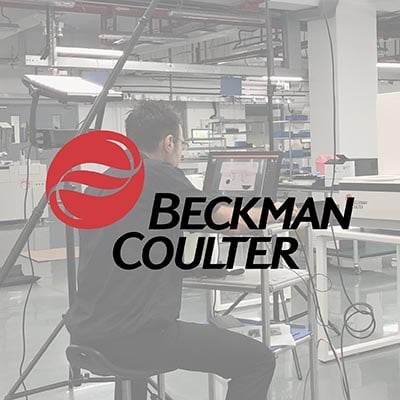 On-location Medical Products Photography with White backdrop in Suzhou?
When your medical equipment is located in Suzhou and weight 100 Kg, we are available to come and shoot any medical products at your convenience.
Our white background studio can be virtually brought anywhere in China. This day was dedicated to photography a large medical testing product. We brought about 9 meters long backdrop to cover easily each angle.
Bringing a large backdrop also allows more creativity on the exact possible angle. At each picture, you can easily move around to capture the specifics of this technical product.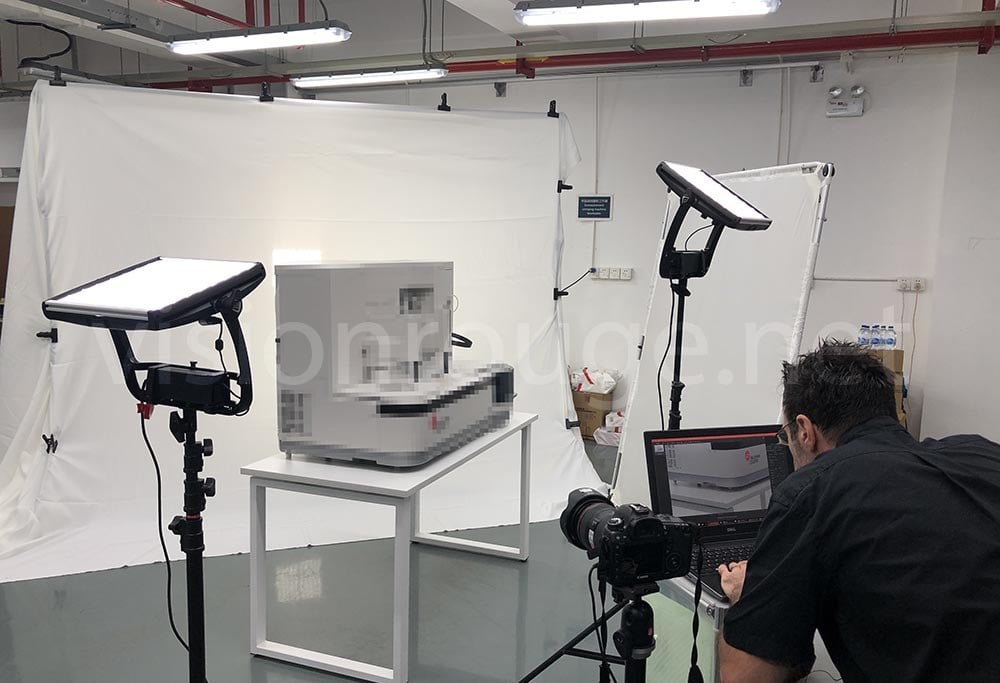 Our client was very specific on the shooting list but there is still plenty of room for creativity.
Lighting a large white backdrop
The lighting setup done with large led panels for a clean white background. A flash system may also been fine. The subject been static; using continuous light was a safe and faster choice. We managed to do all the product shooting list in the request time and respected the budget allowed.
On such product photography, a smaller aperture is request as the idea is to keep all in focus for the potential viewer to understand the equipment functionality.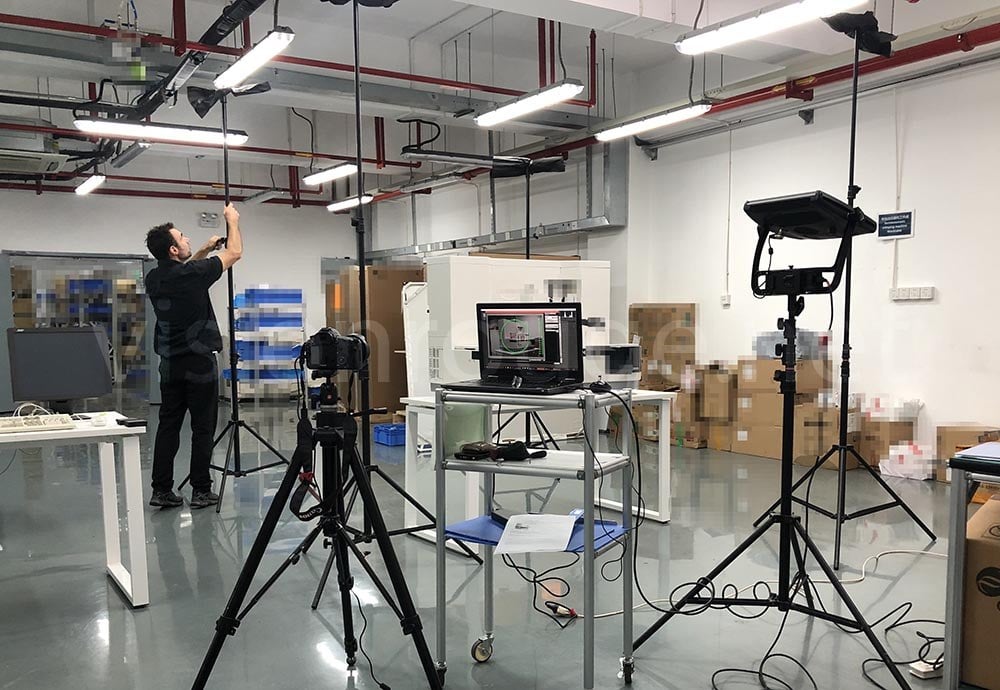 I also kept the existing lighting as it was mainly a black and white product, so white balance could be tweaked in post production. I have covered the direct view from the LET with Cinefoild to avoid little white mark on the black reflective plastic of the medical equipment.
The other existing lighting did not impacted on our setup as all the ceiling was white and easy to bounce light to it.
On the camera side, I use a very stable tripod that allows long exposure pictures. As the lighting may be flickering with the different fixtures used; it's also a way to smooth all this potential trouble.
Medical products photography Overhead shot
The trickiest request was the overhead view. After few location scooting pictures sent by the client prior to the shooting; I decided to come with a 6 meters carbon fiber pole and tether the picture camera from the ground. I always try to connect with the local office to get as much details as possible.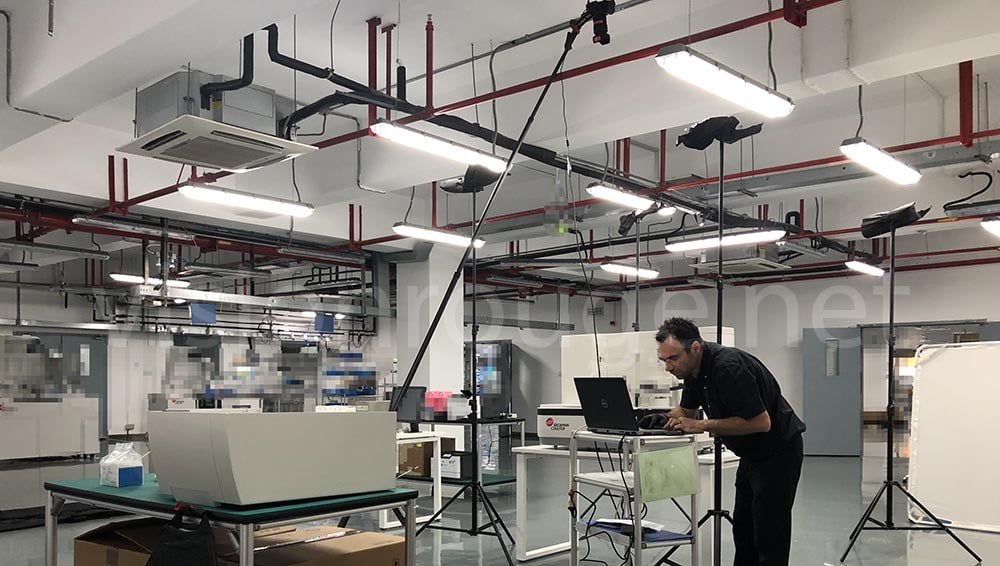 As plenty of piping were available to lock it down, it was actually a very efficient way to manage this.
The final picture is just perfect within the photography guideline. I slightly adjusted the table position more than moving the camera in order to respect product perspectives.
Photography Post production in Suzhou.
Our service included only the shooting part on this particular project in Suzhou. But we have to keep in mind that someone will later edit the picture to get a flat and clean white background. We uploaded all raw product pictures done in Suzhou to our cloud storage for a fast download from the US. Our server is accessible worldwide without Chinese internet limitation.
On site product picture are something we do quite often and will be happy to serve you in China or in Hong Kong.

From subway train to robotics, we have proven a long expertise in covering industrial product. We can also bring along a video camera, slider or crane if you prefer a clean video presentation.
As we are dealing with medical equipment here, white background was a must have.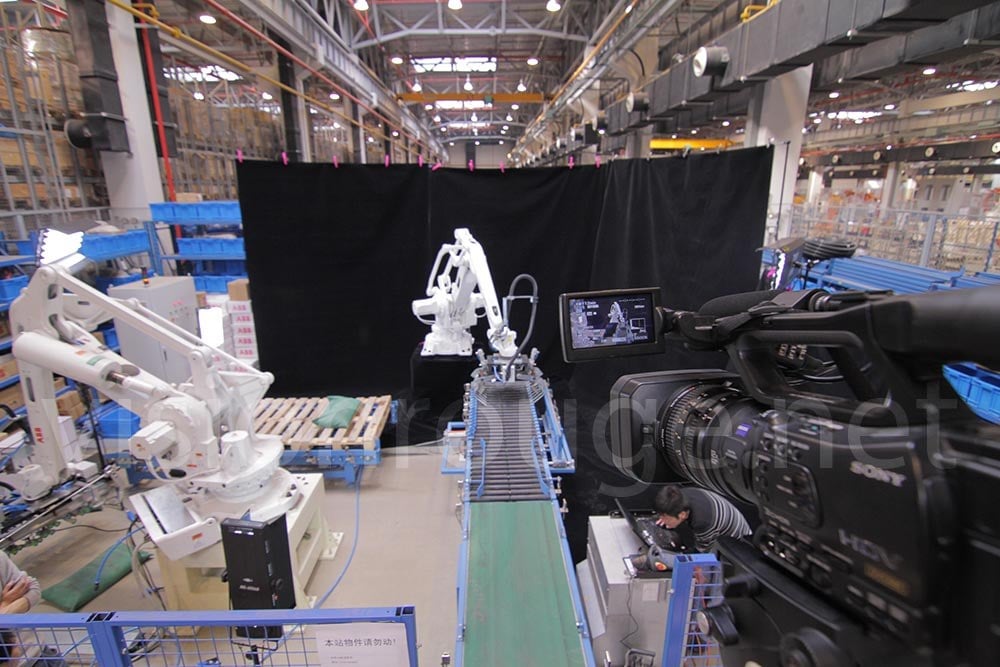 This is a large black backdrop set on a previous project including robots. Large size is not something that will stops us! The floor is evenly cover as well for perfect transition with the white color of the robot. The fabric used is non reflective to get a easier lighting setup as well.
We have large inflatable HMI lighting balloon to help getting the best of your industrial project. This picture was done at Ford factory in Chongqing for ABB. We actually came with 5 balloons to cover the entire car assembly line.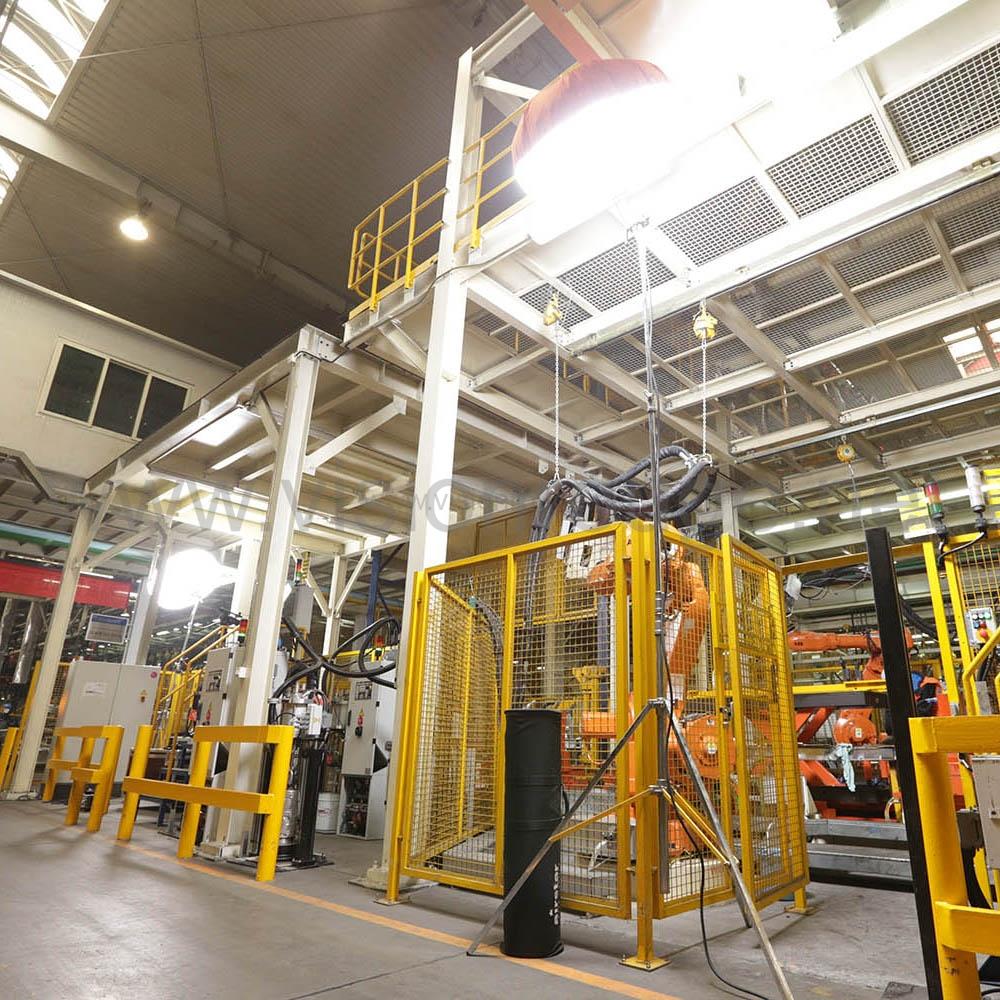 Hire a freelance photographer in Suzhou
This project in Suzhou was done with the support of a second photographer and driver that allows these nice BTS pictures. Working as a team is a life saver to get a immediate feedback from another professional.  BTS picture is now almost necessary to improve your shooting visibility.
Feel free to contact us for any medical product photography with white backdrop in Suzhou or somewhere else in Asia!