Corporate banking
Filming green screen interview
Hong Kong, July 2019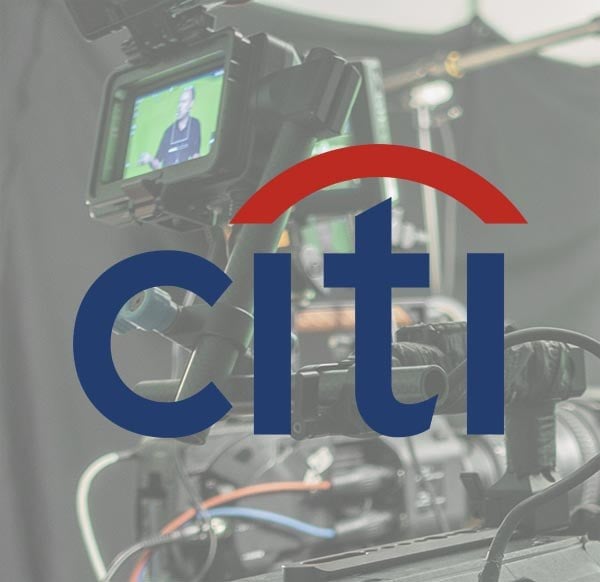 Filming green screen interview for Corporate banking in Hong Kong?
If you are in quest for filming interview in Hong Kong, with a green screen, for corporate banking or others; you are at the right place.
We offer on-location backdrop shooting, green, white, grey or any color you would like us to setup. This interview day was the last video assignment before our summer break. It was another success despite the few challenges we faced. Our client asked for a green screen, dual angle 4K camera setup and with one prompter running. The room was quite small without proper way to get windows opaque. But the main trouble came when the day turned to be a Typhoon alert at 2pm with the obligation for everyone to go home. We just finished the dismantle at this time as we started quite early, but the heavy rain and strong wind hitting the windows earlier was quite challenging. Below is a bit more details on this shooting day in Hong Kong.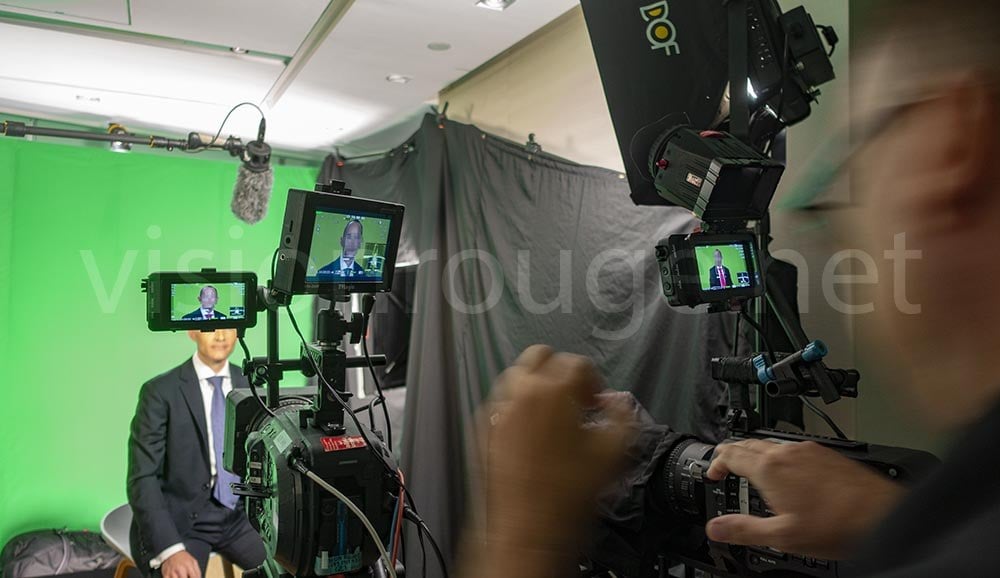 Challenging shooting day in Hong Kong 
Filming interview on green green is quite an usual request for us. On a previous project in Shanghai, our client gave us an entire classroom to play with. But on this last minute request; only a small room was available for us. We literally use every inch available to put our crew and gear.
The request was for a prompter operator, a producer, one sound tech and a cameraman as well as a makeup artist. If you add the interviewee and few colleagues; it gave you an idea of the challenge.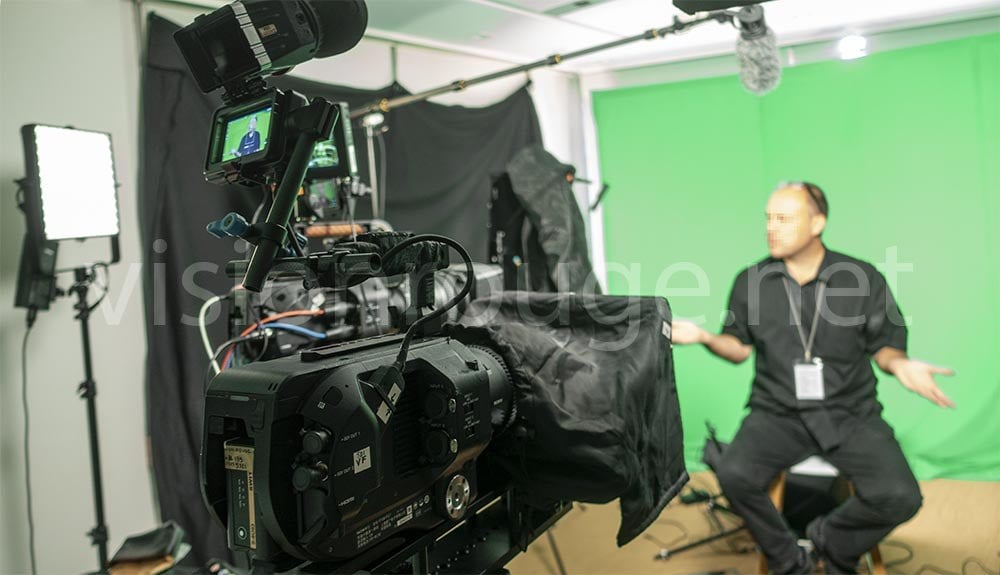 We knew the day before that we will have to speed up as the weather broadcast for this day were not good. A possible Typhoon level 8 alert should happen around 2pm. This is regular during this rainy season in Hong Kong and south Asia. The amount of people involved in this shooting day will have make a reschedule quite complicated. A T8 signal means that every office should send back their employees home and so cancel our shooting. But for us, the trouble started with from he sound of the rain and wind hitting the windows of the building.
The next challenge was to get the windows covered with black fabric as the curtain was only semi-opaque and not ideal for a green screen filming. Corporate banking office are not idea for filming such studio shooting, obviously. Covering all the wall with non reflective fabric was also interesting to avoid too much green splitting. This allows us to work on this tiny space.
Black curtain will also block a bit of the sound from the rain.
Prompter and dual camera 
As if all this was not enough, we had to setup a dual camera angle with our Sony FS7. So the green screen background should be wide enough and perfectly lighted entirely. We used our flexible LED panels to do so. 3 of these bi-color LED was necessary for such. It was quite nice to have a very thin lighting system for sure. The interviewee was lighted up with 3 other LED; 2 panels and a spot light. The LupoSuperpanel was very helpful and versatile with so much power to get the right balance between background and subject.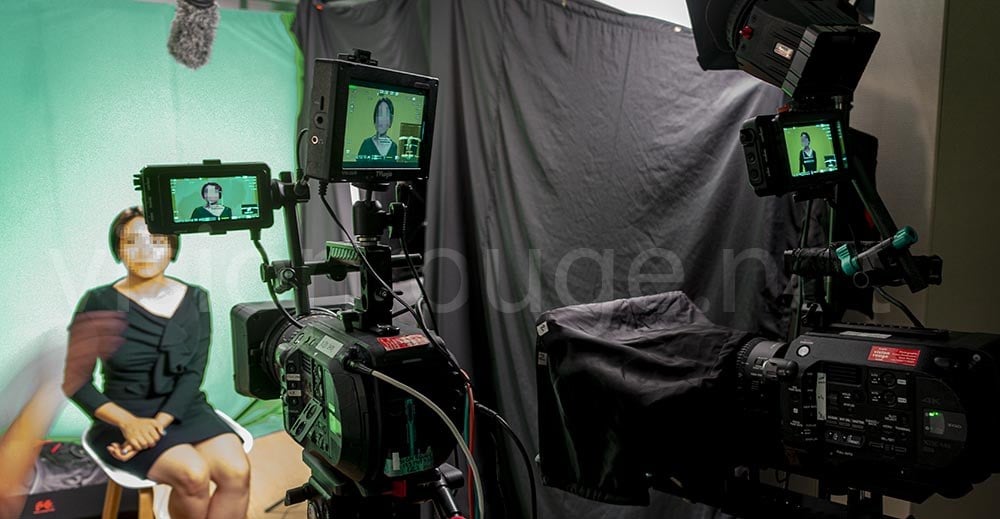 And the last thing to add to this list was the prompter in front of one camera. As usual, a prompter glass remove a bit of available light, so getting plenty of power from the SuperPanel was a nice thing to get. These panels are our go-to for corporate shooting in Hong Kong now!
Successful filming at this Hong Kong corporate banking office. 
This is not our first shooting and were you can see the difference when choosing your team for a green screen filming. Despite all complications on this day; we managed to get all done before the rain get too noisy and the T8 alert put on. Our great team members are the main part of the success of this day as well as the gear in pristine condition. Everyone plays his role and got all done in a perfect manners. With a lavalier microphone very close to the interviewee and a cut between each wind blast; the audio turn out quite great!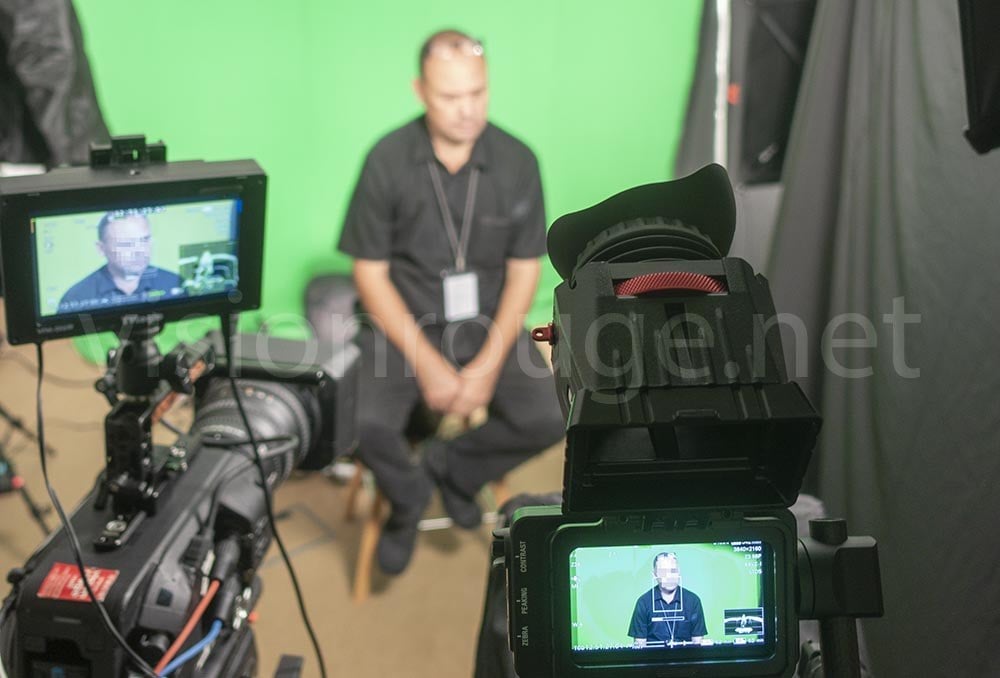 The client was very happy with the result. We got another similar green screen filming for him later in November.
If you like to hire us for filming green screen interview for Corporate banking in Hong Kong, feel free to connect with us using this page!
We will send you a cost proposal overnight and be happy to serve you with our multilingual shooting crew.