Hand held gimbal for mirrorless: Sony A7R3 with ZhiYun Crane 2.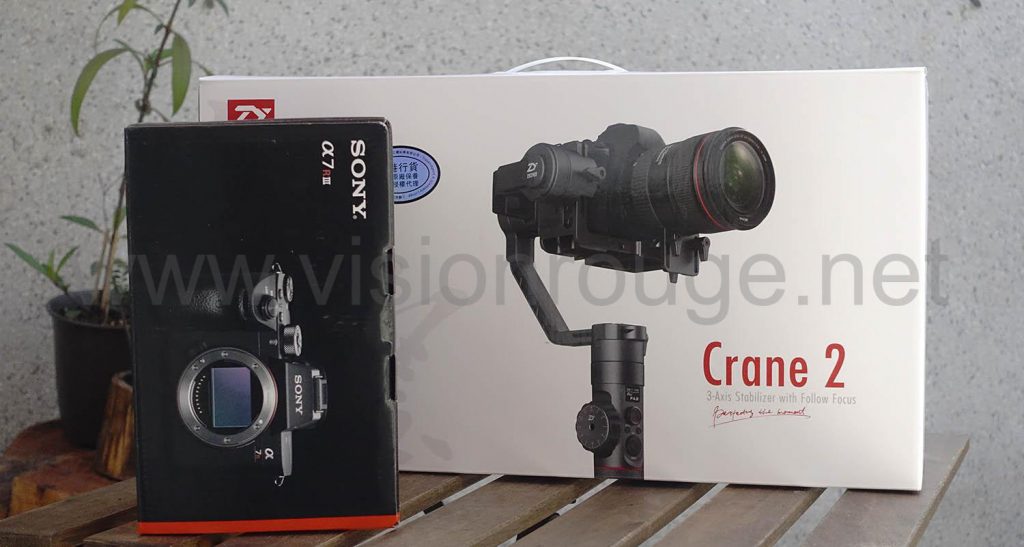 ZhiYun crane 2 review and test
Things are moving fast, super fast.
From few years ago when hiring a steadycam operator was the only way to go, to the rise of Ronin and similar gimbals, to the new trend of DSLR only on top of one single hand held gimbal. I feel that every 2 years, a revolution is happening on how we produce moving images.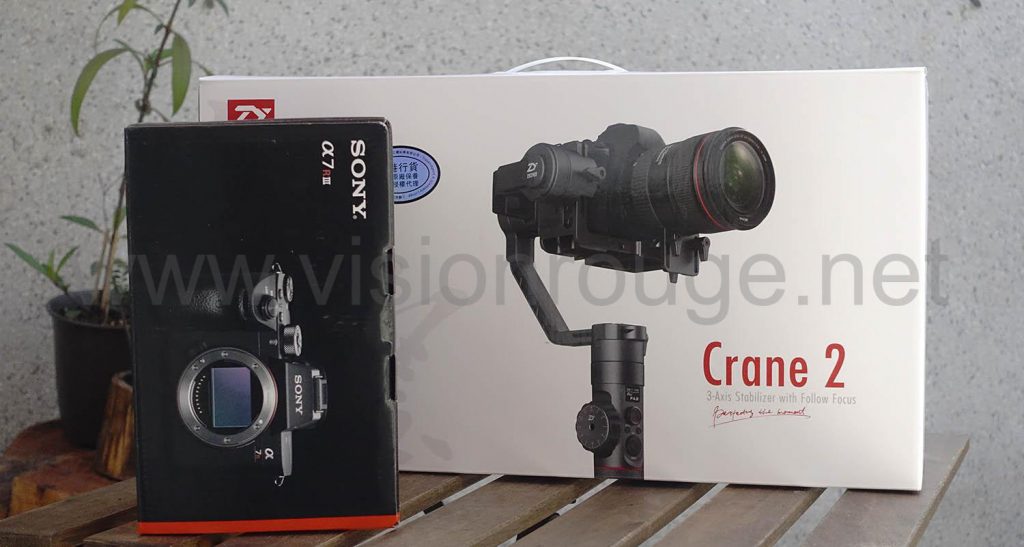 Being on top of your game means mastering your tools but also looking forward for the new trends. As it's now almost common for a client to ask dynamic movements during a shooting without the budget nor the time for extra crew member. The first possibility used to be a slider but it's not so simple to bring and setup; the tripod may be heavy and the movement is also quite limited.
My second limitation is that I didn't want to give up on quality so didn't want to go lower than a video camera. I'm still reluctant to go for DSLR or mirror-less even if the addition of a cage helps . The lack of functionality and codec always struck me. Last year, I have design a way to put my FS7 on a Ronin-M. This is a great success, but still a bit too slow to setup in some situation where movement is the B roll of the B roll.
So, here we are in 2018, where I finally invested on a Sony A7R3 and a ZhiYun Crane 2. It was, of course, not my decision, but a client request. The Sony A7R3 with English menus is only available in Hong Kong, so I pick up the crane 2 there. Even if it's a company from Shenzhen, it was till a bit cheaper to do this way. I have been pleased to see how things changed over the time on the camera side. As usual, I needed some training to make sure I will master the tools even if I'm not supposed to be the cameraman on this shot.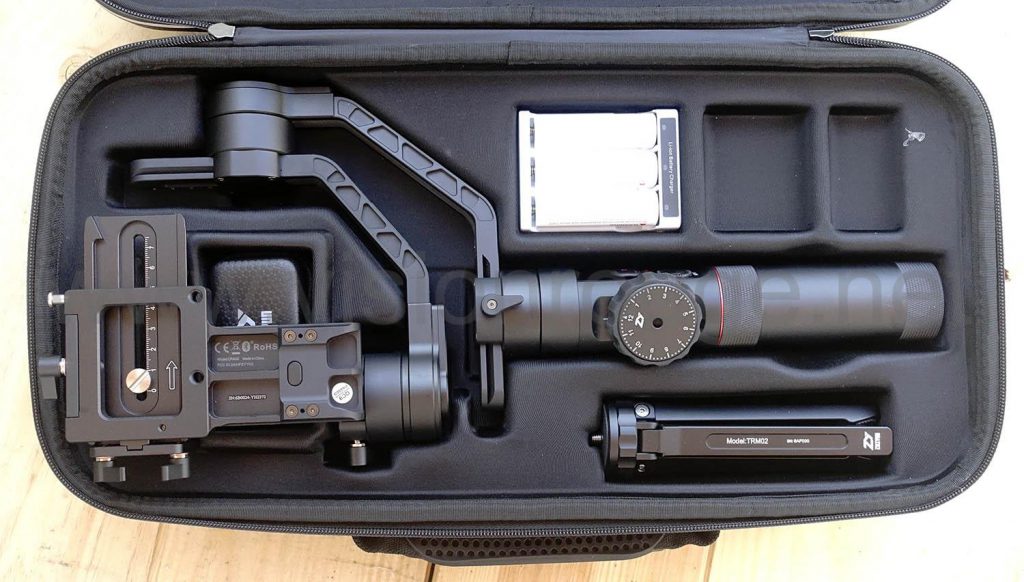 Back in time, my last forced shooting experience with mirrorless camera was a Sony A7S, so I was glad to see that Sony improves (a bit) the menu system, the battery life and the EVF. Finally something I can almost work with. The camera body is a bit larger and start to looks like a Canon or Nikon'one. In crop mode, image stabilization, 4K, Slog 2 (but still 8 bits) … plenty to play with. The A7R3 is almost as large and heavy as a Canon 5D and feels a bit better in my hand than the past Alpha series. As Sony FS7 Owner, this camera will never been my A-cam but maybe a nice addition on some corporate interview when an extra angle can be provided to the client.
On the stabilization, I went for the last generation of handed gimbal with the Crane 2. I can only compare this to a Ronin or Osmo for now as I didn't test other models to compare. I read review and it seems a perfect fit for my coming video project. They have also an option to put 2 handles on it to get better and larger support for your back…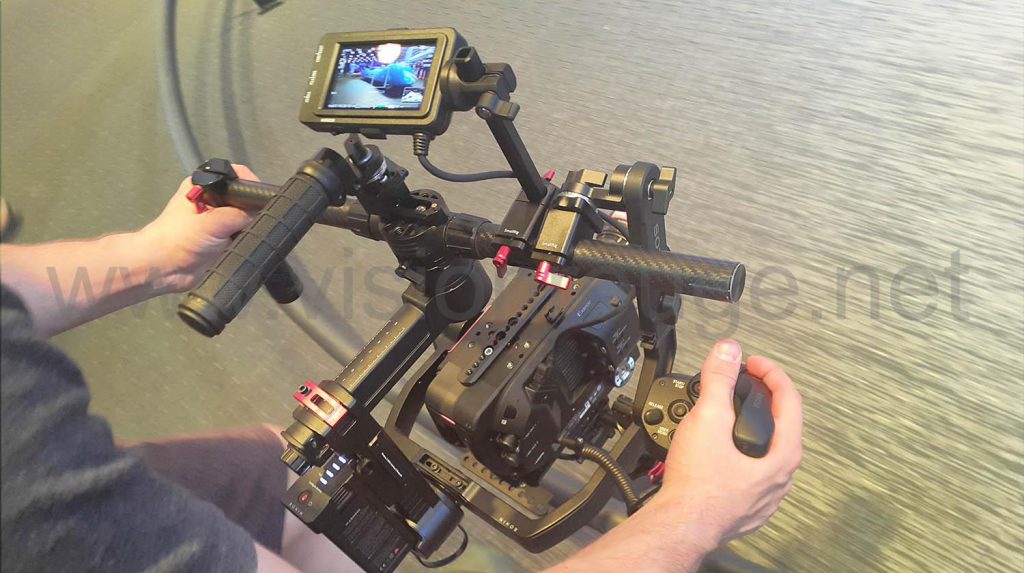 The first surprise if you are a newcomer as me; it's the size and weight. With the batteries, it's a 1,5 Kg setup to hold . And if you add a A7R3, a 16/35 Canon L Lens and the Metabones adapter; you have about 3 Kgs to carry with one hand. Try at home with 3 liters of milk…
As the crane 2 is supposed to even have a 3.4 Kg payload, you may want to check what kind of movement you need to do if your arm should be steady with a 5Kg setup total.
I thought it will be easier to go low profile, but it's quite a large thing to carry also. We are not too far from a Ronin-M. The box itself is not helping. I have covered with camera tape to protect and make it less shinny.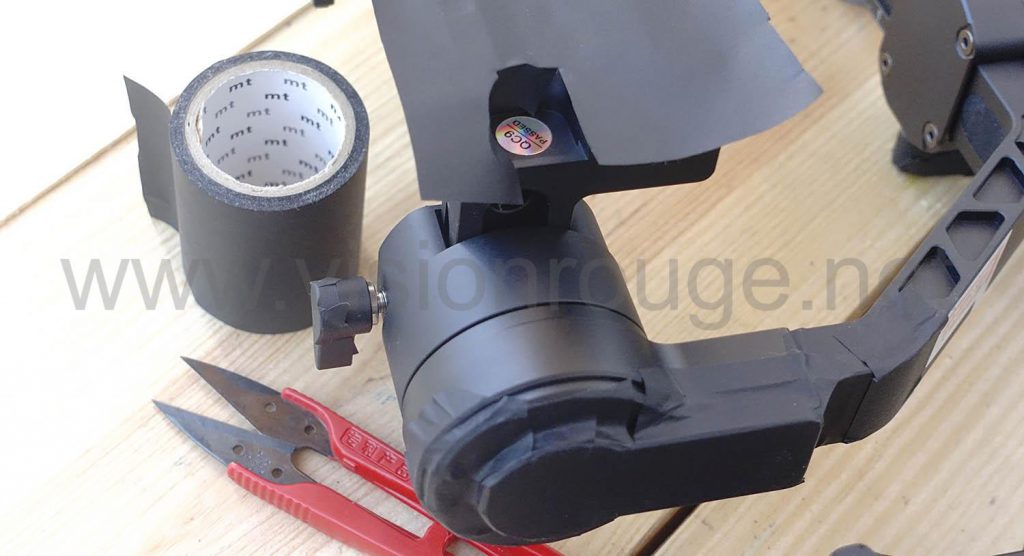 Second surprise is the lack of charger. Yes, you read this right. You have a way to put your 3 cells in a charger, but you need to provide 5 volts to it. It's seems easy at first as it's a small USB connector, so your phone charger may work… or die.
The power required to charge is about 2.4A where most USB chargers can only deliver 1 or 1.5A. Be prepare for a long night of charge and check if it do not overheat.



The nice sticker on the back says in yellow "Please use with qualified 5V adapters with output current superior or equal at 2.4A" which is almost impossible to buy. (Note: I found a charger for Microsoft tablet surface which should be enough to power it: please add this to the total cost).
  After checking others of their products, it seems that it's a common practice from ZhiYun to not provide power supply for the charger (!)
There are also two USB inputs in the charger block, so it may be possible to add a second charger to the first one to get more power. I didn't want to do that as I'm quite sure something is not going to hold well at one point. I have opened the charger and was scared by the very limited amount of components inside. No way there is enough protection if one charger is stronger than the other. The 2 USB are simply connected in parallel inside.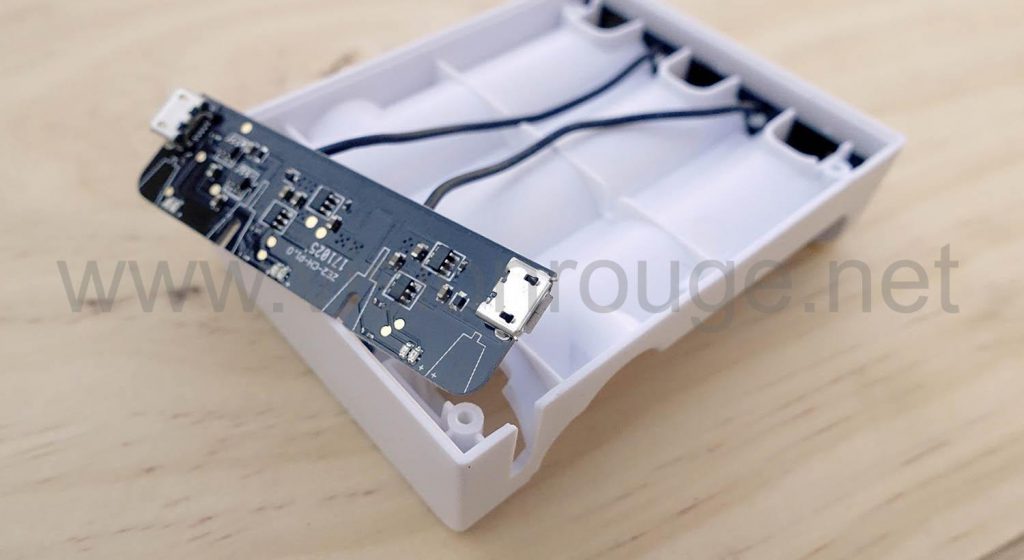 Put the 3 cells in your Crane 2 and be careful of polarity as it's very easy to put it the wrong way.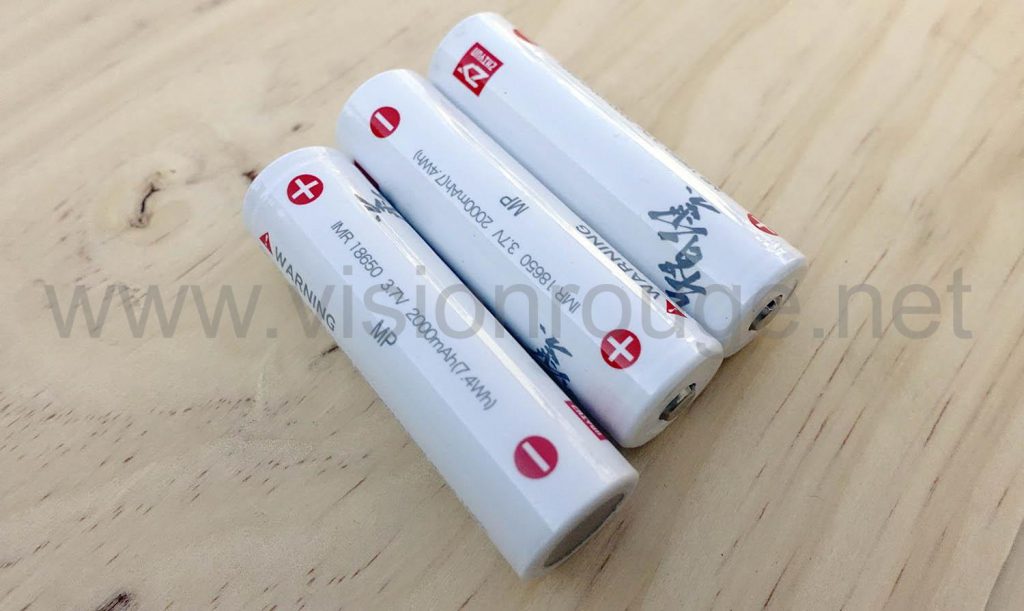 Long way to go if you want to compare this to any DJI product. It's still important to be able to remove the battery if you are planning of taking a plane, so I like this aspect.
On my setting, I have put some red camera tape to not have to look for the polarity as they put in red the + and – connections making very easy to put it reverse.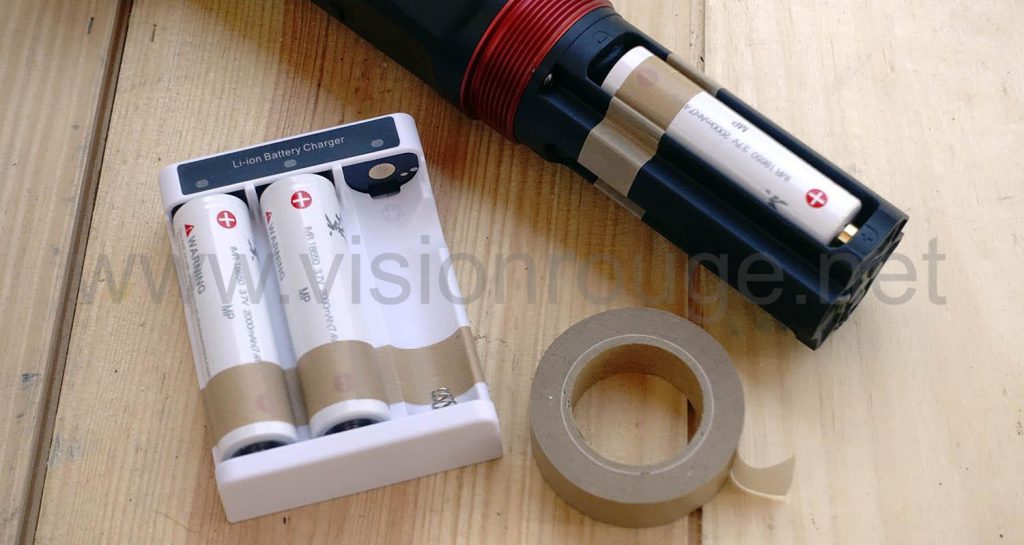 After this charging episode, it's time to put the last firmware before starting to test anything. You can check your existing version directly on the gimbal after turning on by pressing the wheel to the bottom, and scroll to the last item. It took me a bit of time to find out where was the firmware, the software and the drivers file on their website.
For some reasons, I needed to install them twice before it starts working fine on my PC. Restarting the gimbal shows me the last version is installed even if the windows app seems not to display it as done.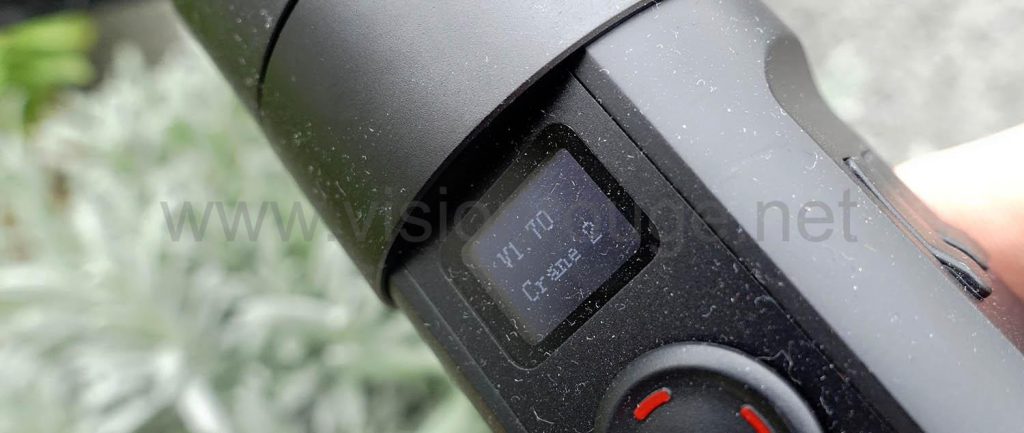 Now is the setup of the gimbal motors and try to understand the idea in the menu design. You have 3 ways to changes the factory parameters: Use their app, use the PC USB connection or directly with the menu under your fingers.
I though using the phone app was the best way at first. Here is the story:
A quick download to the app (after scanning their QR Code) and this is where it starts to be complicated. You need to install from a parallel market from china which need to be installed prior to the app itself. After 2 extra pages of advertising in Mandarin and give access to you phone contact list and calls for the market app to be installed, you finally can download the ZhiYun app. ( I strongly suggest to remove the Chinese market app right after that to avoid surprises). I'm not sure why they don't provide a direct link to their APK on the website to avoid such long process.
For unknown reasons, you need to let the app know your GPS position to start. You also, need to connect with the Bluetooth module, so it will drain more power.
With Android, the experience is a nightmare and I will not recommend this. I was not able to change the motors setup, the default value where back each time.
It is possible to start right out of the box without using the app, but as it use some pressure sensors, it's important to make reset all for the region you are in. Different latitude and altitude may trouble the sensor as you can have on any drone.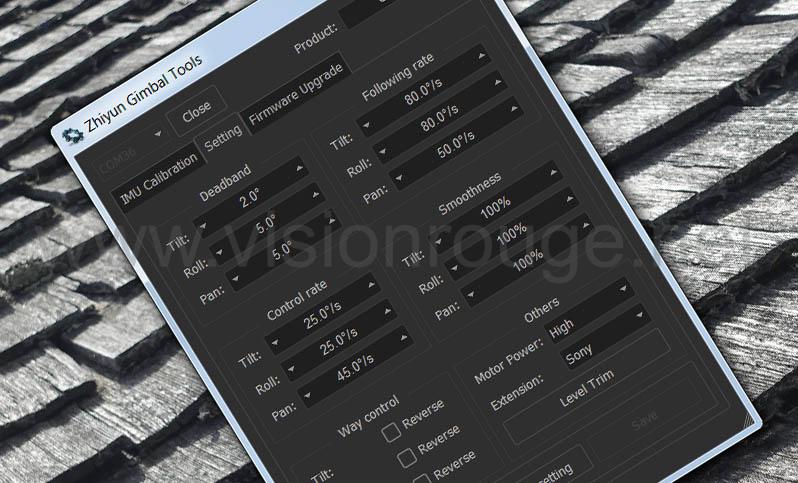 The second option is to use a PC and the same software used for the firmware update and this worked just fine.
The last option is to get all in the gimbal menu itself. I will suggest sticking to this and avoiding the full download, connection problem. The screen is bright enough for any situation and quite easy to understand.
There is also a "sleep mode" if you press mode for a long time and it release the motor without turning off the gimbal, so it save power and help you adjusting without fighting the gimbal; also very nice.
My first setup is a Sony A7R with Metabones and Canon 16-35 2.4 L II, using stabilization on the camera body. This is to get the best of it. My plan is more to use the 10-18 SEL F4 Sony lens if I want to keep a low profile running around Shanghai but getting a larger option in case.
As usual, the plate can't be used to lock the camera body as the Metabones is thicker. But, this time, you can use the lens support to push the full thing and get a strong lock. The camera is still floating, but nothing wrong there.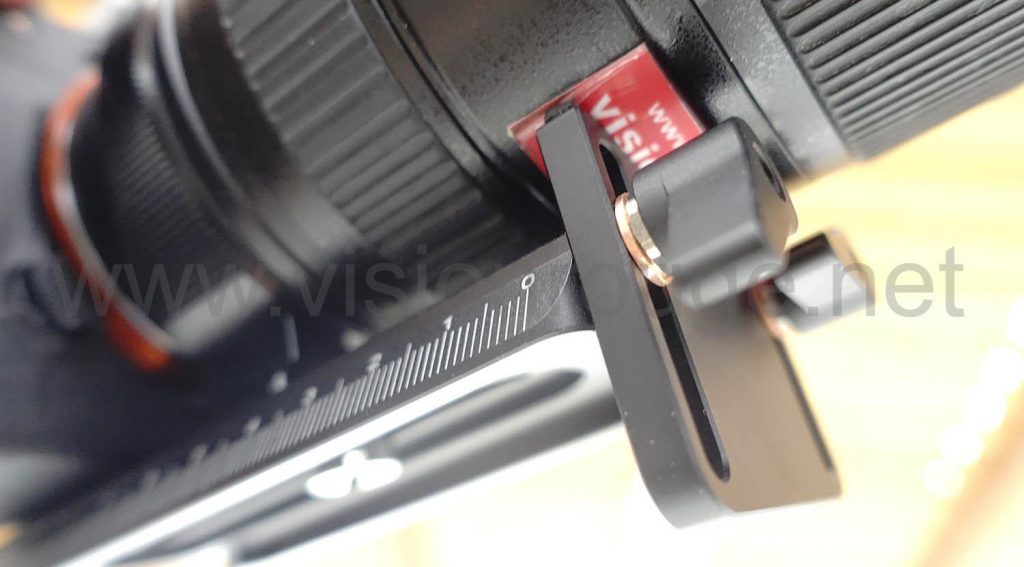 The balance part is easy to do as all plate are sliding and have a few marking to see what you are doing. I just wished they put a marking on both metal plate, so you can easy do a reading and save it somewhere without using camera tape.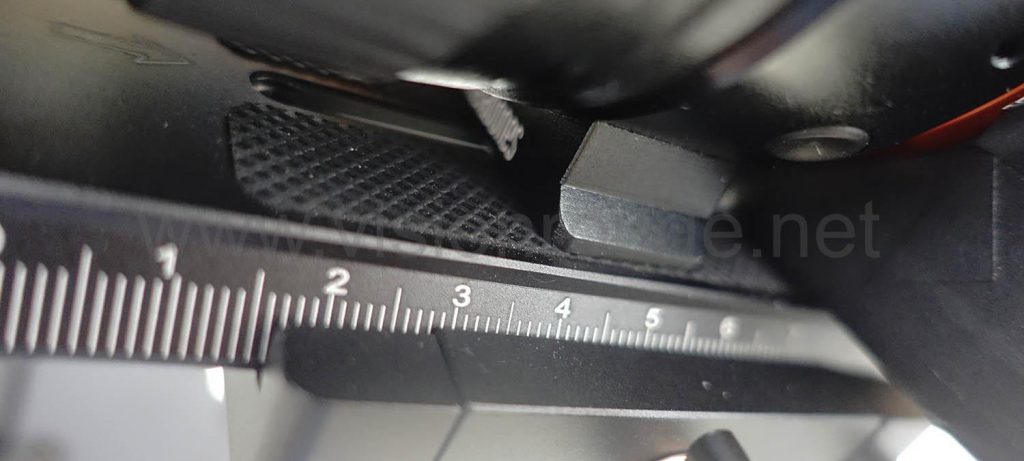 Also, disable the auto switch between screen and EVF as the frame is getting too close and activate the swap.
Another nice thing is to get few screw holes ready if you want to use counterbalancing weights, I would love to have more to get specific design possible.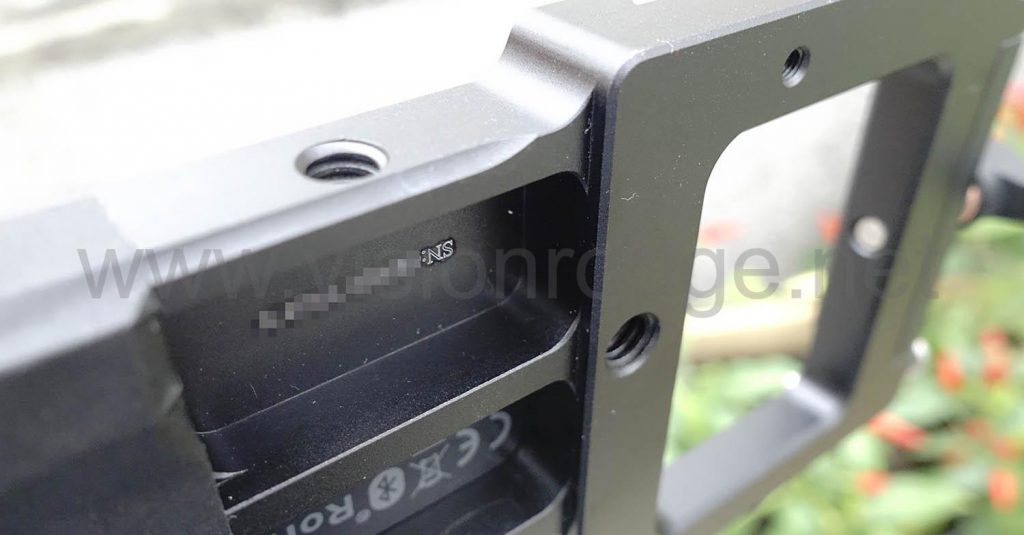 All cabling is internal and sliding rails have hard stop; nice too. It seems that you can even power few cameras with an external connector and control Iris for the Canon model. I was not able to test this, but I know that it will still be step by step and not a smooth aperture. This function is not available for Sony camera and lenses.
There are 3 working modes and it takes few time to understand how to switch from one to another as it's sometime 2 press on mode to select, and sometime one. I don't' get why they design such thing as they have plenty of buttons available.
After playing and reviewing the footage, it appear that on slight oscillation is happening due to the length of the setup, I have increase the motor power to the max and it went away immediately.
Conclusion.
It's a nice product, big and powerful; a small Ronin-M for sure. I will not recommend it for light camera as other products may save you weight and money for similar results. Canon 5D, Sony A9 and A7R3 are clearly the target.
On the dark side, the software and application is a mess and should be improved, and the lack of power supply for the charger is a bit ridiculous. It can't be partially dismantle; you need to get a long bag to slide it in.