Commercial filming
Recruitment Video
One-man-band with two cameras
Shanghai, Sep. 2018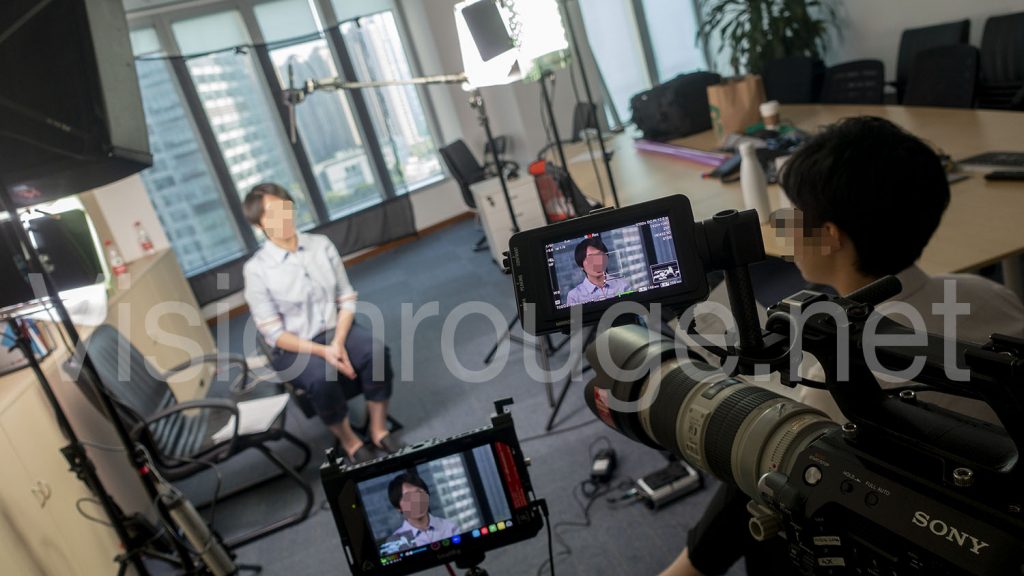 Looking for One-man-band with two cameras for your Commercial filming of Recruitment Video in Shanghai?
Far is the time where such Commercial filming was done only by a minimum of 5 person crew. With advanced camera technology and size reduction; it's now possible to get all one with a One-man-band with two cameras, reducing cost and management. For this Recruitment Video, I brought my two Sony's FS7, preview monitors, ND cloth filter and plenty of light to get even a through windows kind of shot. With only one room available and 8 people to film, you need to get the right video gear to save time and energy. Focusing on the final Recruitment Video brief I received and make this Commercial filming a success.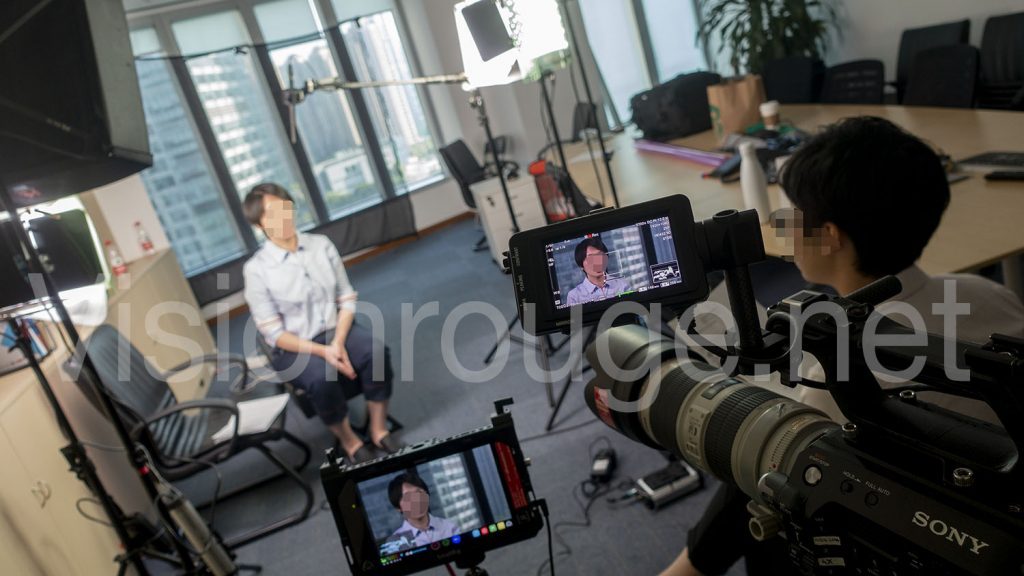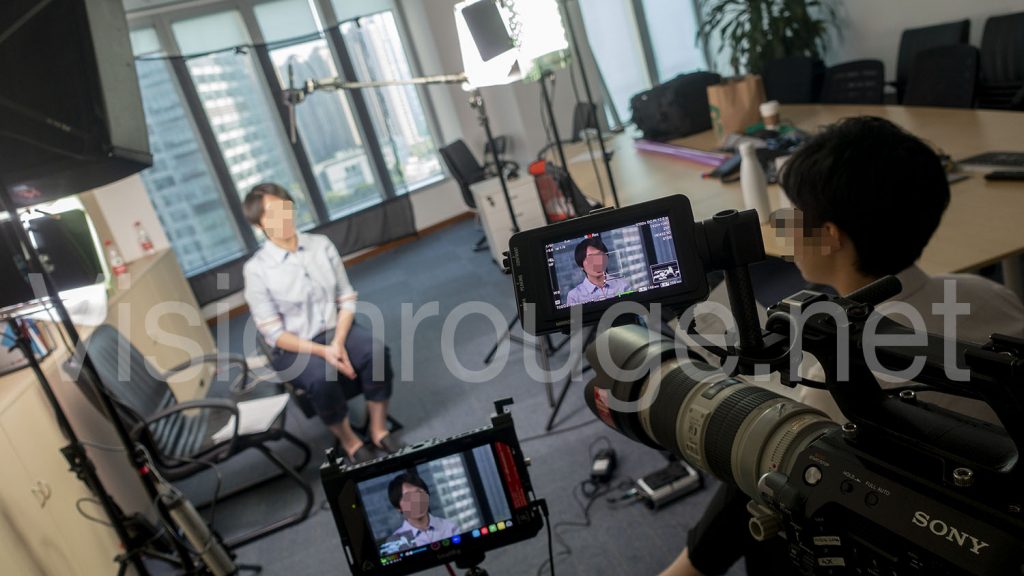 Nice lighted background when facing the sun on a Recruitment Video ?
I have to put a double scrim fabric in order to balance the sun coming from outside of the room. This product is a bit of magic as it enable you to loose some light without the hassle of bringing a roll of ND filter. It's also easier to clamp on a light stand as a one-man-band with no one to helps. The last advantage is that it avoid the possible windows reflections.
The only downside is that you need to get the background blurred. But stay away from large aperture if you still want to get a view of the building on the back. With large sensor as the one inside a Sony FS7, it's easy to get a even surface so blur that we can't even understand what is actually behind your subject.
The one I used is from Westcott. The name is Scrim Jim Cine Double Net Fabric (8 x 8′). It fits any bag.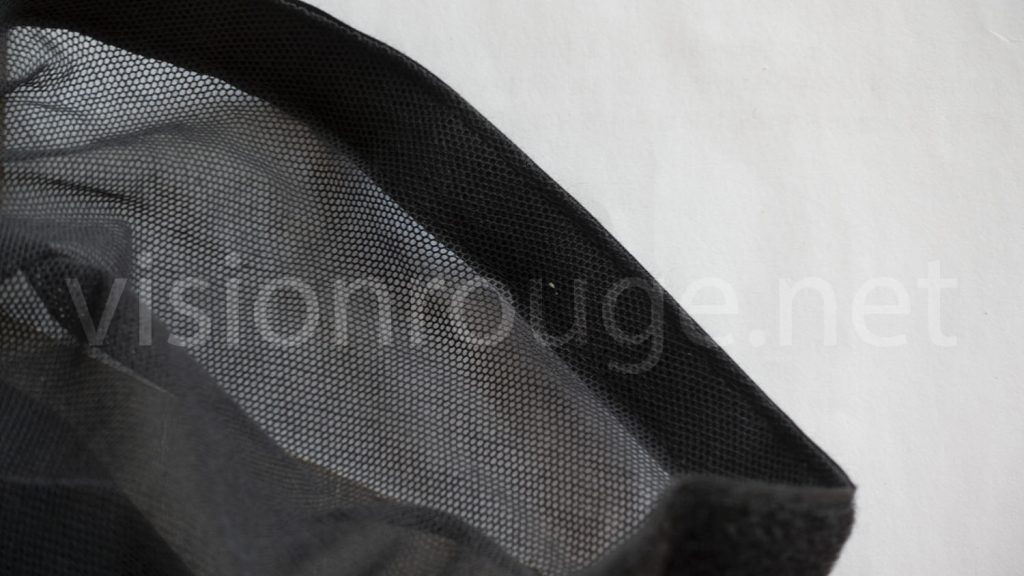 Using flexible LED panel for the size when you carry it as a One-man-band with two cameras was not a bad idea!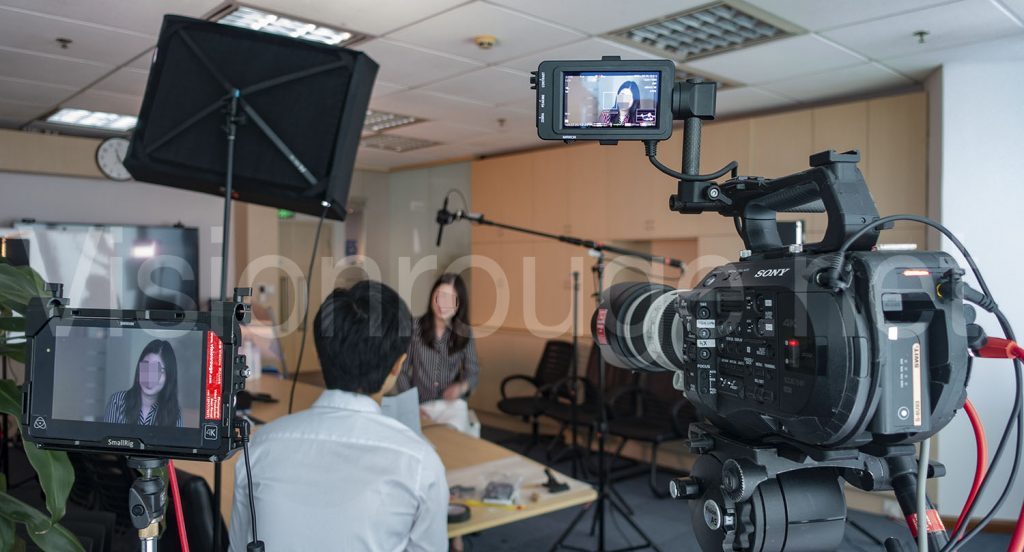 Recruitment Video is a very important filming project and it should reflect your company high profile. Don't miss this opportunity with a low end looks. We have been doing Commercial filming in Shanghai since 2005. Make no mistakes when choosing the crew for this assignment.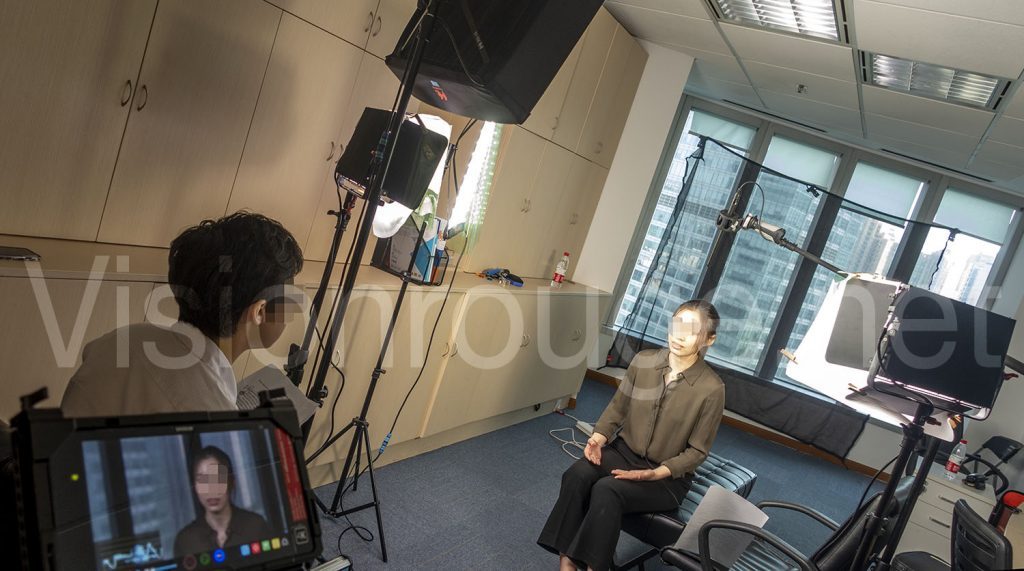 Another important part of our job is too make sure the interviewees are comfortable in front of my camera. Plenty of explanation and smiles are part of the camera operator job.
How do you record audio on a Commercial filming ?
On the sound part, we use usually one lavalier microphone on the interviewee and one boom mic on top. This way we have both option to mix a bit of each. The Lavalier mic can be subject to placement depending on the interviewee. The Boom microphone is safer but can catch unwanted room ambiance sound. Always turning off the air conditioning if possible. And if it's not possible, it's very important to check where the sound will be the strongest to get your filming in another location. I always agree that a bad picture with a clear sound will do better than a inaudible voice on a clear picture. With us, you will be assure to get the best of both for your recruitment video.
Of course, both audio channels will be first sent to our sound mixer before reaching the camera. This way, you enjoy the nice Sound-Devices pre-amplifier instead of the camera one's. All this equipment can also be rented directly if you like, from Shanghai to Hong Kong.
We usually goes for the Sennheiser MKH 416 and a wired lavalier COS-11D lavalier to avoid trouble with batteries or electronic interference. A spare Sennheiser G3 with the nice MK2 lavalier upgrade is part of basic kit if we need to film some action or a full body video interview.
And if you wonder why so much of "One-man-band with two cameras", "Commercial filming" and "Recruitment Video" wording in this page? You can have a look here!