Repair H98 error, Panasonic NN-894s, 2M261-M36 magnetron : FIXED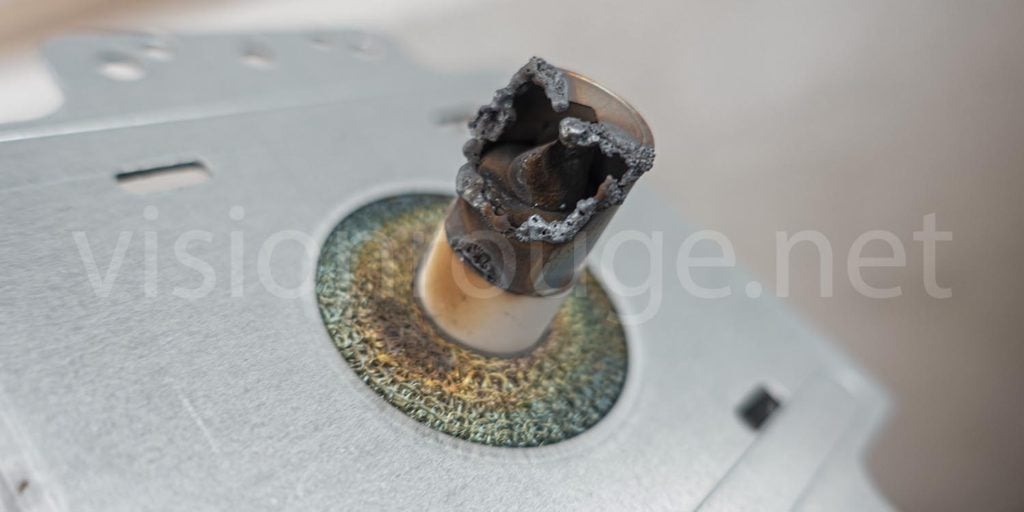 Repair H98 error on Panasonic NN-894s with 2M261-M36 magnetron : FIXED
Don't move just yet, you are still in a video production website! I'm describing the different steps on fixing a NN-894s combi oven displaying the common H98 error by replacing the power board and 2M261-M36 magnetron. Reading this post will help any of your repair process.
With the current world situation; trying to spend time saving money and enjoy good food at home is a must. By doing your own repairing, you also reduce the overall waste and help making this world a better place.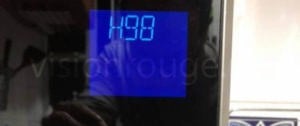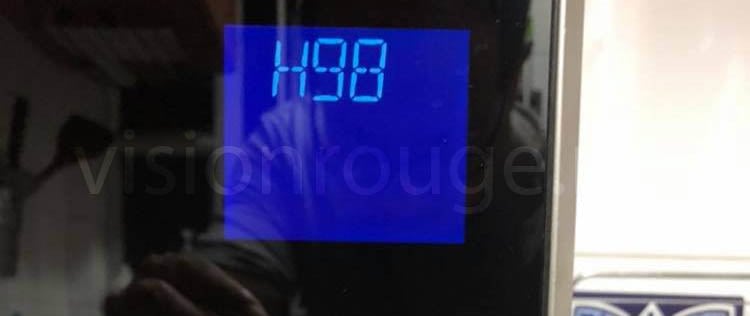 The story of this oven project from start.
Being stuck at home have been pushing a lot of people to spend more time in their kitchen.  But with limited work, spending money on new appliance will maybe not too wise so going for second hand market may be a good option. I owned already a microwave oven, but the lack of convection forbid me for cooking many item as bread, cake or pie. I can still do pizza by sing a pan + grill, but getting all in one have been in my mind for quite a while.
As Hong Kong home are quite small, there are many small combination oven available, but most of them are more focusing on traditional Chinese cooking with steam more than convection. I was lucky enough to find on Facebook market a defective Panasonic NN-894s.
On the paper, this oven ticks all my cooking needs and even more.
It seems that this oven goes with different name depending of your region.
A NN-CF874b is for example the same oven, but without the steam option. So the microwave inverter is the same on this one too
The advantages on choosing a Panasonic NN-894s combi oven.
I own 2 Panasonic ovens already and they did not failed me, so this brand had my praise. They were only microwave + grill combi and came with the house I was renting. Trying to upgrade, I found that the market offer for combination of conventional oven plus microwave function is actually quite small.
The NN-894s oven is quite the top of the line on Panasonic catalog as it offers steam + convection + grill and microwave in as single unit(!). It's also called "My Chef "Inverter" Steam & Grill Microwave Oven.
There are 7 cooking combinations:
(1) Pure Steam; (steam cooking only)
(2) Steam & Convection bake
(3) Steam & Micro Power
(4) 1000W Micro Power
(5) top Grill only
(6) Crispy Grill (Grill + microwave, perfect for fried chicken wings).
(7) 1,300 W Convection bake, (But you can add steam jet time to time on this mode too) The oven temperature goes from 40°C, 100°C – 230°C. Most of competitors do not reach 230°C, so I was sold!
Another last advantage for me is the 'flatbed' arrangement which is more space efficient, so It will be easier to get larger plate on a smaller footprint.
It's 32 L only but offer more cooking space than larger oven with rotating table.
As I will also put this on my kitchen at high level, the fact that the control pad is included on the door save precious space. This is a great
The Panasonic NN-CF853 is the same model without the steam function. I almost never cook with steam, so I would also be considering this alternative. It turns out that for some patisseries, getting a bit of steam jet from time to time make them even more crusty.
The two downsides I found is the poor LED lighting. I'm now trying to fix this by increasing the output power of their LED. I have ordered extra LED to put along the exiting one.
The second cons is the fact that the heat is coming from the side, not from the bottom. It's a forced ventilated convection oven as many, but not as perfect as one with heating on the bottom. Honestly, the bottom is where the the microwave device is. It will be complicated to do it in another way.
What to look when buying something broken ?
When you choose a product to fix; you need to make sure you will have access to the right spare and documentation. This is often the case with older model than brand new one.
As it will be kind of a lottery, you may want to be sure you can fix it before spending money on it.
The first question is to check if the seller have been the first and unique user and that the item didn't went to repair prior to your buy.  A error message could be misleading as other parts may have failed as well and you will realized only later. The overall cost may be quite different than your initial plan.
The Panasonic NN-894s oven service manual is available online and that's a very good start. I will know how to open it, test it and what are the part numbers. I wish other brand could copy such move.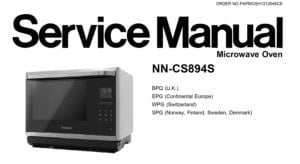 The H98 error is also well documented with a list of test to follow and narrow the possible parts to replace. There are plenty of other Panasonic microwave models with the same error number and videos widely available.
Spare part availability is quite a challenge in Hong Kong cause the only Panasonic repair center is forcing you to come with your unit and do not offer single replacement. Panasonic spare can't be ordered from official dealer outside Hong Kong as they refuse to ship there. But the proximity with China and free flow of item from Taobao will be balancing this.
Read below how I fixed it.
The offer on Facebook Marketplace for a broken NN-894s oven.
Facebook Marketplace is a great for local item that you can buy from trusted people. There is no ranking system, but a bit of background check is possible there. I was lucky enough to notice a great offer for a defective oven. The adv said that "some function was not working" and the price was quite low. The seller told me the display was showing a H98 message when using the NN-894s oven, time to time.
The H98 error come from the microwave part, so the oven was basically only working as a conventional oven. All cooking combination including microwave will make the oven stop working and display the message.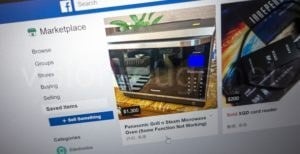 Based on the fact the I was not sure what was actually damaged, I even asked for a reduced price as oven with convention only model's where more in a lower price range. From 1,600 HKD, I got a deal at 1,000 HKD.
The brand new price for this Panasonic "My Chef" is almost 8,000 HKD. Spare parts are listed on eBay for 2,000 HKD plus delivery. This is if all goes well. I'm not including the hours of research I did prior to accepting the offer and the repair time itself. You will see that I actually got second hand magnetron and inverted for a fraction of that below.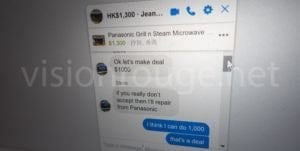 The oven was nicely clean and packed when I picked up. According to the seller, no one open this oven to repair it. This is mandatory to accept broken item. I when all the way to the other side of the city, creating a trolley wheels to be able to use subway.
Sustainable microwave oven pick up and use of public transportation.
I have dedicated an entire chapter for this part as I wanted to push the idea of sustainable fix as far as possible.
Hong Kong at this time still allows people to move around the city and you can have quite some large suitcase in the subway.
I knew this oven will be heavy with 21 Kg on the balance so carrying by hand was not an option.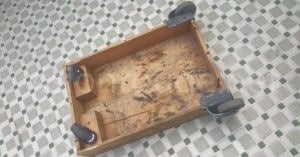 My design hack start with the need of a trolley. I got very heavy duty wheels that I picked up on previous broken items. I simply screwed them to a old wine bottle wooden box found at the recycle bin. The black plastic wrap was also a nice finding few weeks back.
Overall, except the screws, all was free spare found at the dump. It still can be use again on another project.
I travel to the meeting point with my backpack holding the warp film roll, holding the trolley by hand.
After meeting the seller and done paying, I wrapped all nicely. I love the idea of this black wrap. I literally stitched together the oven and the trolley to avoid any movement. As the subway could have some door gap, I check that I could lift the entire package in case and that taking the elevator was also possible.
I had 3 changes to go back home. The subway was quite empty at the time and the way back was easy, even walking the last kilometer home using bicycle lane. Yes, there is a microwave oven under this black cover!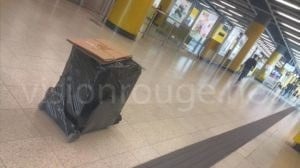 What is an inverter microwave?
An inverter can control the microwave power more delicately than conventional system, and help save cooking time & electricity power.
Basically, it send modulation of waves instead of just turn off and on. It does this using a complicated power board, very similar to PWM power supply. Instead of just using an heavy transformer to produce high voltage, it compress electricity with capacitor, drop it during a fraction of time to create a modulation to the magnetron. The overall board is much more complicated than a simple transformer, but allows less weight and total control of the power sent to the food.
The magnetron is the antenna that create out of electricity the microwaves. Ii's like a magnetic tunnel, a bit like old cathodic TV use to work. 2 large circular magnet are holding the flux and direct it to the oven cavity.
A magnetron that fail is easy to test and Panasonic service manual will guide you to the process. There are some hack which let you change only the two small capacitors on the Magnetron.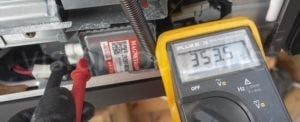 On the NN-894s, you just need to open the first cover with 4 screws to check. Obviously, here, something is not right. It should be a open circuit.
To test, you just need real ohmmeter. I have my Fluke76 for more than 20 years now. I think the current equivalent will be the Fluke 117 model.
The real life situation is a bit more complicated. By failing the magnetron may also get its antenna burned, and the magnet will be broken into pieces. At the same time, the inverter board will just burn as well, especially the 2 last diodes sending electricity to the Magnetron. They are not soldered, but electrically welded due to the very high voltage present. So I do not recommend to play with these here.
It will make much better sense to order a full new board, reconnect it all as it was prior to the accident and test.
How to find a 2M261-M36 magnetron equivalent?
This is a very important step to understand.
Panasonic have their own spare part number system, but there are only very few companies which are offering magnetrons. So many other references will be working completely fine. Also, as Panasonic have a large microwave models range; you may found the inverter board and magnetron with same reference in many other Panasonic models than the NN-894s.
For example, the NN-CF853 is the exact same microwave without the steam part.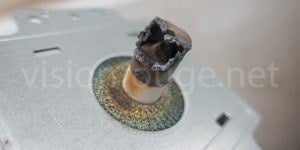 After removing few covers and the magnetron itself, the damage look quite impressive. For sure, just changing the capacitor at the magnetron base will not fix all the trouble. My best guest is that someone kept the metallic tray and used the microwave function, creating some very bad electric arc.
On top of this, the magnet broke too as you can see here. Do not try to disassemble your magnetron. It contain very dangerous chemical in a vacuum chamber.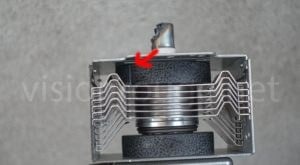 A new one is the only way out.
If you can't find exactly yours, there is also possible equivalent with a tiny power difference. A Magnetron 2M292-M36 is delivering 1050W instead of 1,000W with a 2M261-M36 and 2M236-M36 a bit less with 950W. In any case, this is perfectly acceptable and I'm not sure you will really notice a difference in real life situation. It's important to keep the airflow orientation, so models also refer just to the screw position of air-vent.
You can find second hand model removed from cosmetic damaged unit working just completely fine on Ebay if you don't want to go for a brand new one.
As funny at it may sounds, Amazon have actually plenty of Magnetron for cheap.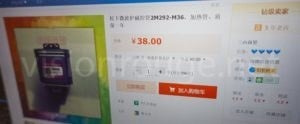 On my side, I found one on Taobao for under 50 HKD including delivery. There is no way to beat this. this is a 2M292-M36, so I will have even 5% power for to cook a bit faster! Being based in China helps on this mater.
The same goes for the Panasonic inverter board that I was able to source for 200 HKD. Both were second hand and tested. There is only 3 connections and two screws to hold the board, so changing it is quite simple. I did not even wanted to risk putting a new magnetron on my old board considering the damage I can see. The testing process on such do not value the risks.
Is it safe to replace a microwave oven magnetron?
As usual, dealing with electronic board should be reserved for people with knowledge on the matter. Microwave cooking is using invisible radiations produced by a magnetron. Magnetron is basically an antenna powered by a very high voltage power board. There are many potential dangers there and should not be put aside without understanding the risks.
I would not suggest putting your fingers when the unit is connected to the main or if the magnetron is not in place with the door close (and oven fully reassembled). The capacitor stays charged even after unplugging the oven. Please follow the Panasonic maintenance guide.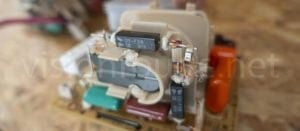 My advice is to replace the full magnetron and power supply (inverter). Do not start to play cheap with changing the 2 diodes only. This is my limit on dealing with high voltage board. I fixed many others electronics items before, experience matters a bit.
The Panasonic NN-894s service manual explains how to discharge the capacitor before doing some internal measurement.
The magnetron itself contain dangerous chemical elements and should not be disassembled. Please dispose properly to the right trash bin. Do not drop the magnetron on the floor.
When replacing the unit, make sure the wave guide is perfectly in-line. I will not recommend to play with the door gap as well. On the Panasonic NN-894s oven, there are screw to open the unit, and screw to adjust the door, please follow the service manual to guide you on which one you should remove.
If you are looking for advice with video and blogs as this one; makes sure to check many of them and sum up the safety requirements.
In my case, the magnetron created an electric arc and burn. This arc have produced some fume. It's important to clean this fume in order to get a better isolation.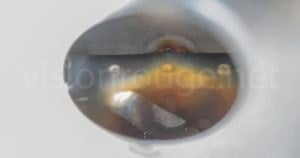 Here is mine before cleaning, it's look like cooking happen outside the microwave cavity!
You can easily wipe it with a clean and dry paper. I also took the picture with a tiny camera to make sure all was gone afterward.
If at this stage, you can see a real welding hole; it's important to change the entire microwave guide as well. This is the lottery part.
Sum up on the Panasonic NN-894S H98 error fix.
As this article is quite long, here are the basic steps one by one:
– Unplug the oven and unscrew only the necessary screws according tot the service manual. I suggest to take as many pictures as possible to remember the dismantle order. There are electric connectors to remove also; make sure to mark then to plug them back the right way.
– Remove the only magnetron and inverter board. Dispose them on the right trash bin, they contain dangerous chemical.
– Clean the wave tunnel from the magnetron top antenna, inside the oven, you should not have any remaining dust from past fume
– Check if there is no welding spot or holes that would affect the microwaves path.
– Put a new magnetron 2M261-M36 or equivalent, making sure their is no gap of deformed metal wit the oven microwave guide.
– Install the new inverter board and reconnect every single wire.
– Put back the oven together.
– Manually reset the warning H98 message. The procedure is on the service manual. Without this rest, the oven may just display the message without even trying to restart.
– Enjoy your food!
The overall cost of this repair, without the time spent on documenting, ordering and putting all together, is 1,250 HKD total (plus 20HKD subway ticket). This is not bad for a second hand Panasonic NN-894s combi oven!
Feel free to contact me if some part of this sustainable project need clarification. And feel free to share how you fixed yours!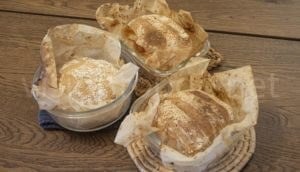 To go even further with your Panasonic NN-894s oven, next hack!
First, to make things clear; I'm not working for Panasonic, neither got any rebate or offer on any kind from anyone. This is my personal experience only. I have been disassembling electronic stuff since I'm 10 and love when we can save and repair items.
After one month of using this combi, I have improve a bit the way I'm cooking in.
The oven come with few accessories, but I found sometime a bit useless as you really need to be careful on the kind of function you will be using. IF you have any metallic part, you can't use the microwave heating system. And I guess that's what happen with this oven; someone used it without removing the metal tray. The little brother is called NN-CF853 and come with a grill tray that I found very useful as it can be used with the microwave function too.
I bought a simple spare on online and that makes a lot of things easier. You can swap cooking program without wondering if it will be a problem or not.
Just make sure your tray is exactly as wide as your oven to avoid a catastrophic situation where the warm food could  fall down.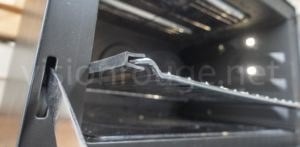 I actually also bought 2 very small high temperature rubber tubes. This tube is put on each side of the tray to avoid electronic arc. It also protect from a heat bridge between the 2 sides of the oven and the possible internal protect paint to be scratched. The last advantage is to block a bit this tray from sliding too easily.
Next hack/improvement was to buy a cooking stone for pizza or bread purpose. It's a great improvement on taste but also one the way the heat is kept when opening the door. The main complain with all these ovens is the small size. The temperature will drop easily when you open the door. By adding a large surface, the stone will kept its temperature a bit longer, acting as a heat capacitor. It's also something that you can keep inside the oven during microwave cooking. It will not improve your oven performance under this process, but avoid one more plate movement.
The final hack I'm working on is to get a better lighting and it seems it should be possible on adding a simple dual LED to the existing system. At least, this is my finding when looking at the electronic schematics. A empty room is ready for another LED in parallel.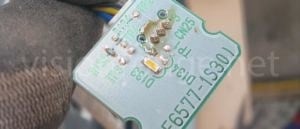 Let me know in the comment section if this Magnetron fix worked for you too!
And feel free to support such post by clicking on the Google advertising at the top of this post. A little support to keep spending time hacking life.