Book Freelance Videographer
One to One video interview
Wuxi, October 2019
Book a freelance Videographer for One to One video interview in Wuxi, China.
Who you gonna call when you want to book a freelance Videographer for One to One video interview in Wuxi?
Wuxi is just about one hour high speed train from Shanghai. It's very convenient for me to serve you there if you need to record some video. This day, a returning customer ask me to come to his office and get a one to one interview filmed.
Even if the actual recording took only 10 mn, I came to Wuxi 2 hours prior to the shot to insure a smooth setup.
The way back to Shanghai was as quick as well and all footage was uploaded as soon as I reached a decent Internet connection. The production house based in the other side of the world was able to start editing without the wait and cost of a hard drive shipping.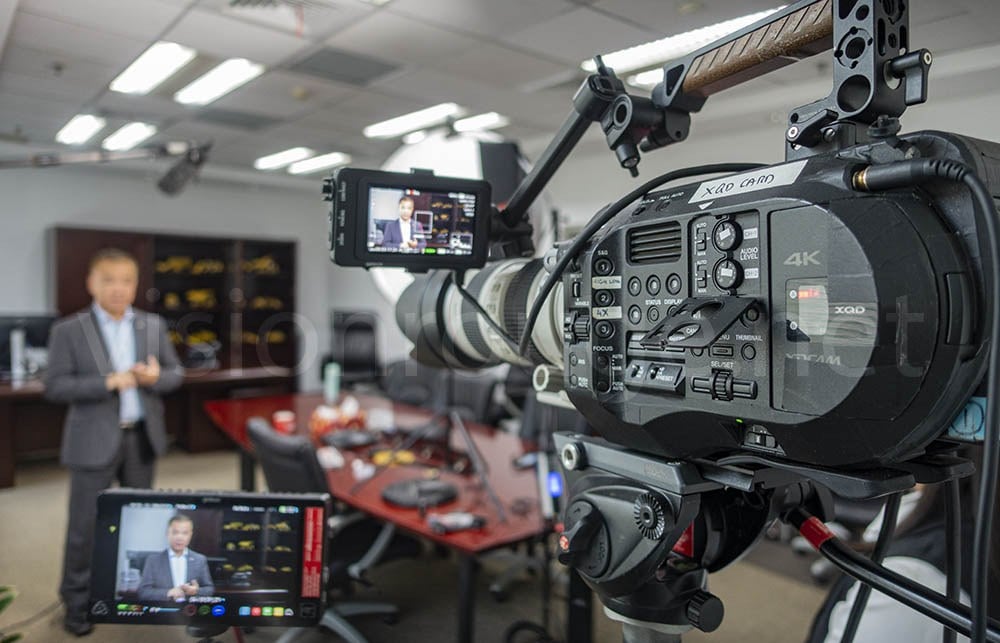 As it was a unique One to One video interview to film in Wuxi; I picked up a lightweight tripod to be able to board the train and taxi and save on transportation for my client. Working as freelance photographer involve a lot of equipment to bring on client location.
Each kilogram should be carefully considered. I always contact the shooting location prior to the video interview to check on electric plug, lighting already available to bring something accurate with me. It also helps the interviewee being confident and be prepared for this day. With a simple phone call, you can save a lot of hassle.
The freelance cameraman is going to Wuxi from Shanghai!
Few years ago; such trip would have to be done by car only. Mass transportation developed and a fast train is now in place between Shanghai and Wuxi. The travel distance is about an hour if you decide to go from the Hongqiao hub which is about 50 minutes from the center of Shanghai where VisionRouge office is located. A second option is to leave from the Shanghai North train station, but overall trip duration will be equivalent.
As I have quite some shooting gear with me; a business class ticket allows to stack few suitcase in the train coach and the staff at the platform is helping loading all in both train stations. Another ride by taxi and I will be in front of my client office. All the shooting gear fits bags able to get in almost any taxi trunk in China. This is not my first ride there!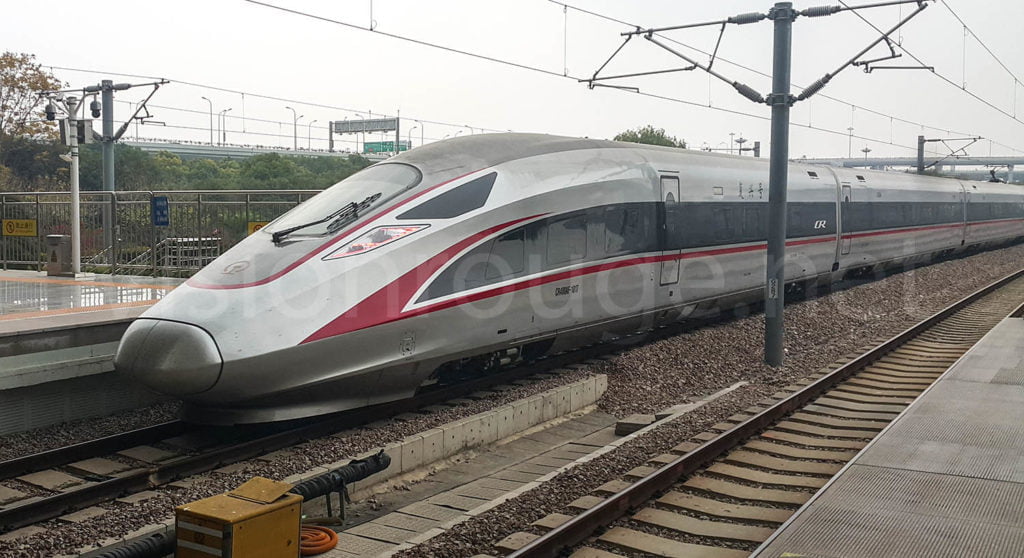 With the sharing car system, it's also possible to go directly from Shanghai downtown to Wuxi but motorways safety (or the lack of it) is still not to my taste.
Hire a  freelance cameraman!
Freelancer is quite a wide description but quite inaccurate for any assignment I do in China.
First of all, freelancing is not allow in China; period! 
So, I had to open a local company under my name and hire staff in order to get the proper credential for working. A work Visa is in order which means that I need an office address and home address to obtain it. It also means that I have to get clean tax record every year to renew it. Quickly, it shows that working legally means few paperwork and clearly will impact on the final price when booking a cameraman. There is no way out of this if you like to hire someone committed to work on the long run.
Competition is fierce there with cheaper alternative using "business" or even "tourist" visa to get access to this country. Unfortunately, these freelancer are not allow to work legally.


You can also check the current resident permit, the two characters: "工作" meaning "Work" should be present. As reference; this is mine. I have a legal entity in China since 2005.
Is there any risk hiring a freelancer Videographer in Wuxi?
As China is tightening on foreigners presence, it's getting more complicated to get around the system. The risks may seems quite limited when doing a One to One video interview in an office but are present during the trip and until the payment process. All is now recorded and safety check can turn to arrest easily. I have countless example of "tourists" not able to carry large batteries or drone when boarding train or planes.
By working with someone without the right paperwork, you may end getting your shooting canceled cause his equipment will raise concern on safety check entering a train station, airport or subway.
My advice is to ask your potential freelance videographer to show you his "work permit" prior to any contract engagement. It used to be a small red book as a passport but now exists under the side of a credit card. It shows who is the employer and what kind of job he is entitled to do.
Don't settle for average and book a videographer in Wuxi actually committed to work legally.
What's in your bag, freelance Videographer in Wuxi?
As I was going alone and not sure the client will be there for me during setup; I always bring a monitor to have a look on my frame when setting up the room. This way, I have a clear view of the final rendering without an need to go back to the camera. It also helps me during the recording of the interview, of course. The last use is to get the screen as the same height as the interviewee, so I can have an idea of how the subject will fill the picture. The screen acting as a model!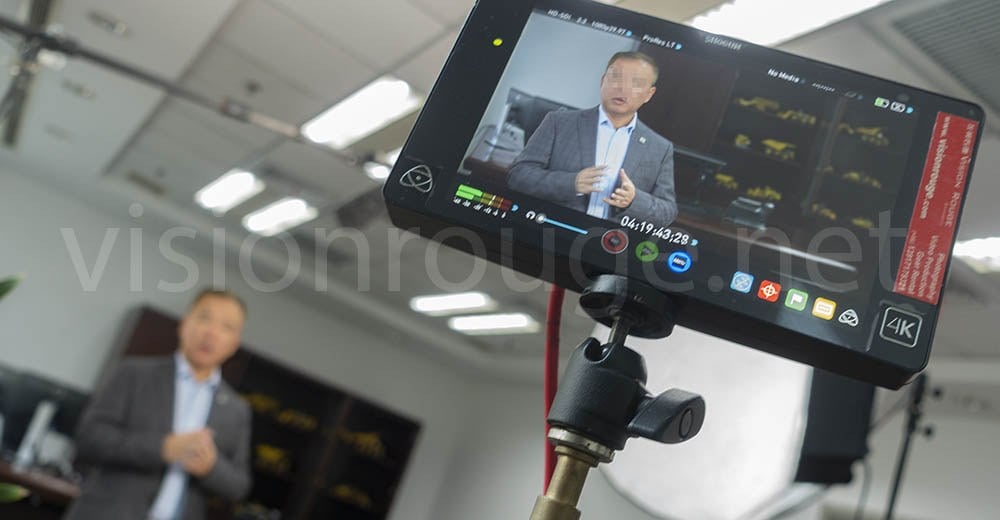 I always bring 3 microphones, one boom and a lavalier. A second spare wireless lavalier is always present but I prefer using the wired one. Wireless are subject to interference and need batteries. They are actually more complicated to put to the interviewee as you have the transmitter to put on their clothing. With a corporate One to One video interview as this one, it will not make so much difference on such nice suit. But I'm not always that lucky with clothing.
The spare microphone can be used if the subject may be moving around during the interview or when I need to record the simultaneous translation on site.
A 3 points light setup using LED is in order, of course. The smaller panel and spot running on batteries to avoid too much cabling around the office. This way, it's easier to move them when doing the setup. Usually, my interviewee have very limited time for such filming.
How to book a freelancer Videographer in Wuxi for your interview?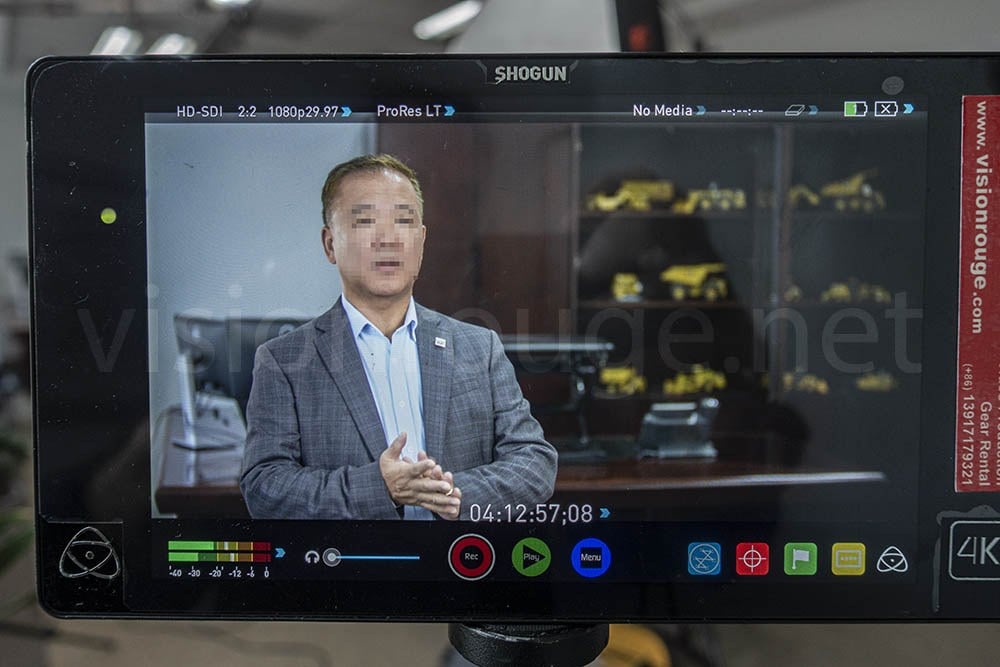 If you have a project requiring a freelance videographer, in Wuxi or anywhere else in China and Hong Kong, feel free to complete the form below.
I will come back with a price offer and you can process it overnight with a simple credit card. It's as simple as this to book me as cameraman for your next interview.
[mwform_formkey key="9198″]