Corporate Social Responsibility
Top English Videographer to hire
Shanghai, Oct 2019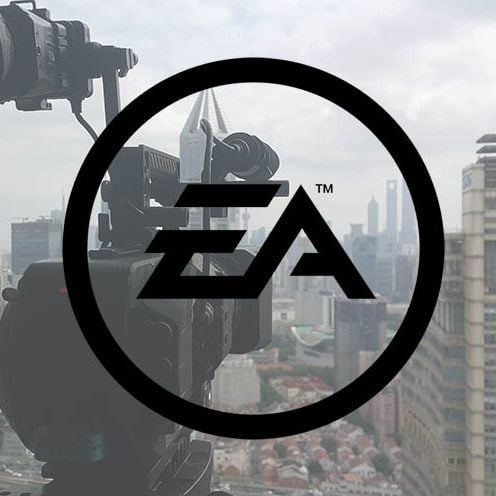 Hire a Top English Videographer in Shanghai.
Check here for your next English Videographer to hire on your Corporate Social Responsibility filming in Shanghai.
This day was a request from Electronic Arts to cover a CSR event they are doing all over the world. The idea was to get plenty of footage with a gimbal to present the city, the team in action and interview the main actors of this project.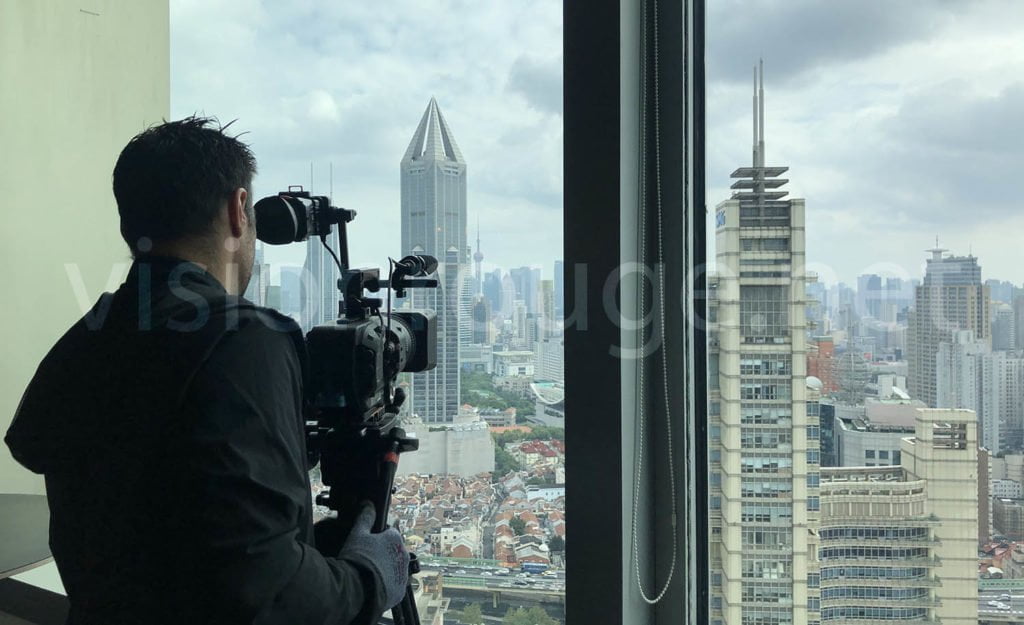 When you need to hire the top English Videographer in Shanghai, looking to Google result may be a bit disconcerting with so many options with different price and profile.
At VisionRouge, I like to keep it simple for you.
I offer English Videographer package including all you need for your shooting day. It include the transportation, equipment and upload of the footage. There is no last minute surprise or change of videographer/Cameraman.
I will get in touch with your local contact in Shanghai directly, so you can relax on small production details and time differences. You just need to send me a clear shooting list and timeline prior to the assignment day.
Book Gimbal package and more
My client hired a package including the basic "top English Videographer" package and added the Gimbal option.
So it include the great and ready for anything Sony FS7 camera, lavalier microphone, headphone, tripod and small LED package. It's already way enough to cover most of the B-Roll and interview situations.
For few shots; a bit of hand held camera movement is still a great way to give life to the footage. I have set the camera to do 50P for all the B-roll video in 4K.
The FS7 is a perfect tool for a Videographer, even on a shoulder shoulder. I own the nice Sony Cine lens and Zacuto Viewfinder to get a perfect static position on my body. The shoulder mount and hand-grip simplifies the filming.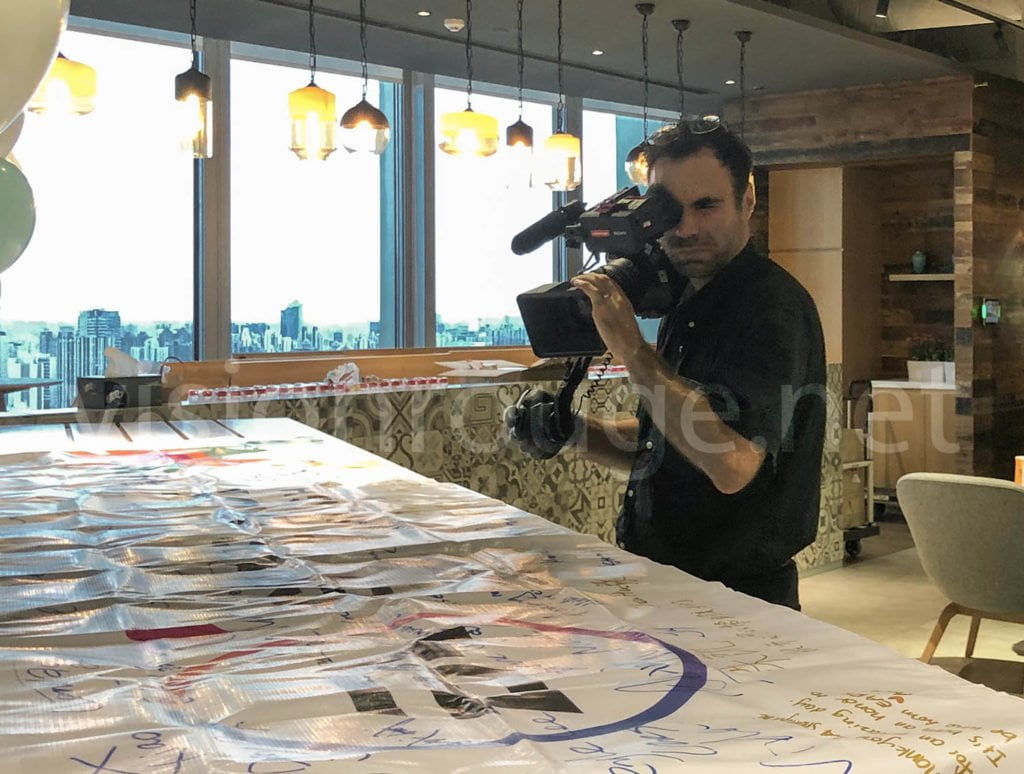 But as many shots should be done following a group of people, it have been decided to add a gimbal to the basic English Videographer hire request.
As I have designed a rig so simple to swap from Gimbal to handheld to tripod with this cage; I can just keep using my large Sony camera FS7 all day!
You get the best of both worlds for your editing.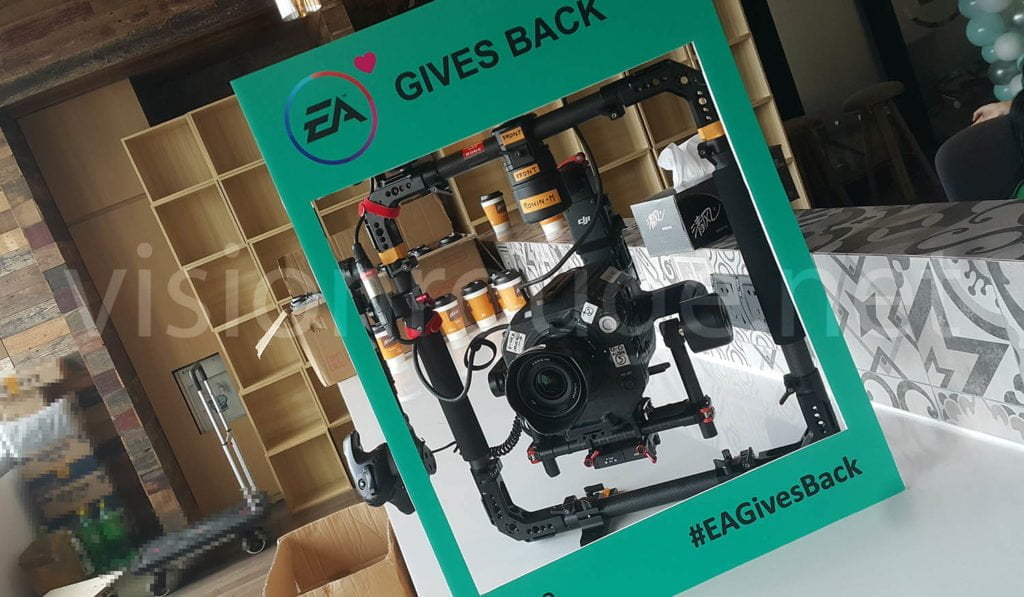 All the Sony FS7 video camera components can be added to the cage, so it do not bring too much extra equipment. This is an important consideration when traveling by bus to the location. The cage is also narrow enough to film crowded event.
The camera top handle is the cage top handle and even the FS7 hand grip arm can be used to trigger record during the gimbal part. This way, a single camera operator can do all alone.  You can check here for more details about this rock solid setup of mine.
On day filming in Shanghai
The first part of the day was dedicated to the interviews and the preparation of the furniture that would be installed later inside the school. Interviews went well as Electronic Arts have plenty of dedicated sound proof rooms at their office in Shanghai. Here you can see the Ronin Cage waiting for the first video interview to start.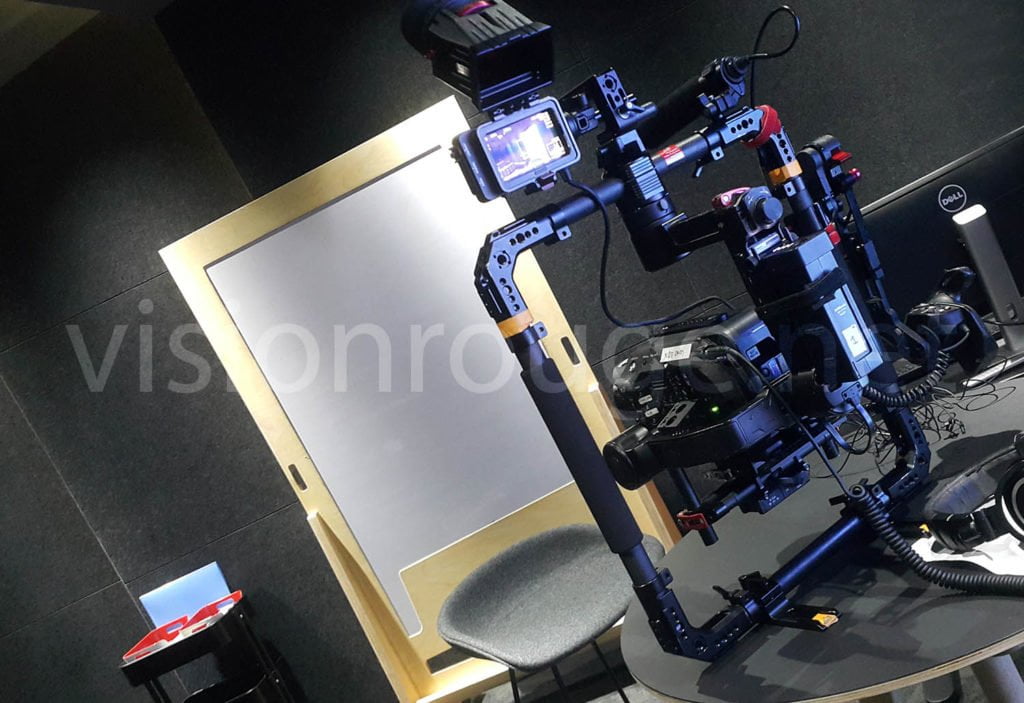 On the general B-Roll side, they also prepared few picture stands to remember this day.
Here, I'm doing some focus on both hands back and forth to the EA logo on the windows.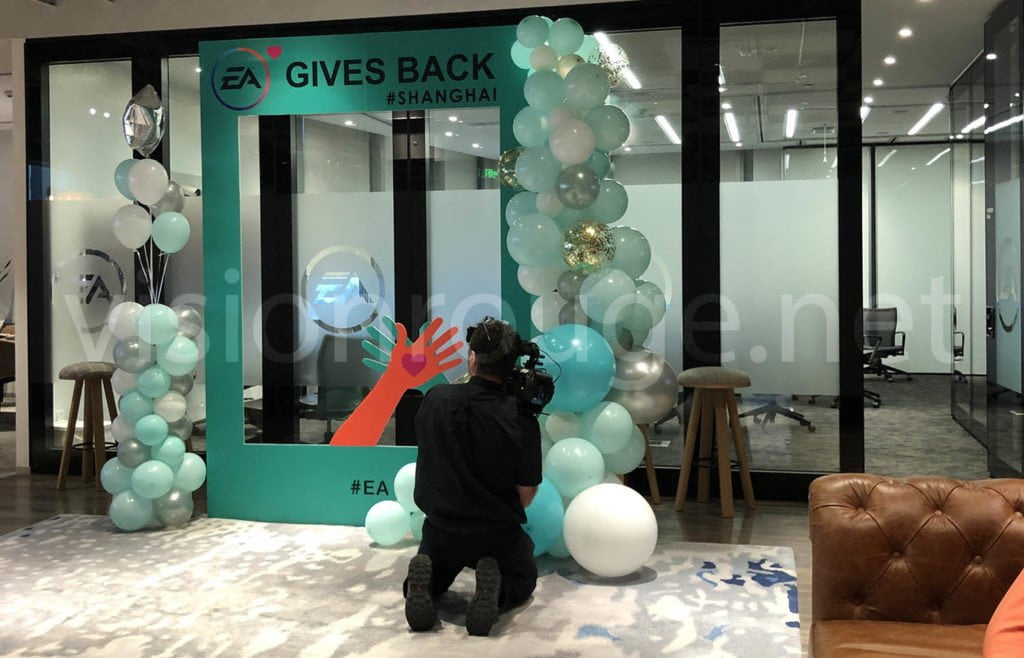 On the afternoon, the great EA team went to help painting and classifying the teaching books. At each time, the English videographer was there to capture the nice ambiance. The cage can be hold in many ways to get creatives angles without disrupting the subject.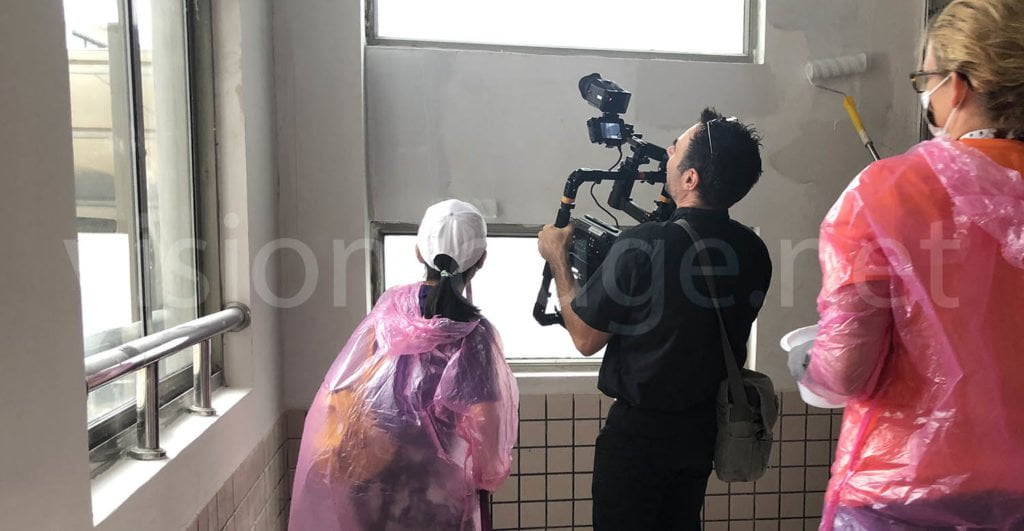 Hire me as Top English videographer in Shanghai?
If you like hire me as Top English Videographer in Shanghai, feel free to complete the form under the connect section of this website. I will be happy to offer you a great package price. Confirmation can be done overnight with a simple credit card.
I, of course, like to participate and support your Corporate Responsibility initiative.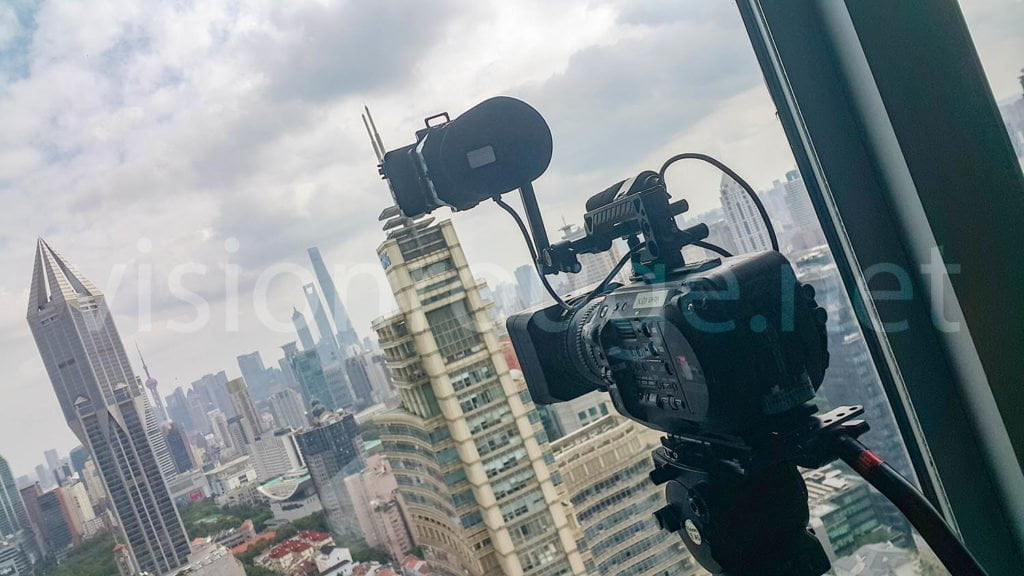 This is a nice overview of Shanghai, perfect for a time-lapse of the clouds flying on top of the city.
And thanks for EA team in Shanghai for this great day and BTS pictures! I hope they will hire me on another video assignment in the future.