English Top video service
Cameraman, Light, prompter
Nov 2019, Shanghai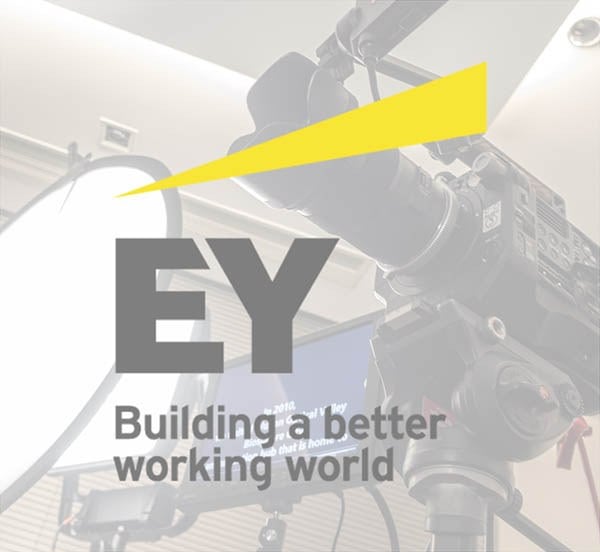 English Top video service to hire as package : Cameraman + prompter, Shanghai.
Hire a top video package including English speaking cameraman, light kit and prompter to record your next corporate video in Shanghai. If you like simple and cost effective hiring; this the the best you can find.



As simple as it's get; you just send us a request for quotation and we will come back to you with prepared package price including all you need for your office filming. Booking can be done via a simple credit card anytime to hire our camera operator.
Prompter, Action!
A request was sent to book our top English videographer package plus a prompter for this day in Pudong, Shanghai. The prompter is a time saver when you need to get your interviewee relax talking to a camera. It will display at a flexible speed the exact text of the statement to be recorded without any need for too much preparation. It's the perfect tool for corporate video when specific sentence should be said. We can still do a free style rolling later, but at least, the key words are on tape already!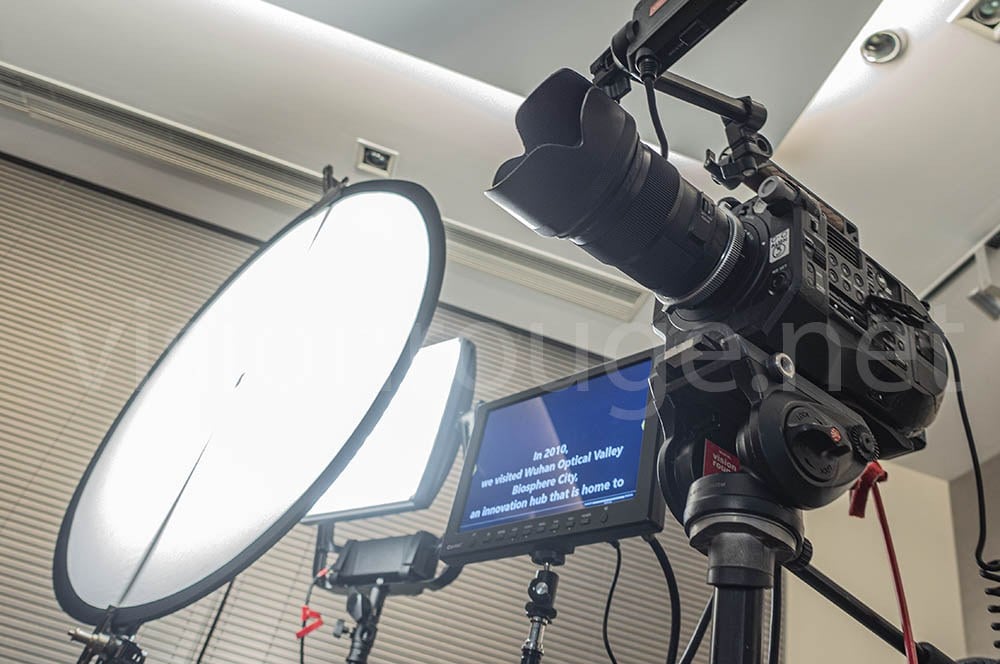 This day; the prompter was put aside the camera for a One to One interview feeling. We also have through the camera lens semi transparent glass to get a more direct feeling. We are using 10 inches screen size to avoid a large eyes movements when the interviewee will read it. Our prompter can display Mandarin, English or Cantonese characters. It can run at a pre-recorded speed or with the help of a second computer mirroring the screen. This way, it's easier to follow and adjust the text scrolling speed. All is control by wire and not with a slow answer Bluetooth remote to ensure perfect synchronization. This is not our first prompter office interview!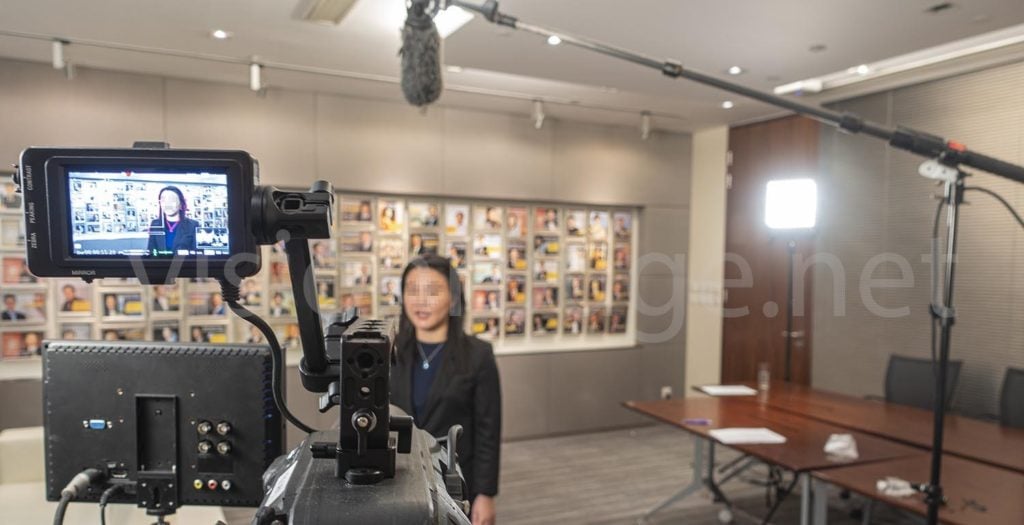 Top Light kit for hire in Pudong, Shanghai
The regular light kit include 2 large and powerful LED litepanel Astra 1×1 to face any situation and make sure your audience will have a top corporate feeling when watching the video. Litepanel is not widely available in China but when you need proper quality, cheap Chinese are not up to the task.
This setup is easy to use powerful enough to get any room full of light. The color accuracy is in pair with the Sony FS7 camera I'm using. I diffused the main light and got a second one on the rear as kick.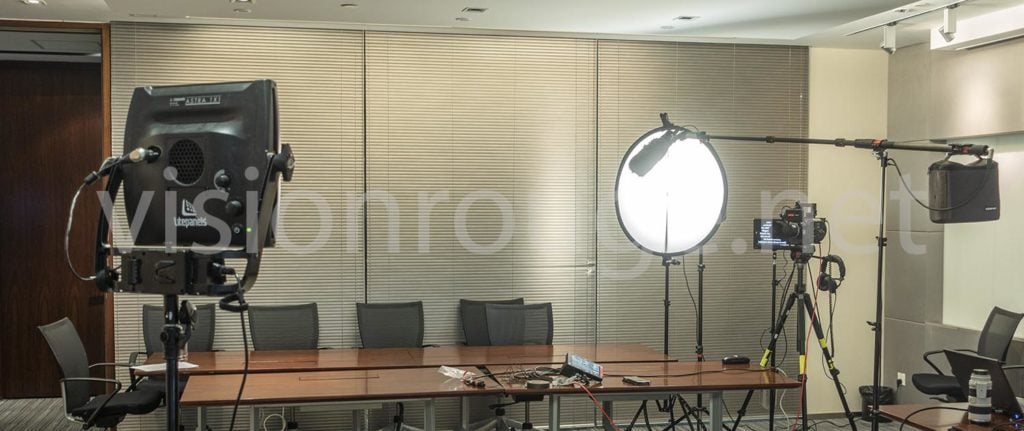 I always bring 3 lights set, the background was already bright, so it was not necessary to use all my kit. It helps to not bring too much gear in front of regular office worker. That makes them confident talking in front of the camera. As you can imagine, my job is as much to care about technical details than be aware of people sensitivity.
Top English cameraman to hire.
One extra advantage of working with Visionrouge is to hire a top cameraman with plenty of experience. I have been doing this camera operator work since 2003 in Shanghai. You can be assure of a real professional attitude, from the outfit to the attention to small details during your shooting. The person you will be chatting prior to the shooting day will be on set. There are no room for last minute surprise or excuses.
Working with a foreigner also have the advantage of sharing same cultural aesthetics and history. It will also solve communication and banking process. Last but not least, with an office located in HK as well, I can easily upload from there any video size. This is a time saver compare to shipping a drive within China where regulations make this almost impossible these day.
All this is included in the Top English cameraman package and will helps getting the overall budget under control.
For this case study, despite the altitude within this high tower office in Pudong; shooting the surrounding was not so convenient. The outside view was under a heavy smog and the sun appeared only when I was packing back to my office. This is the top picture i have used on this blog post.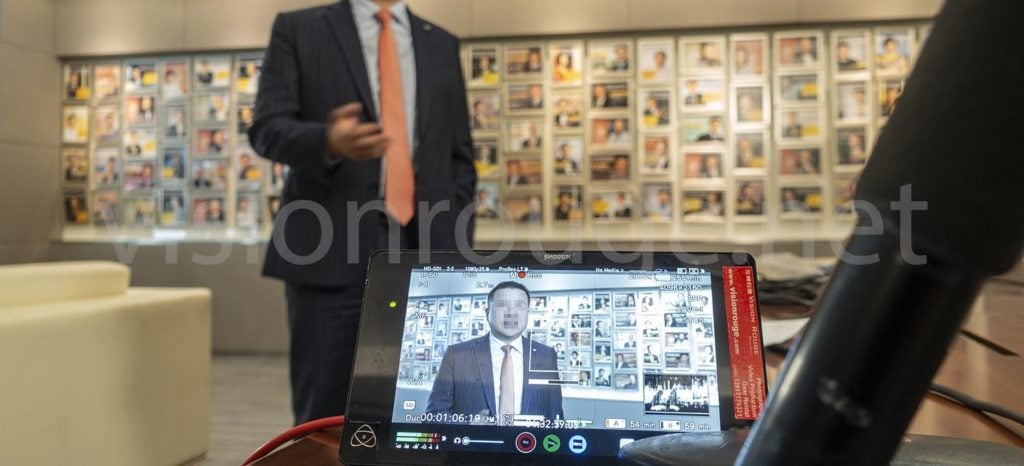 I choose to go for the nice hall of fame pictures background. With a Sigma prime lens, I was able to get a bit all of focus and keep it colorful.
I brought with me a pleasing 50mm sigma Art 1.4 and even added a Cine speed booster on the Sony FS7, so it gave me plenty of room for getting the subject standing of the background.
If you like to book me, feel free to fill the form there and you will get a cost idea of such.
Looking forward to work for you soon!