On location green screen
Panel discussion video
Nov. 2019, Hong Kong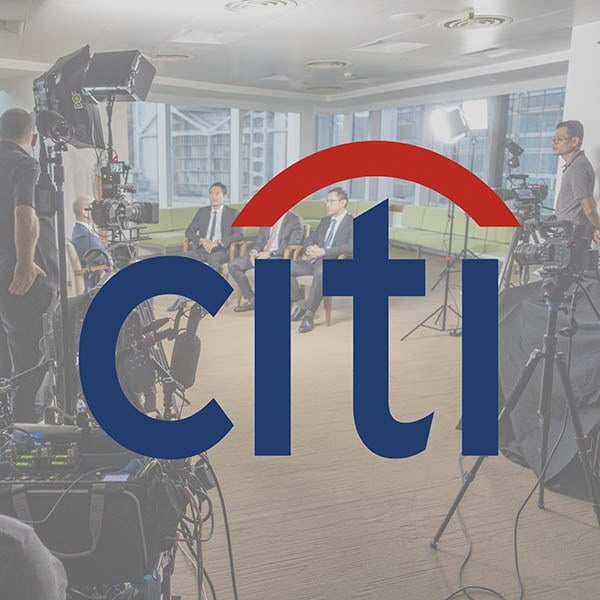 Panel discussion video, On location green screen in Hong Kong
We love challenges and, for once, this was a great one. Our returning customer asked us to film in one afternoon only; a panel discussion with 3 cameras setup and a green screen interview video with 2 camera angle + prompter. One of the interviewee having very limited time for us and should be present on both sequences. To add even more pressure, all should happens at the end of the day when the sun goes down and overall lighting is changing drastically. They gave us 5 hours… we delivered!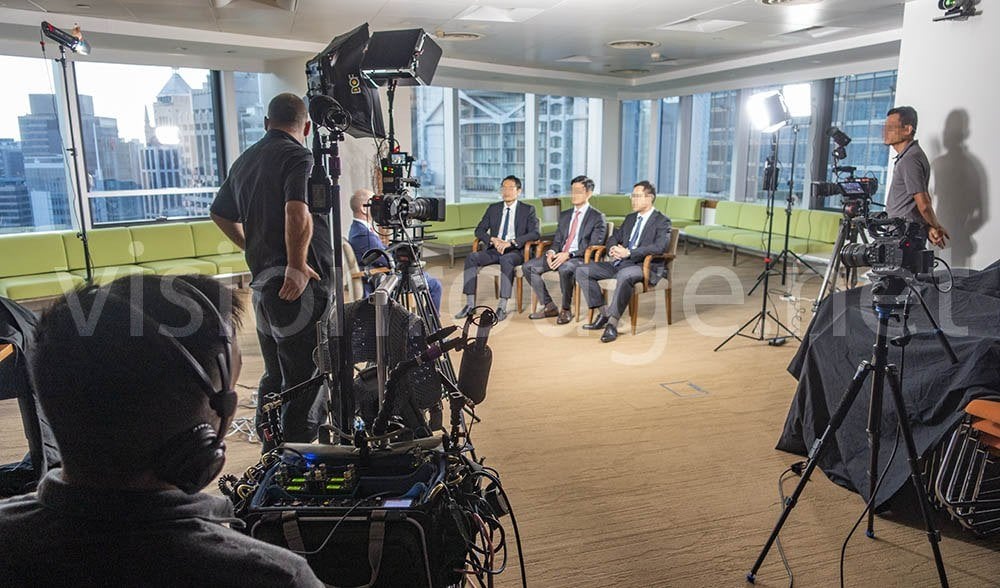 Book a shooting crew of 7 in Hong Kong.
This is the crew we provided in Hong Kong for this on-site green screen + panel discussion shooting.
Producer, trilingual
Director, bilingual
Two Cameramen, bilingual
Audio Tech, bilingual
Make up artist, bilingual
Prompter operator/grip, trilingual
The gear was a set of three 4K Sony FS7/FS5 cameras, Full Audio pack, Green screen setup and Prompter. All this fitting our van.
As usual, we did a remote location scooting using social media app to make sure our gear will fit the room. (and that the room will fits our shooting needs). Thanks again for our client time and dedication to gather all video and footage prior to the shooting day.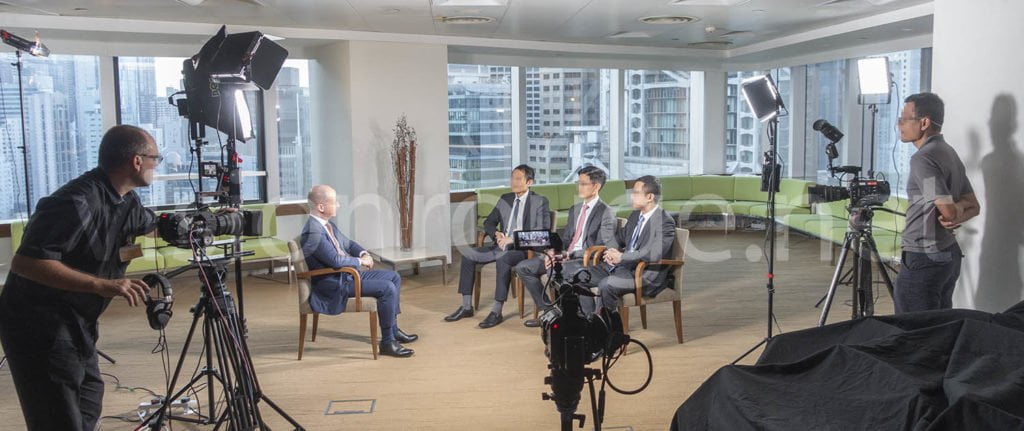 We brought all the filming gear using the service lift and setup took about 90 minutes prior to the rolling time. They actually provided us a very nice and large room with a 180 degrees windows view facing Hong Kong skyscraper. We made sure to not have our own team reflecting on the windows when the outside light started to dim.
With a very large black curtain that we brought, it was easy to hide the remaining furniture without moving them.
A large pillar in the middle of the windows helped to hide the large wide angle camera.
This is not our first panel discussion filming, we are here to bring our expertise.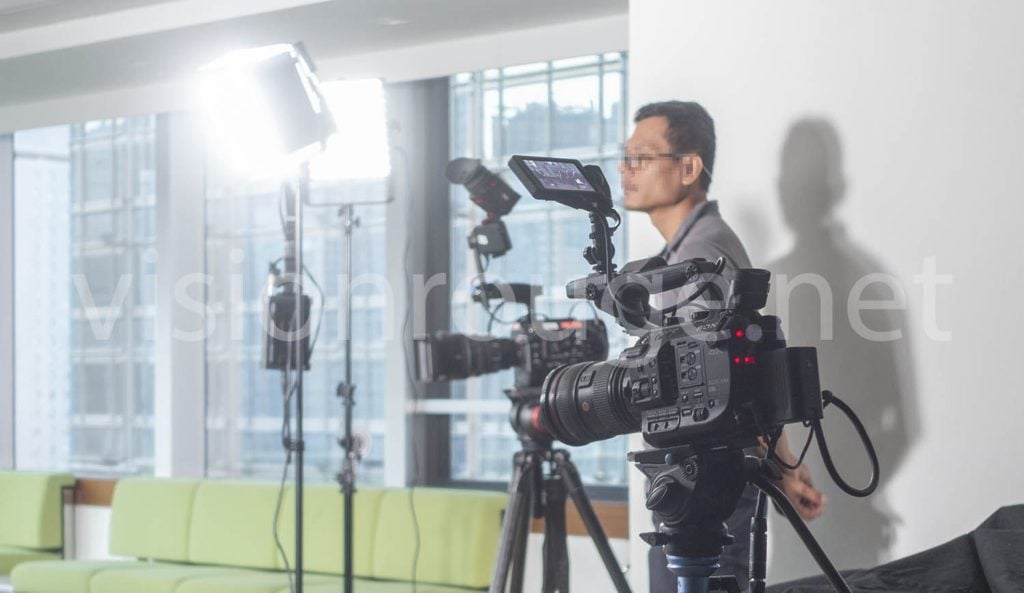 Panel discussion setup, 3 cameras angle, 4 persons to film.
The challenge was obviously to get a nice look on each camera angle using the Hong Kong view. Of course, it was not possible to see competitive logo  on some large LED external advertising. With a very large room and few tricks, we manage a great looking panel discussion video. It turns out very nice and we get back on time home. The outdoor look was a big plus. We uploaded the entire footage few hour later to let the London office downloaded it and start editing the very same day.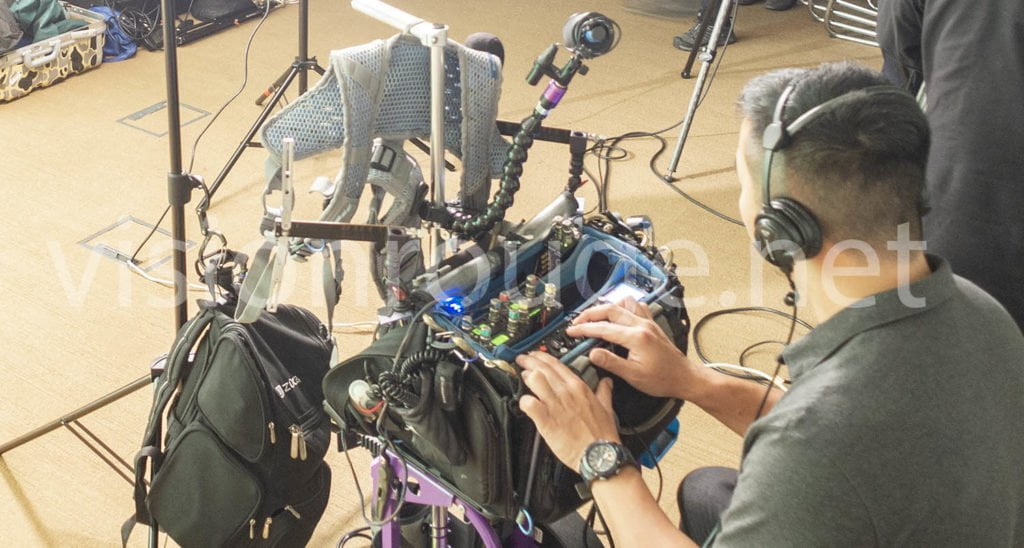 To save time on camera reset between the panel discussion and the green screen filming, the camera are already with the prompter support. We just added the glass instead if resetting the entire rig. Our prompter is quite lightweight and in house design as well. It accept the full weight of our Sony FS7, even with the large cine lenses.
As you can also check, the final framing look superb with a nicely colored balance between the interviewees and the city.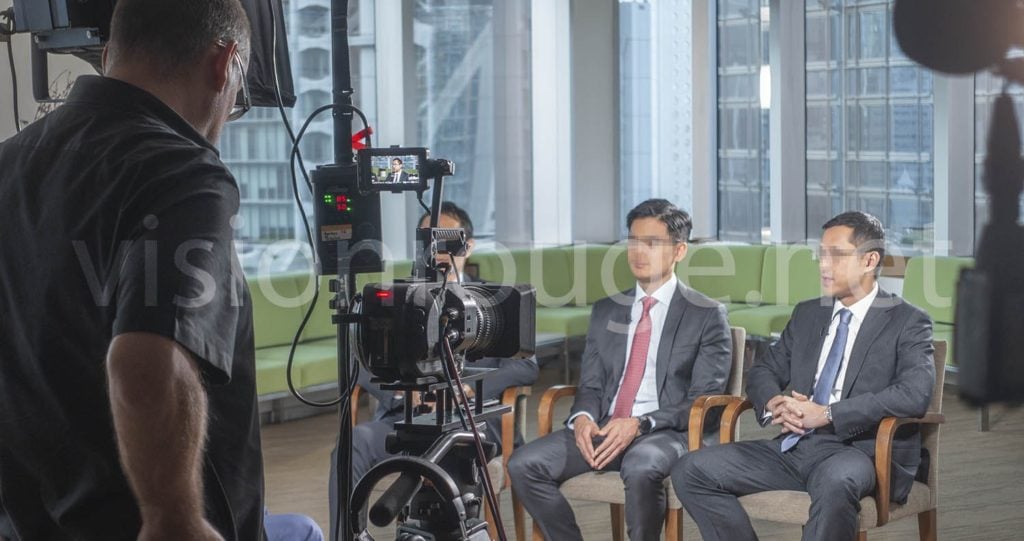 Our prompter operator is able to speak and read 3 languages. The prompter text for the interview was in Mandarin and Hong Kong official languages are the English and Cantonese. Mandarin and Cantonese are completely different languages, they don't even use the same set of characters.
Our prompter is remotely controlled with a second computer that can display any language.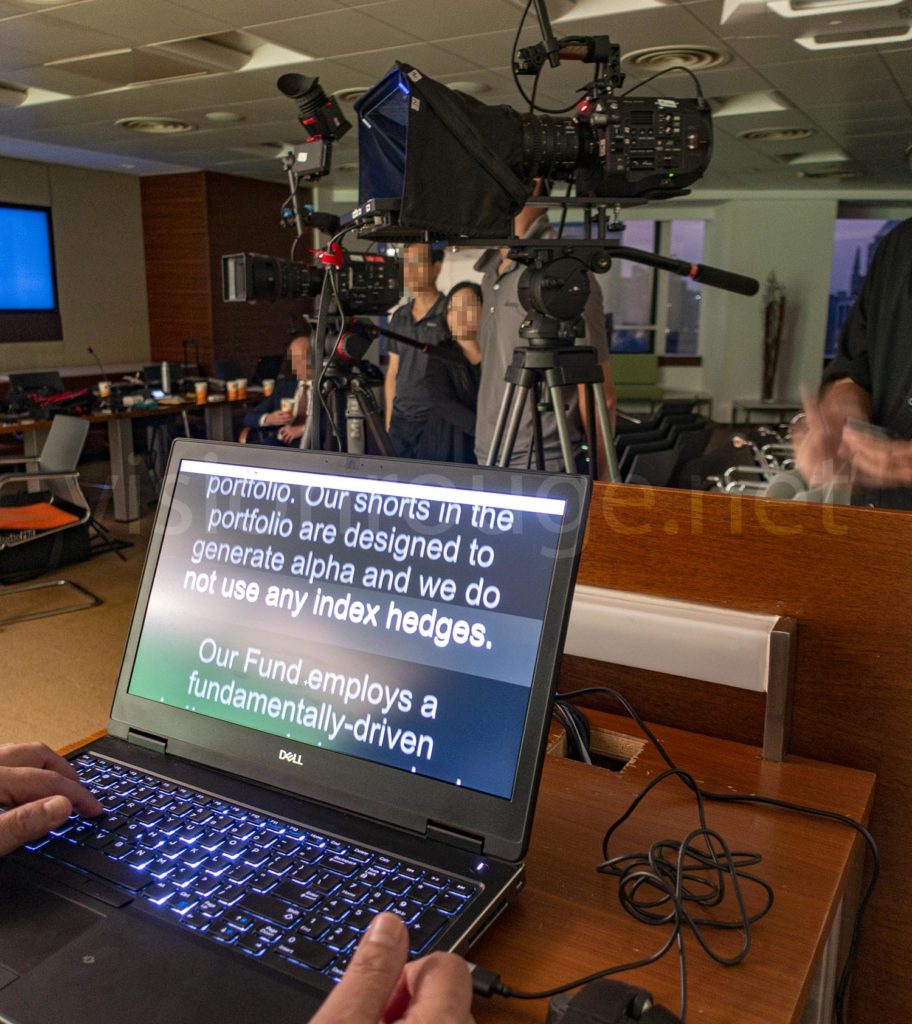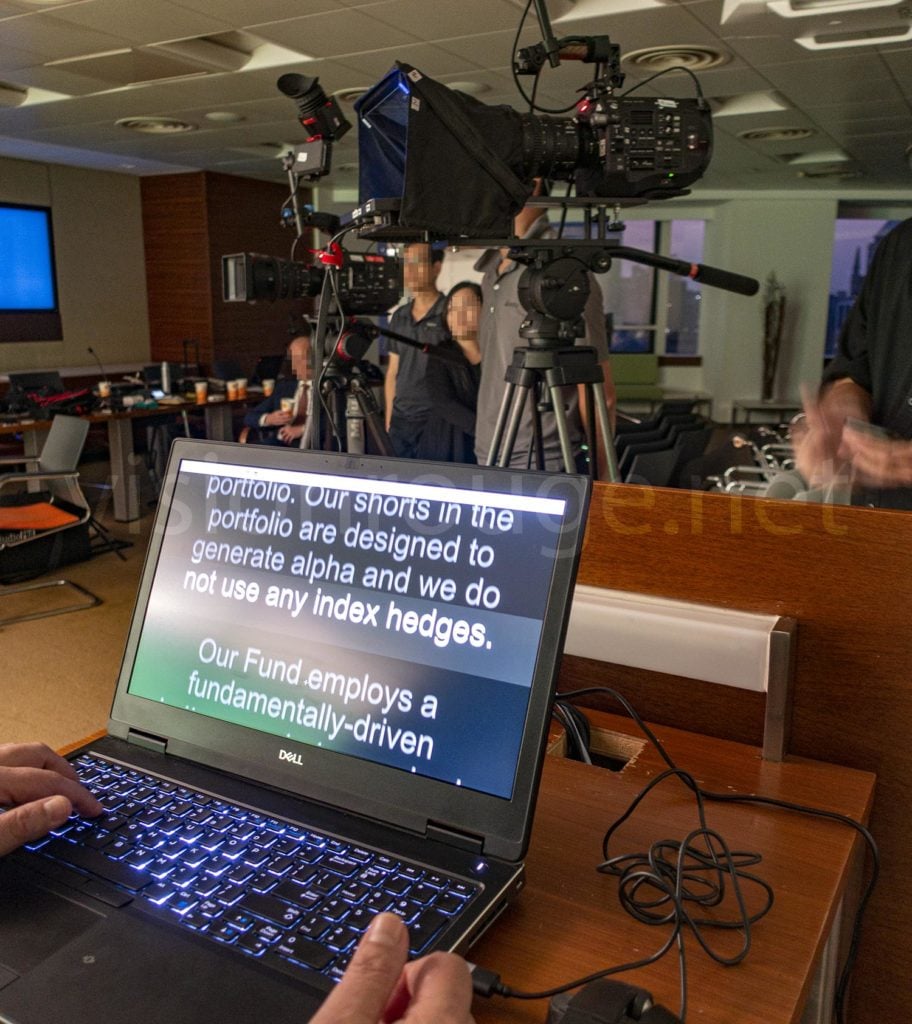 Even if the prompter front glass is removing a bit of light for the lens in front of it; we always bring extra preview monitor to make sure both angles have the right exposure and look.
Green screen on location studio setup.
The on location green screen setup was with a prompter on the lens for one camera and a second angle was requested as well. So our backdrop was quite large to get both axes covered. In Hong Kong, instead of renting Chroma key studio, as you can see, we can come to your office and install this green backdrop and light it perfectly. Shooting with 4K camera gives you even more definition for your post production.
We actually did plenty of such already, even in a very tiny room. Again, experience matters here.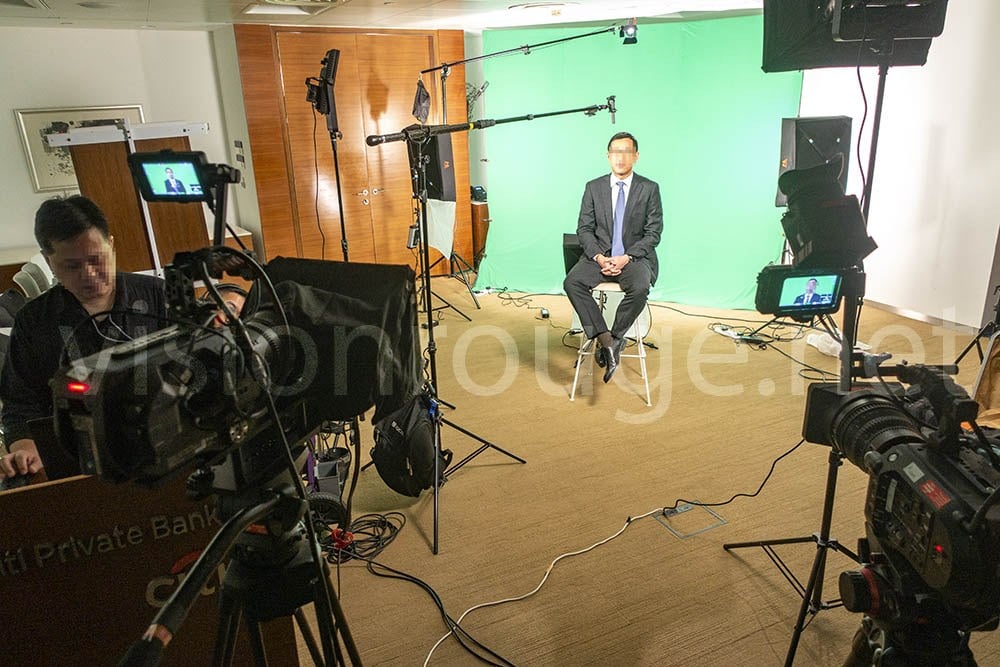 Between the panel discussion and the green screen backdrop, we almost moved the entire lighting and camera setup. We like to bring as little gear as possible for the client to feel comfortable. Yes, we could also come with 2 trucks full of grip, but that will be quite a hassle for the normal operation in our client office.
We installed the green screen on the side of the room without any windows, but making sure the proximity of the corridor would not be a problem during recording the audio. It had it's own large diffusing lighting. This part was tested simultaneously with the panel discussion. We knew that we should reset in a very limited time as the same interviewee needed to be on camera the following sequence wit the green chroma screen.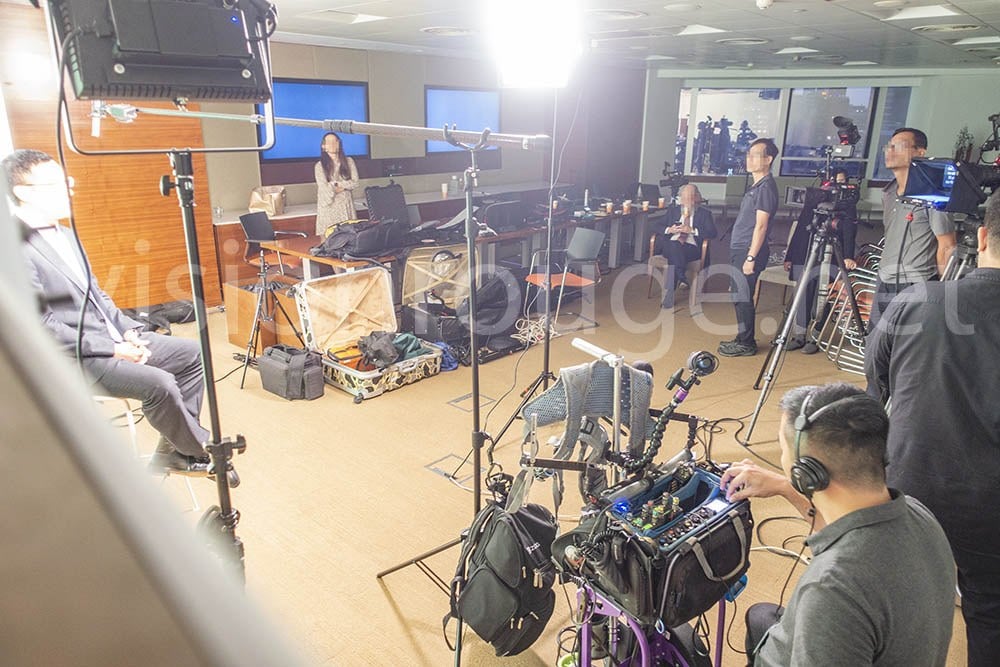 We used our flexible LED panels to do so. 3 of these bi-color LED was necessary for such. It was quite nice to have a very thin lighting system for sure. The interviewee was lighted up with 3 other LED; 2 panels and a spot light. The Lupo Superpanel was very helpful and versatile with so much power to get the right balance between background and subject.
Feel free to connect with us for such setup, either in Hong Kong or Shanghai!
And big Thanks to all of the one involved in this project.