Video production services in China
Filming corporate interview
Shanghai, March 2019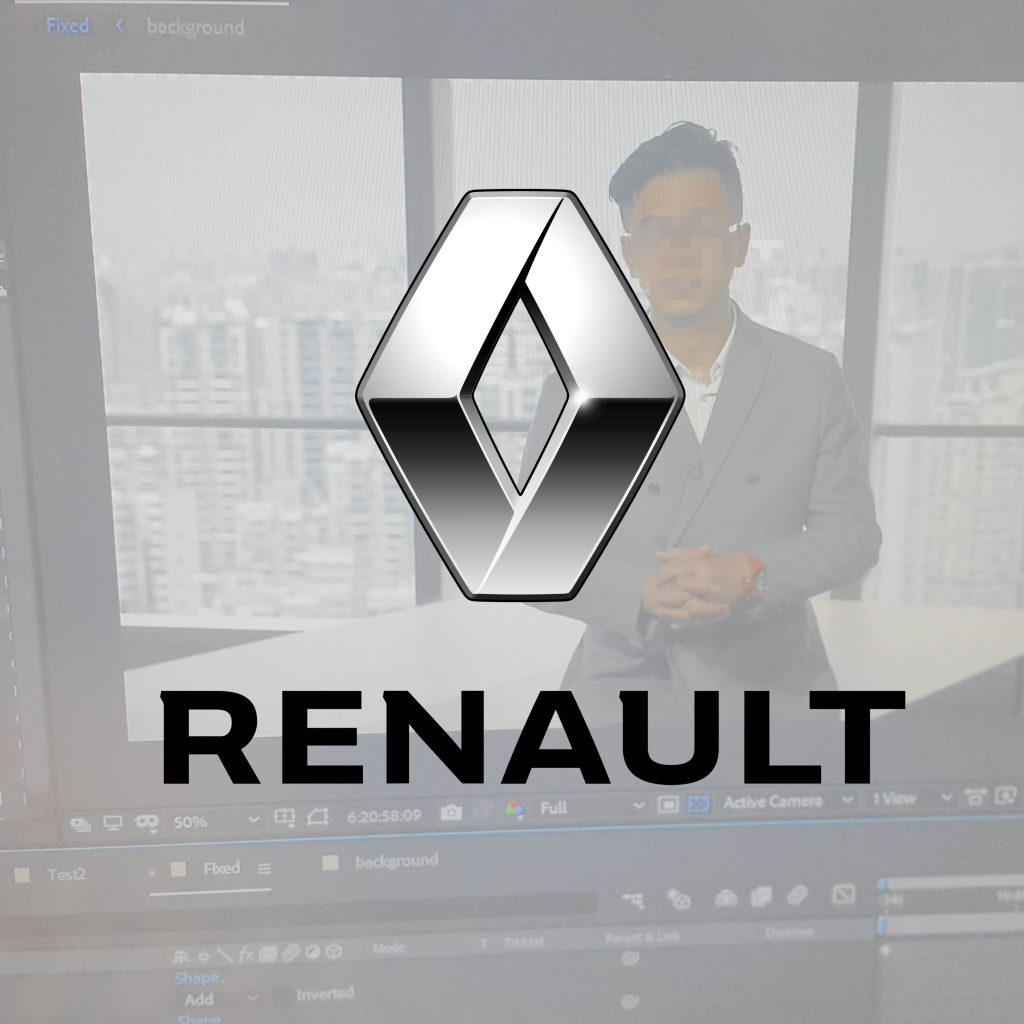 Video production services in China, Shanghai.
This project for our French client is a great example of the range of video production services we are providing in China from our Shanghai office. From camera gear rental delivered in Wuhan and Pick up in Shenyang, to hire a fixer for their oversea team as well as Interview and B-roll (Stock footage) shooting; all this during a 4 weeks time with only one video agency to work with: VisionRouge.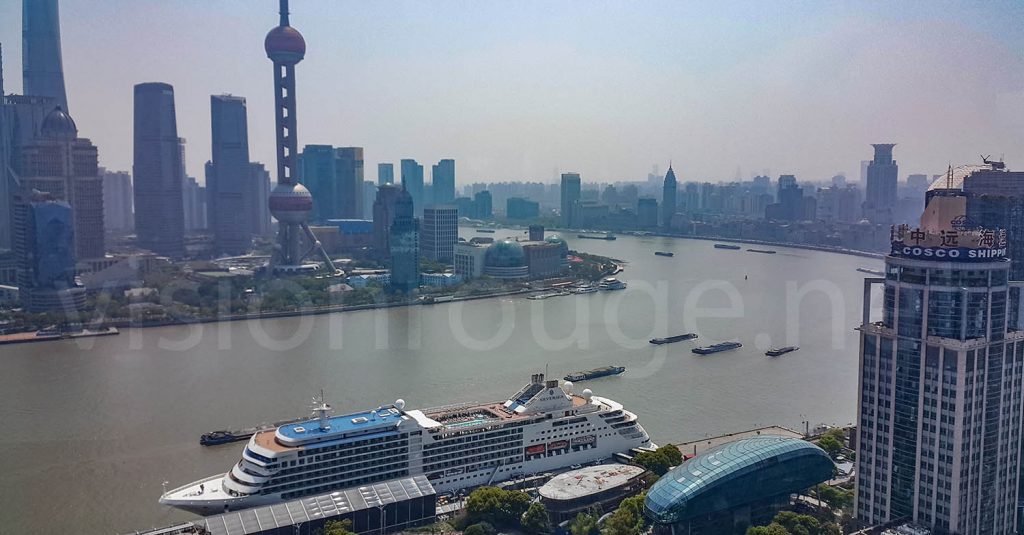 Video production services: Gear rental and on-location delivery.
We flew to Wuhan to meet the French team directly on their shooting location. They booked the gear online a simple as it may be. We chat online to make sure all aspect of their 4K camera rig fits their needs prior to departure. A 2 hours flight to Wuhan and last kilometers by taxi to deliver it directly on their shooting location was the first part of our video production services in China. This gear belong to us, so we can vouch for it 100%. We also shoot video by ourselves and know what to be careful when renting it.
Video production services: Gear rental and on-location pick up.
Due to time constraint, our overseas client came to China by Wuhan, but flew back to France by Beijing via Shenyang. Part of our video production services was also to meet the crew at the end of the day there and pick up back our camera package.  They saved one day on the trip in China overall. Despite a rerouted airplane, we where able to gather all our gear in perfect condition. We always planned and have the backup plan in case ready. This is not our first shooting, but soon our thousand one. The grip we offer for this on client site location was aware of the gear value and condition. This is the best answer as shipping it would have result to a lot of possible trouble. Some will argue that a local gear rental place in Shenyang would have been a good option as well, but time constraint and quality is not something we want to give up on few extra money saved.
Fixer for video shooting in Shanghai.
Our video production service are also to help overseas crew to find the best and creative way to solve their filming equation. As China can be sometime complicated, we were happy to get a cost and paperwork effective way to get the street shooting + crew transportation + on traffic shot solved all in one. We provided a convertible car where the camera operator with our simple cage rig could use his 4K FS7 camera to get plenty of amazing shot of the city in no time. This is the kind of video services Vision-Rouge like to do. Simple and efficient to save everyone money and time. You can have a longer post about hiring a fixer for your movie in Shanghai here.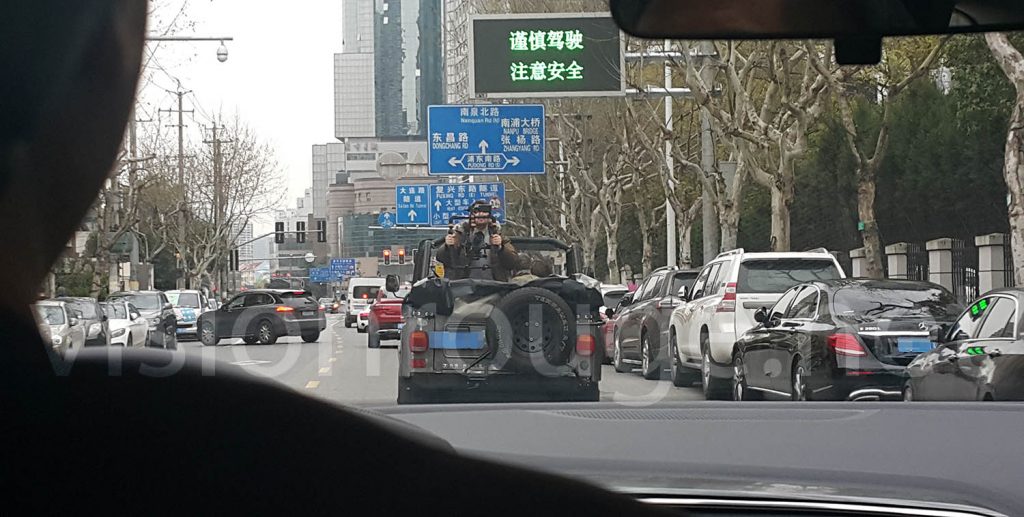 Interview setup, the basic 2 person crew in Shanghai.
Corporate interviews are always on top of our requested service as a production house. This time, the office were so new, that we have to get the right working angle to picture these 2 sets of one to one interview in a nice way. The setup is a 3 points lighting system, 2 microphones setup; one lavalier + one boom, feeding a sound recorder and our favorite 4K FS7 Sony camera.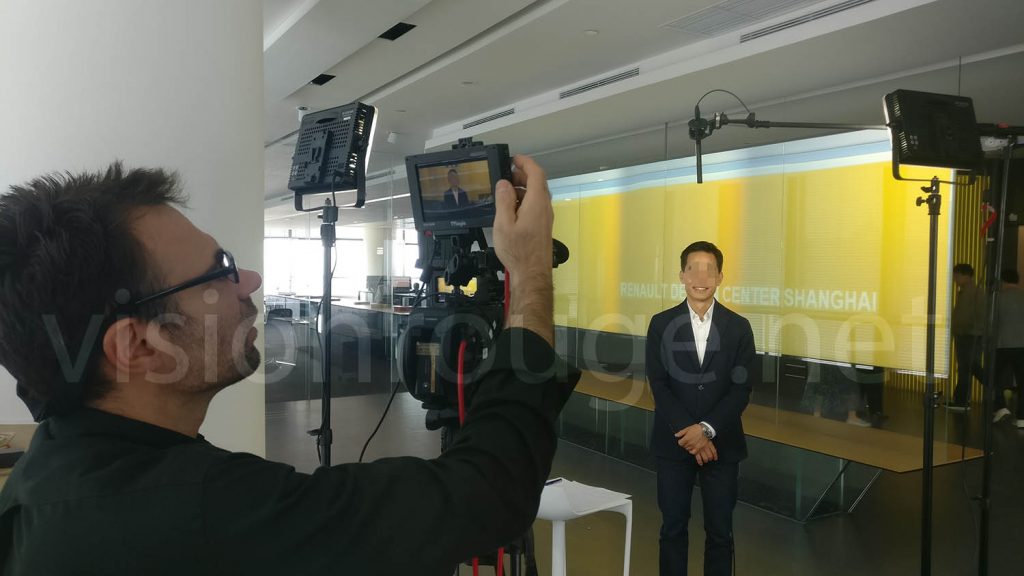 And a preview TVLogic monitor is always better than a bad SmallHD one…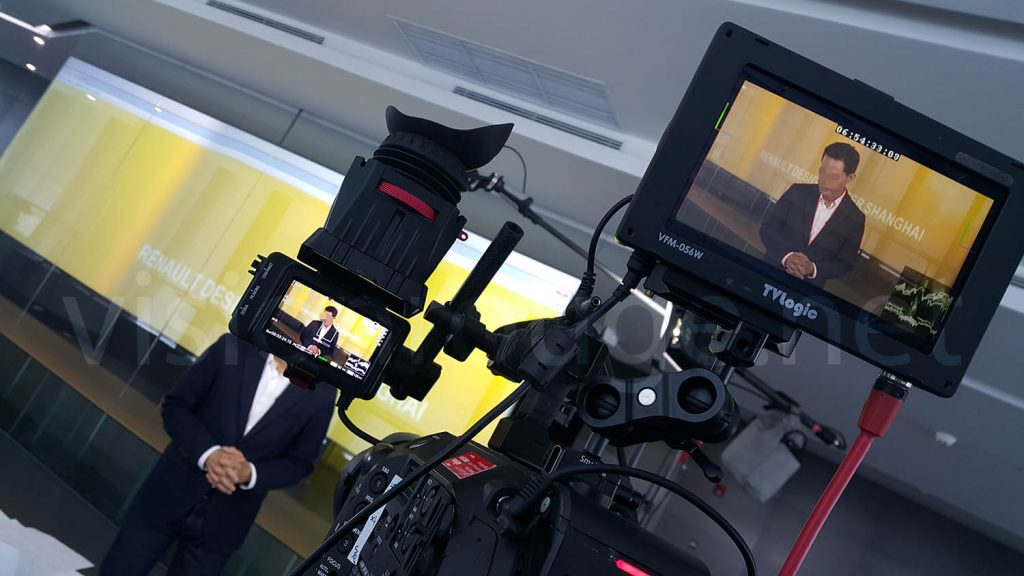 One man band crew / one person crew, Audio tech.
This video assignment also requested to follow digital influencers around Shanghai visiting the design park. A sound tech was requested to help the overseas crew on the audio aspect. Working with Vision-Rouge is the best way to get many production services solves once for all. Versatility is the key and a single talented crew members is sometime more useful when you need many different position.
Portrait B-roll around the Bund area.
Right at the end of this rainy interview day, but just before the night fall, We sent our cameraman on the Bund to gather a half lighted landscape at dusk. With the right camera and a good pick up of locations, few great shot of iconic shanghai to get these B-roll footage in order. Please check the final movie here on the client website and fee free to request a free quote below.
You can see <a href="https://www.visionrouge.net/video-production-services-in-china-filming-corporate-interview-shanghai/" title="video-production-services-in-china-filming-corporate-interview-shanghai">more details about it there</a>. Few <a title="aerials stock footage in Shanghai" href="https://www.visionrouge.net/aerial-services-drone-china-shanghai/">aerials stock footage</a> from Shanghai was added to produce a great movie.
Video production in shanghai: Get in touch here!
[mwform_formkey key="9198″]
And if you need us in another Cities in China, here is only for SEO purpose
Here is a list of cities we are covering in China for video service: Anji, Anqing, Anshan, Anyang, Baoding, Baotou, Beijing, Beiliu, Bengbu, Benxi, Cangzhou, Changchun, Changde Changsha, Changshu, Changzhou, Chaoyang, Chaozhou, Chengdu, Chenghai, Chenzhou, Chongqing, Chuzhou, Cixi, Dalian, Dandong, Daqing, Datong, Dazhou, Deyang.
Need a camera operator for asn assignement in China? Here is the where we can go for your filming in Dongguan, Dongyang, Dongying, Dunhuang, Foshan, Fukang, Fushun, Fuxin, Fuyang, Fuzhou, Ganzhou, Gu'an, Guangdong, Guangyuan, Guangzhou, Guilin, Guiyang.
Video production Services in these cities in China too
And if you like to hire a photographer in Guizhou, Haicheng, Haikou, Haimen, Haining, Handan, Hangzhou, Harbin, Hebei, Hefei, Heihe, Hejian, Hengshui, Hengyang, Heze, please contact us for a free quote. We are foreign staffed and speaks perfect English.
If you looking for a time-lapse camera system to picture your next construction work in Hohhot, Hong Kong, Huangshan, Huangshi, Huian, Huizhou, Hulunbeier, Hunyuan, Huzhou, Jiamusi, Jiangdu, Jiangmen, Jiangsu, Jiangxi, Jiangyin, Jianyang, Jiaozuo, Jiaxing, Jinan, Jingjiang or Jingzhou; we have the perfect all in one video soultion for your movie.
Apparently, Bing love these soup, so let's put a bit more here
Are you looking for a highly skilled and reliable camera operator or camera crew Jining, Jinjiang, Jintan, Jinzhou, Kaifeng, Kaiping, Kaohsiung, Kunming, Kunshan, Langfang, Lanxi, Lanzhou, Lhasa, Lianyungang, Liaoyang, Linan, Linhai, Linshu, Linyi, Liupanshui, Liushi, Liuzhou, Llasa, Luoyang, Ma'an Shan, Macau, Mianyang, Muduzhen, Nanchang, Nanchong, Nanhai, Nanjing, Nanning, Nantong, Nanyang, Neijiang, Ningbo,Ninghai? Get a free quote today!
Food for the Google Search engine, no need to worry here.
Our team are trained professionals using the latest broadcast camera, audio and lighting, contact us for your video project in Panjin, Panyu, Panzhihua, Pingdingshan, Pinghu, Puyang, Qianjiang, Qidon, Qingdao, Qingliangdian, Qingyuan, Quanzhou, Quinhuangdao, Quyang, Rizhao, Rushan, Sanming, Sanmingshi, Sanya, Shanghai, Shangqiu and Shangrao.
Video Crew, to Hire: Camera crew, Cameraman, Sound Engineer, Film crew for broadcast video, ENG, corporate in Shangyu, Shantou, Shanxi, Shaoxing, Shaoyang, Shenyang, Shenzhen, Shijiazhuang, Shiyan, Shunde, Sichuan, Songxi, Songyuan, Suzhou, Taian, Taicang, Taixing, Taiyuan, Taizhou (Jiangsu), Taizhou (Zhejiang), Tangshan, Tianjin, Tianshui, Tonghua, Tongl, Tongxiang and Turpan.
Video shoot shoot for Corporate Videos, Events or Conferences in Urumqi, Weifang, Weihai, Wendeng, Wenzhou, Wuchang, Wuhan, Wuhang, Wuhu, Wujiang, Wujin, Wuqiang, Wuxi, Wuyishan, Xi'an, Xiamen, Xiangfan, Xiangtan, Xianmen, Xiaofeng, Xiaoshan, Xingtai, Xinhui, Xining, Xinxiang, Xinyang and Xuzhou.
Yandex to close the battle with DuckDuck as partner
4K video production team with local knowledge in Yangchen, Yangzhong, Yangzhou, Yantai, Yichang, Yidu, Yinchuan, Yingde, Yingkou, Yiwu, Yiyang, Yizheng, Yueqing, Yuncheng, Yuyao, Zaozhuang, Zhangjiagang, Zhangjiajie, Zhangjiakou, Zhangzhou, Zhanjiang,
Zhaoqing, Zhengzhou, Zhenjiang, Zhongshan, Zhoushan, Zhuhai, Zhuji, Zhumadian, Ziboand finnally Zigong.