Veolia
Hong Kong Videographer
Corporate video presentation
Feb 2019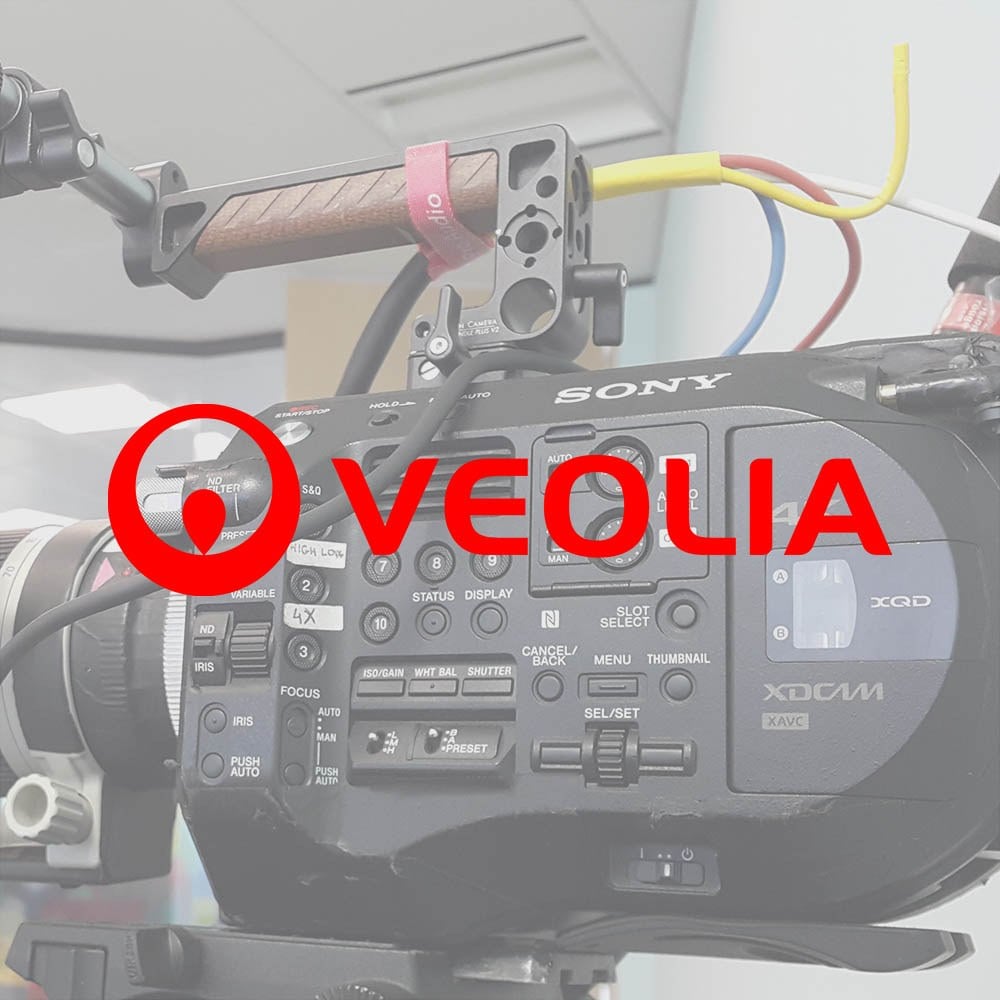 Looking for a Hong Kong videographer film one-to-one interview?
One to one interview is the most demanded assignment for us. Our Hong Kong videographer will be happy to serve you in your office, either here, Shanghai, Xiamen, or anywhere in Asia… We have a dedicated kit for these corporate video presentation, making sure we will get the best of your employees. It will takes about 90 minutes to setup the camera, light and microphone. As you can see, we use some +1/2 green gel to makes sure white balance in the room was matching our LED. The sun in Hong Kong is quite strong and many office building have a coating which may shift the color entering the building. As Veolia office do not have a wait to blind the windows, it was the best lighting adjustment to do. Our camera operator manage the one to one interview by itself, acting as a producer. This was possible as plenty of time was assigned for this day. It was great to spend with each candidate a bit of time and know more about their work.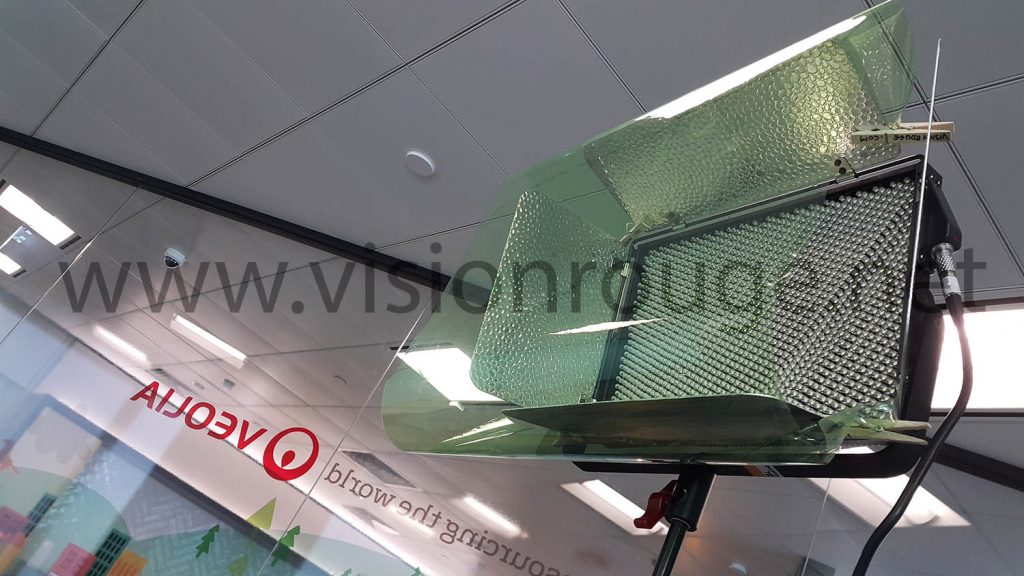 Usually, one to one interview are more to apply for a job, it's the most common one. It required the interviewer and the interviewee chatting in a room. With our Hong Kong Videographer kit, we want the camera to be as discreet as possible to keep focusing on the talking part. The cameraman will keep rolling to also get smiles and false take. This is great content to illustrate the personality of the team members.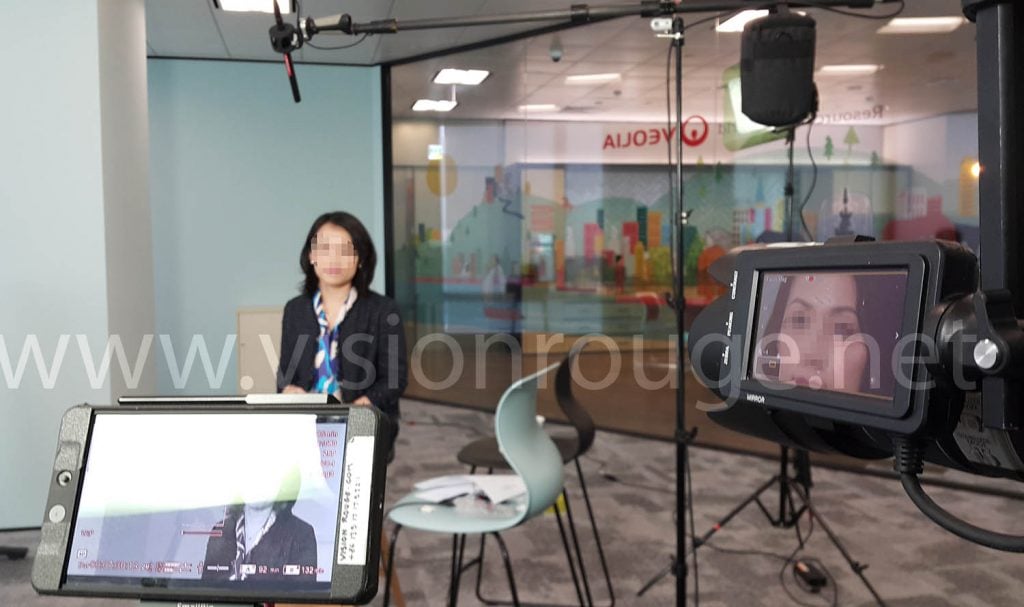 One-to-one interview in Hong Kong and…
Don't be afraid to ask if your project is not in Hong Kong, so far we have been working in many cities in China.
Shanghai, Beijing, Wulumuqi, Kunming, Putuoshan, Nanchang, Harbin, Xi'an, Lanzhou, Guangzhou, Nanjing, Shenzhen, Chongqing, Binzhou, Changsha, Shaanxi, Lianyungang, Dalian, Fuzhou, Harbin, Hefei, Jinan,  Nantong, Nanning, Shangri-la, Xishuangbanna, Chengdu, Tianjin, Shenyang, Hangzhou, Ningbo , Qingdao, Wuhan , Macau camera operator, Shenyang,  Suzhou, Taiyuan, Wenzhou, Wuxi , Xiamen, Xi'an, and the list is keep growing.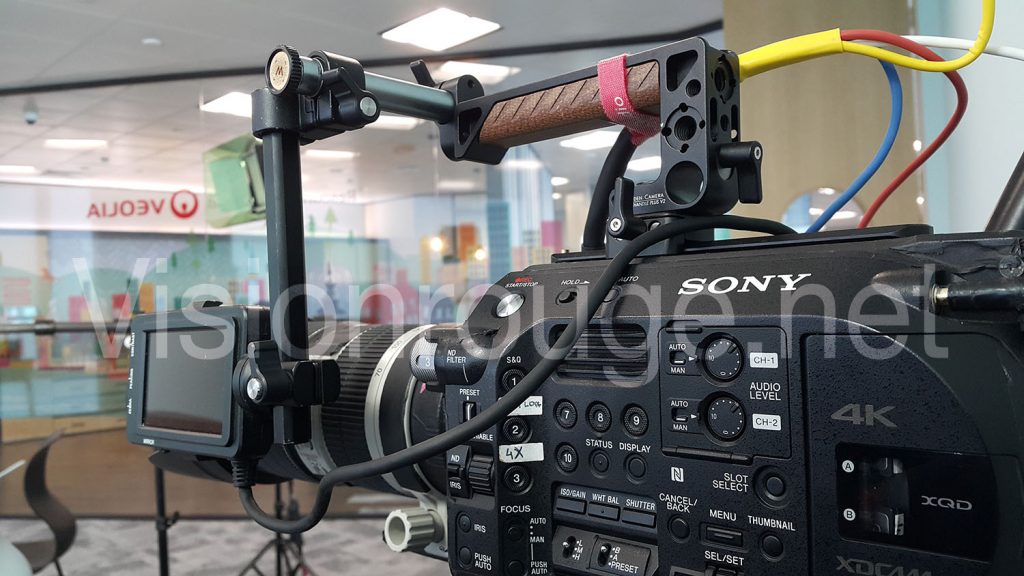 Corporate video presentation interview gear
Our basic Hong Kong videographer kit include a 3 points LED lighting. For this corporate video presentation; we contacted the team few day prior to the shooting to gather more details about the room lighting and orientation. Where we usually come with a bicolor light, we decide to swap for daylight only as a lot of power was necessary to fight the south oriented office.
For a One to one interview, the cameraman will also be the producer, so it was important to keep an eyes on the focus. with the Sony FS7 and a nice Wooden camera rig, it's very easy to turn the monitor sideways and keep all information close to the videographer view. The second monitor is very helpful to do the setup alone as a one man band was requested. It's also a great way to get a preview of the final movie and keep a zoom on the focus for the camera screen.
On the sound/audio part; a lavalier microphone on the subject feeding one audio channel. The overhead boom microphone with the Rycotte is used on the second channel. Both audio going first to a Sound device SD633 mixer to get the best signal and backup recording. Our videographer will have an eyes on the camera monitor and audio level to make sure all the recording is fine.
At the end of the day, all footage was uploaded on the the client server. He will edit it on his side as usual.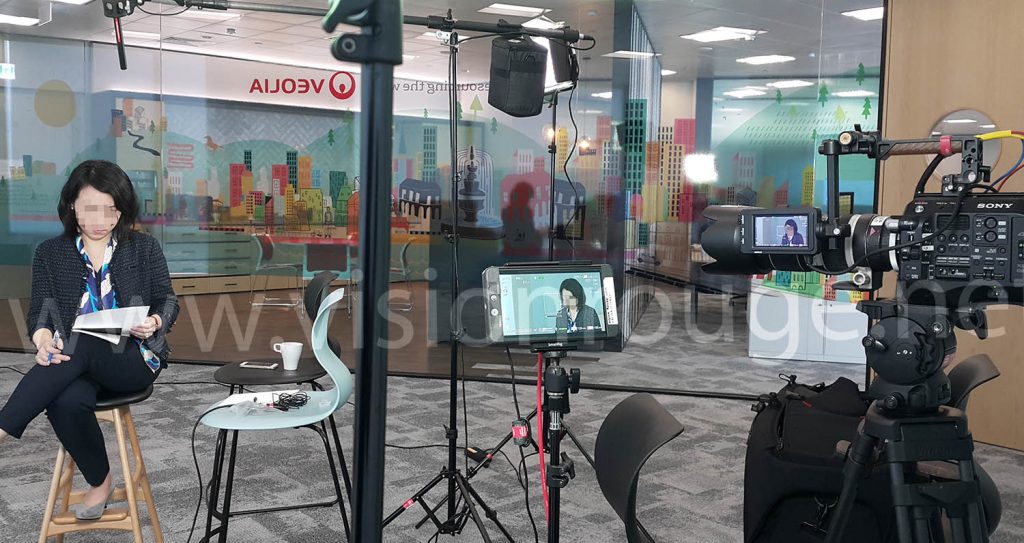 Day rate for a Hong Kong Videographer?
We like to make booking a video crew as easy as possible. We suggest you to link to this page for videography day rate in Hong Kong.
This page contain all different package and pricing to hire a Hong Kong videographer.
Contact us in Hong Kong. 
Feel free to connect with us for a free quote and stop worrying about your next shooting in Hong Kong.
Please visit VisionRouge video/photo agency in China contact page here.
Or Email us directly:
(If you need to send links or files, to avoid the spam filter)
c o n t a c t @ v i s i o n r o u g e . n e t