Sony FS7 2019 ultimate ENG Kit: Wooden Camera / Zacuto / Smallrig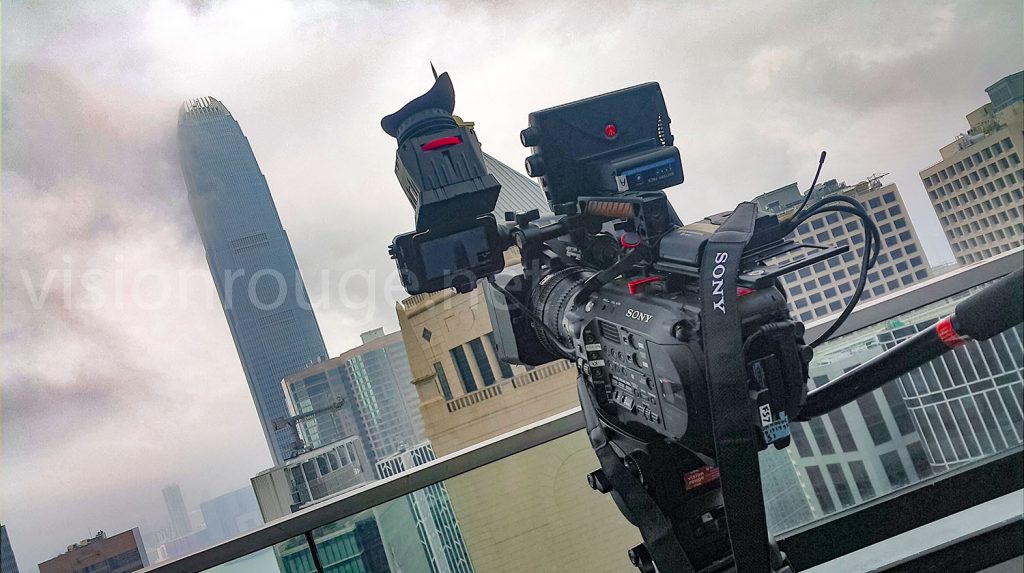 Zacuto, Wooden Camera & Smallrig for the 2019 ultimate ENG kit for your Sony FS7
As an happy owner of two Sony's PXW-FS7 (FS7M2 & FS7M1), I wanted to share my findings on the best way to gear it up for my camera operator on ENG assignment.
You can already see a similar post there done about 15 months ago during Victoria Secret Fashion Show in Shanghai. This is the new version that I used as freelance cameraman in Hong Kong last week. To gear up y camera I used few different brand as Zacuto, Wooden Camera and Smallrig.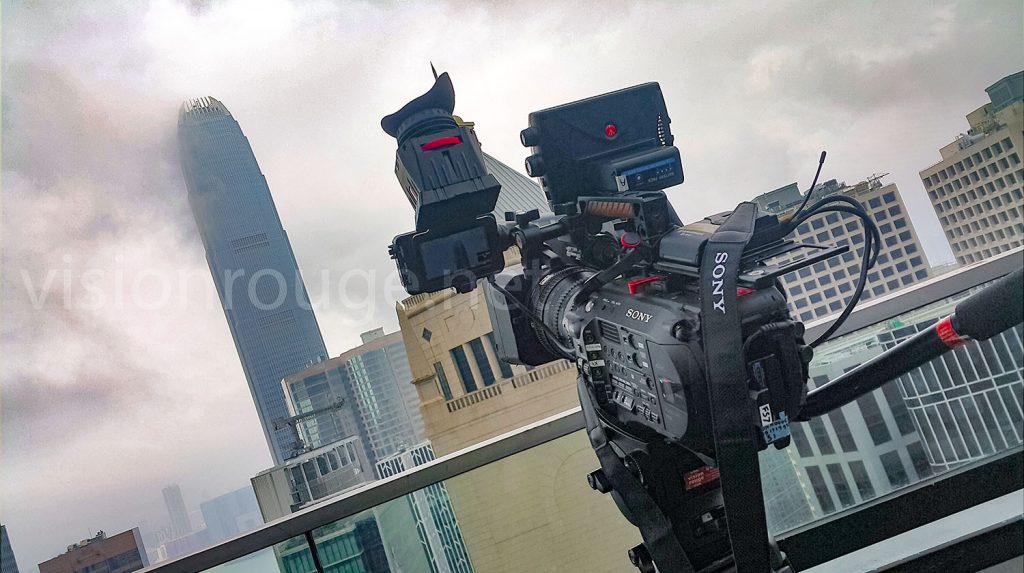 The idea, as usual, is to get something lightweight, but most important, extremely reliable.
When I'm talking about reliability of a video ENG camera rig; it means the very little details that can make a shooting becoming a success instead of a nightmare. Loose screws and cable disconnection are the thing I want to avoid.
I have been shooting videos since the the new millennium. The amount of shooting days is getting closer to 1,000 now. So reliability is not getting something designed in a bedroom for nice colorful Instagram pictures on social media, but completely unusable in real life situation.
Please contact me if you like to hire a ENG camera operator in Asia.
Which accessories for ENG RIG on FS7?
Obviously, you will need to look at third party providers to accessorize your camera kit with extra handles or shoulder mount and price is not always what you should care the most. At the end of the day, a flimsy locking device on your EVF can ruin your camera work. There are plenty of offers and unfortunately, not one to fit all the needs. I have tried to sum up the one I think work the best for a nice price. Again, this is based on many shooting days in China and Hong Kong, under any possible condition a videographer may meet.
I also keep in mind that a single camera operator should be able to carry all in a small bag when using planes and setup a full ENG rig in an instant, tool less, of course.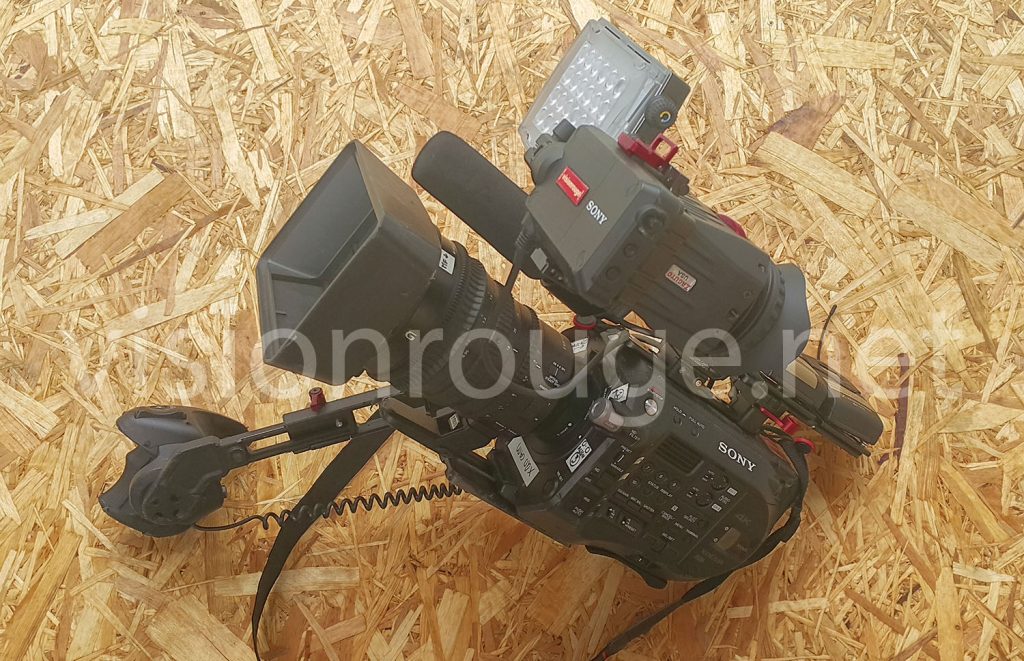 EVF Zacuto Z-Finder Version 2 for FS7.
This is a new upgrade from version one with, this time, an adjustable diopter. It's quite incredible that the version 1 did not have such, BTW. I have been using the Gratical eye for a while and got very mixed results. First, I own 2 units and got 3 time one unit failing in the middle of the shot. The unit powers up, but a blue screen with only the menu to be displayed on the Gratical eye. The SDI input just died. Zacuto was nice enough to accept repairing for free, arguing they found where was the problem; but it was a pain to work with bright daylight these 3 shooting day, not talking about the poor service from B&H who take 3 months to get the fix done. Zacuto explained me that the main board was supposed to get cooled down by the external enclosure. When the board is slightly disconnect, it can't be cooled down as there are no contact with the radiator and the SDI input board fried.
Sorry Zacuto; you have a nice product for this price but I need a bit more than that, apparently. 3 time failure is not bad luck.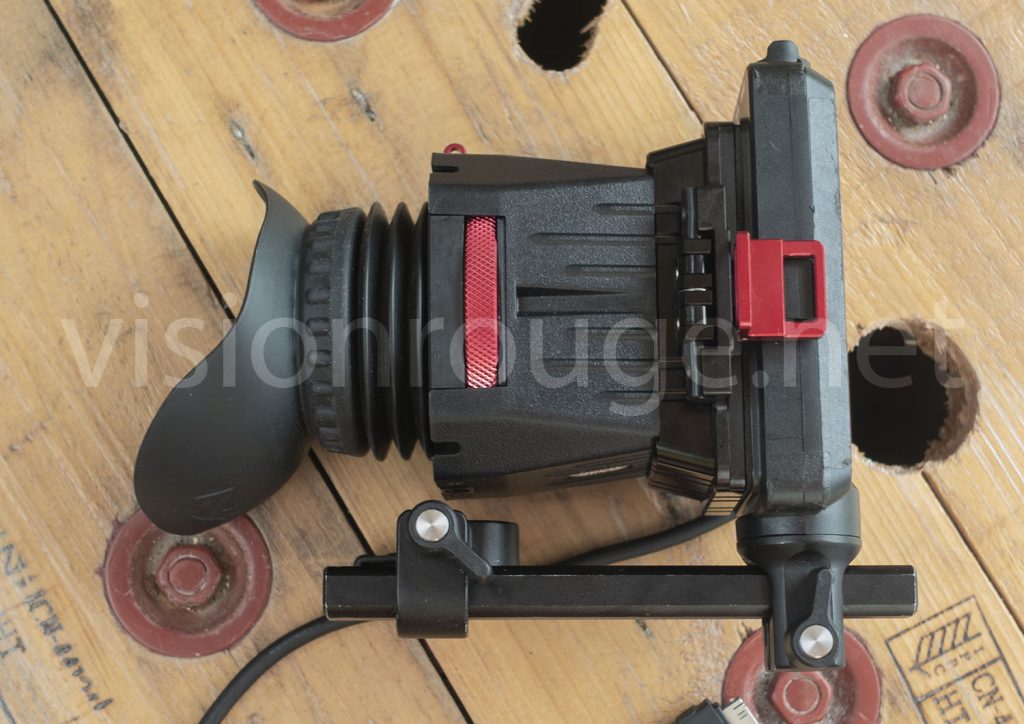 The second issue is the fact that there was no power button, so it's easy to keep it on all day, with a risk of using more power than it should or having the screen marked. It also use 2 more cables to the ENG RIG; one for the signal, one for the power. I experimented also a broken cable once, so getting a spare is a must.
Next detail, is that you need to find a way to support the EVF itself. So it brings to the Sony ENG kit a bit too much extra weight.
Last but not least issue is the peaking display from the Zacuto EVF Gratical. I found it was less accurate than the one directly form the FS7 camera monitor. Everything could look either red or not in some dimmed situations. As I also like to get shooting details on my screen; all white menu become red when I press the peaking on the Zacuto Gratical EVF. One way around would have been to get a peaking from Sony FS7 on one SDI video output; but so far, I don't know how to do that. (firmware update? Anyone?)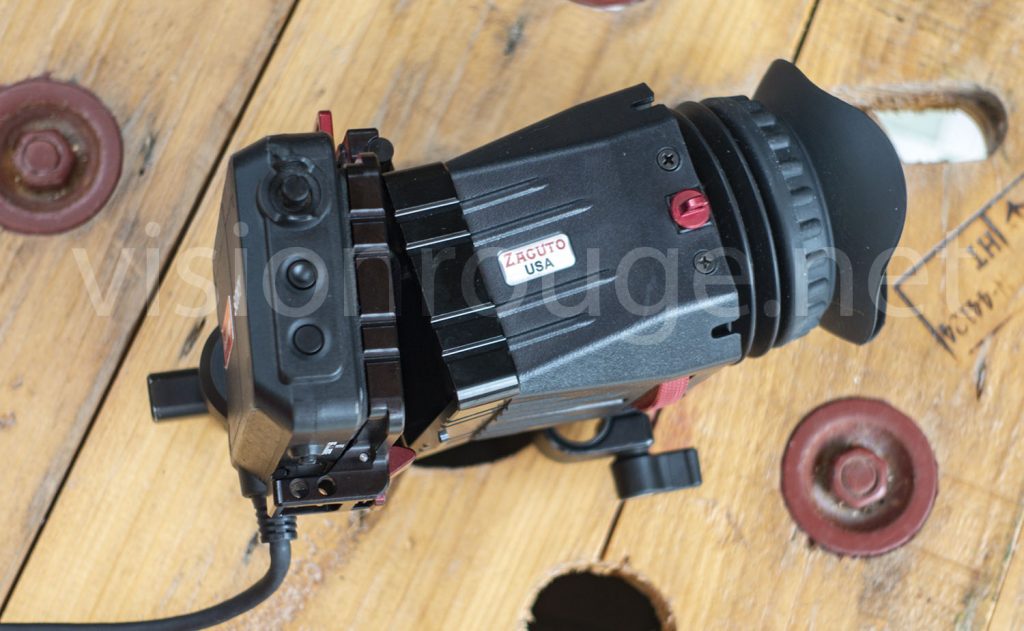 I another hand, the EVF coming with the Sony FS7 camera; all in plastic is a bit too long and may be seen if you are using a wide angle as the 10-18mmF4 Sony lens.
So getting the Zacuto Z-Finder mark 2 on the original Sony FS7 screen was a great improvement on weight, reliability and performance.
The Z-Finder can flip  over and also easy remove to fit both version of Sony PXW FS7. It's in aluminum and is pretty solid.
I still bring a small screen with me in case the FS7 monitor got damage during a shooting as it's the only way to get access to the menu. This extra screen helps setting up interviews as well before the arrival of the interviewee. You can do the stand in and check the result with a 5m SDI cable attached.
Zacuto FS7 II Trigger Grip
The right handle is also a from Zacuto. I have tried the Shape version, but I found the push under locker on the Zacuto better than the push on the side of the Shape. Also it take way less space in my bag. It also very simple to break it down in 2 pieces and save a lot of room. The last advantage is the possible twist effect you can dd to the arm, letting you adjust it to your body morphology. I like the fact that it can still be put upward to let the camera sit on the floor, even with the large Sony sun hood from the 18-110 mm zoom lens. The only downside is to be compatible only with the FS7 mark 2.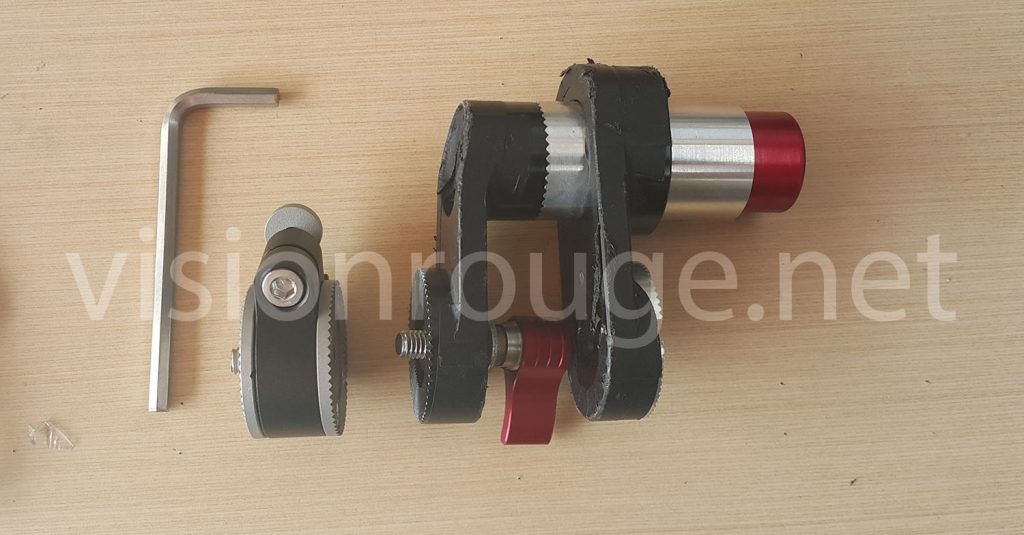 You also have an option from Wooden Camera with a new Arri rosette push button system, but it will forbid you to lift up the arm when you like to put on a tripod for example, if using a large lens. The arm will go up and touch the lens. And I'm not sure about how strong this can hold. For some overhead shot, I'm sometime holding the full rig with only one hand-grip on top of my head.
Wooden Camera NATO Handle plus V2.
The top handle come from Wooden Camera and with such a name; it have to be good! Here too, it's the version 2 which is a perfect static system, both from the NATO rail under and the horizontal rod. You may have seen before the one I was using from Smallrig in the past, but after intensive real nature life testing in Shangri-La, I can clearly says that Wooden Camera is way more precise and solid. The last thing you need when climbing a small road in the middle of nowhere is to get your camera on the floor. For example, on the copied version from China, the colored "wood" part holds with 2 screws only, where Wooden camera have 5 of these!
The major difference is in the tolerance too and material used and the result is a perfect lock and smooth rotation. Yes aluminum came with different grade, … and price.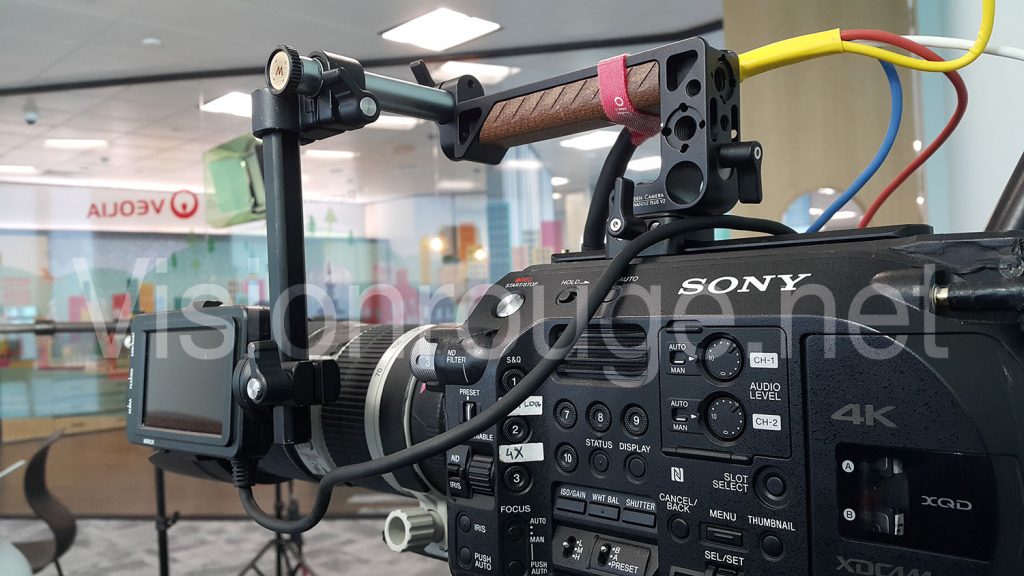 I added the wooden camera Arri mount which is perfectly static and lock the 15mm rod firmly. This is a major change from previous version from China. Here is a possible setup I have used in an office in Hong Kong last month.
15mm aluminum Rod from Zacuto
I did not use the Wooden camera UVF accessories, cause they have a little shape on the side and it do not allow to put the original Sony EVF support to be right at the border. Instead I picked up another aluminium Zacuto rod, (but still used the small cap with a large W to get fanboys confused)

Again, the poor quality control on the Smallrig makes them almost not rounded and impossible to lock or slide smoothly as the American version. At the end of the day; you get what you pay, I guess. Having a not straight monitor or a slowly sliding EVF is not very convenient.
With the position as showed in this picture, the camera is balanced when you pick it up and the viewfinder is at the right place. I can easily slide it if I change lens, and also remove the handle in no time to put in my bag. Without any cable with the EVF this time, it's even safer.
Long NATO rail from Smallrig.
This rail top plate is there from day one and I still think its a great idea. I have to drill it a bit to makes sure the screw are perfectly fitting the Sony FS7 Camera and do not raise too much over the top. As you may have guess, this is also the same setup I'm using to put my FS7 Sony on a DJI Ronin M with the lightweight setup ever. I wish Smallrig could come with a longer version and a bit more depth for safety reason. I'm now investigating from other brand a way to get this done, using a Wooden camera long NATO UVF arm for example. Please visit this page to see how a FS7 can be put on the DJI Ronin M gimbal using the amazing Smallrig cage. You may need to cut some carbon rod and buy 4 screws, but the overall result is fantastic.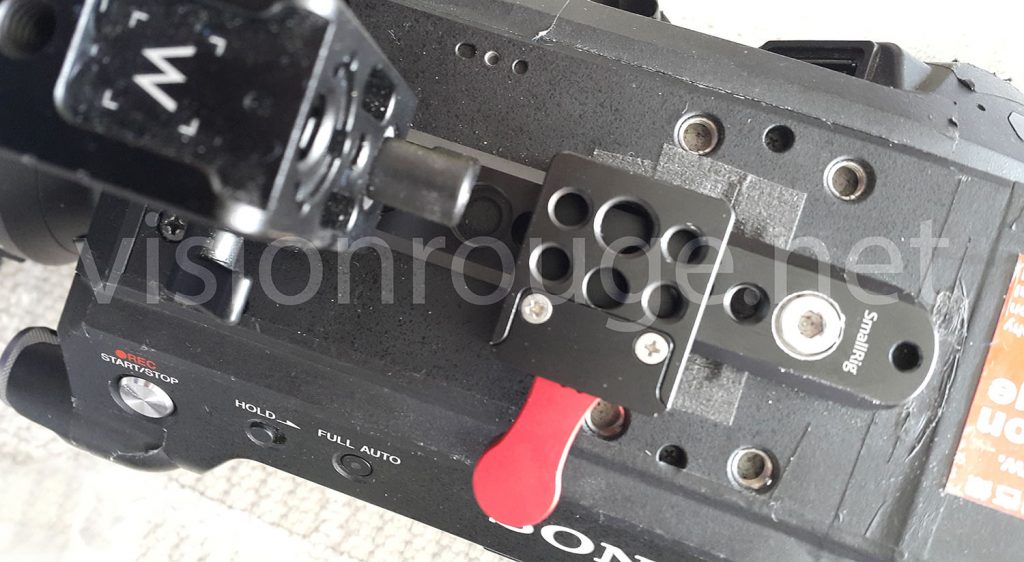 Smallrig Wireless mic receiver holder.
Even if it's look like these wireless support plate are not on their catalog anymore; this was a great way to keep you sound setup on top of your Sony ENG camera kit. It's also super easy to slide it or not, depending if you plan to do interviews on your day. Here you can see 2 audio wireless receivers, but I also use it with only one, using the second spare plate to put the Sennheiser lavalier microphone emitter. It have the advantage of balancing a bit the rig on your shoulder as bonus.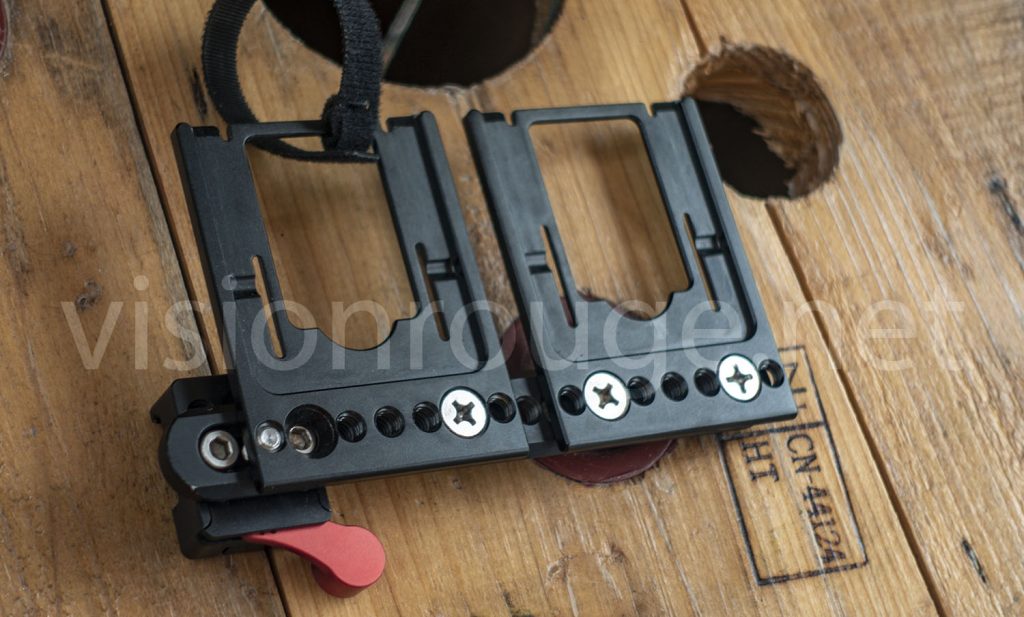 I also have used another low profile NATO rail locker from Smallrig and a long NATO plate to fix all of this. All is maintain by 2 screws and I feel confident to go in a rough environment without damaging this rig. Again, it's super easy to drop the wireless plate on my bag at the end of the day with the top handle and get the camera a nice low profile body. NATO rail are everywhere and It can be locked on another rig in a second without using scratch tape or tools.
No shoulder mount?
Well, there is small pad at the bottom of the Sony FS7 and I'm mainly using it this way.
I also have the nice Zacuto base-plate and the Smallrig one. Non of these are great for my use.
The Smallrig do not fit all the VCT14 plate and is heavy for no reason. It also do not have a symmetrical pad on the shoulder. The Zacuto have my preference, but they make the camera sliding plate tricky to use. Also, I'm not fan of the VCT system anyways as it's way to heavy for a lightweight setup. It can easily add extra 2 KG to your tripod head, and this will impact on the tripod stand you will bring all along and your back-pain at the end of your shooting day. Still looking for options.
No Camera Strap.
Same answer on this item as I did not found anything I liked too much so far. Getting camera on the shoulder to be later on strap when you are moving location is great. Feel free to comment on possible idea to recommend.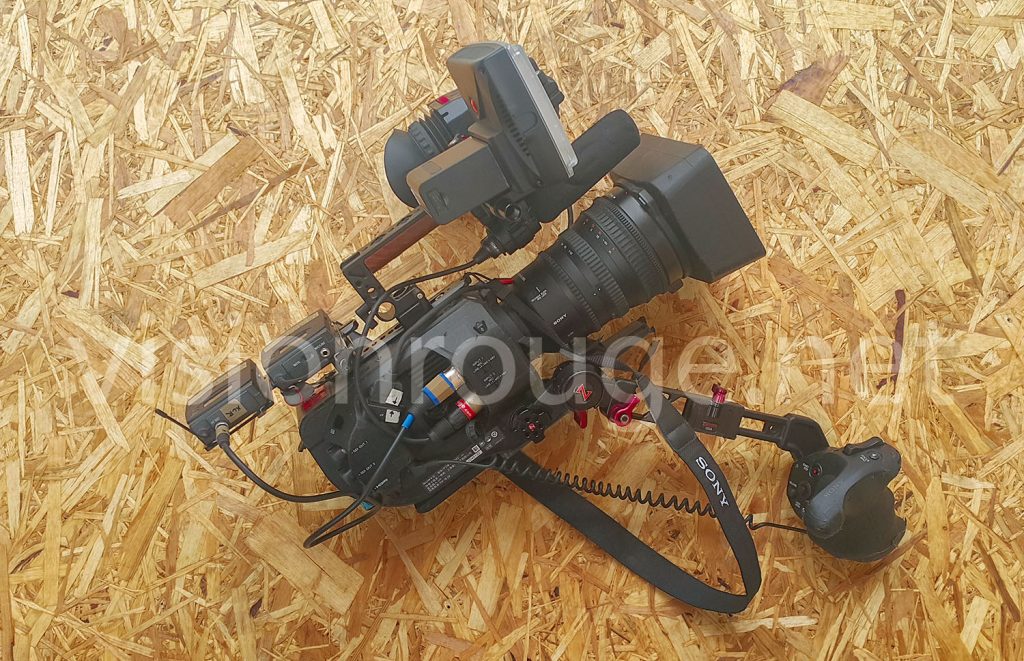 Spectra 2 LED from Manfrotto/Lite Panel
I was fortunate enough to buy this item from a friend at a discount price, cause it has so many design flaw that Lite panel should not be on the name. I will says it's a nice LED system put on a poorly designed Manfrotto product…
This is a bi-color LED on camera very powerful and accurate but the battery locker is just to be avoided. I like the fact that the button can be adjusted on the fly without push button and a simple on off switch is also present. I would I loved a rear Led power on indicator to not forget it sometime, and a nicer on off switch. The one on this model is not easy to slide and too small if you have gloves for example.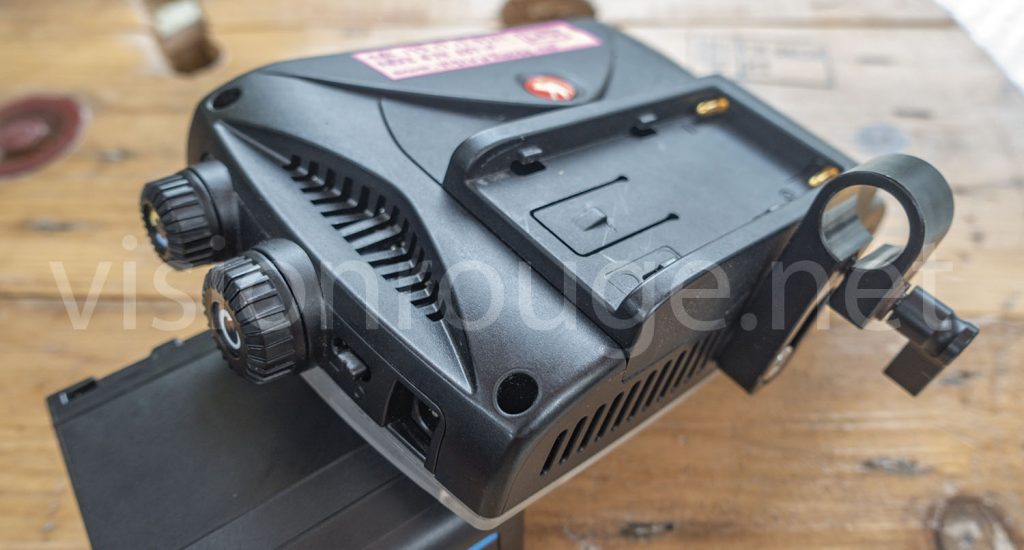 Again the main complain it the battery locker which just "hold the battery" On my design, I used a small Rod lock from Smallrig and slap the Spectra 2 light on the side of the camera handle. This way, the battery can't fall off. It also allows me to tilt it up to light a ceiling room to avoid a direct lighting to the guest.
On my next attempt to the ultimate ENG rig, I may have the battery pack with a separate NATO locking system. This will balance the weight on the rear. I will add a power cable to the LED on camera…
IDX battery BP-U98 with Dual D-tap and USB
I initially thought upgrading from the the Swit 8u93 battery battery(review here)to IDX will be nicer with 2 D-Tap outputs. Powering a monitor + EVF or LED + monitor was the idea when I choose IDX instead of my old Swit on my second Sony FS7. Well, it turns out it was a bit more complicated as the battery have a weird behavior. Even by tweaking the camera menu, I was not able to get the same capacity indication depending the way I was powering the camera. A simple test of connecting the battery with the BP-U connector alone shows on the Sony FS7 way less available power than using the D-Tap output and the camera external power supply input. So it means to get a small power cord, going from the D-tap to the camera body instead of just sliding it as it should. I have 3 x IDX batteries BP-U98 and they all acting the same.
I was disappointed by the Swit BP-U 8U93 battery as they have only one D-Tap output on the top which makes it very hard to connect accessories. A 90 degrees D-Tap connector need to be added and it's honestly hard to keep I fully connected when holding the camera on a shoulder. But having a second D-tap on the IDX is not so much improvement as you sill using one to power the camera.
The difference in power available is quite dramatic with an extra hour of juice using the D-tap output directly. It's seems also ore in phase with the LED display on the back of the power pack. By connecting the IDX battery to the camera only using the Sony BP-U connector; the low voltage alarm starts when one LED level is reached. Using the D-tap output will make your camera cry when the last LED is reached.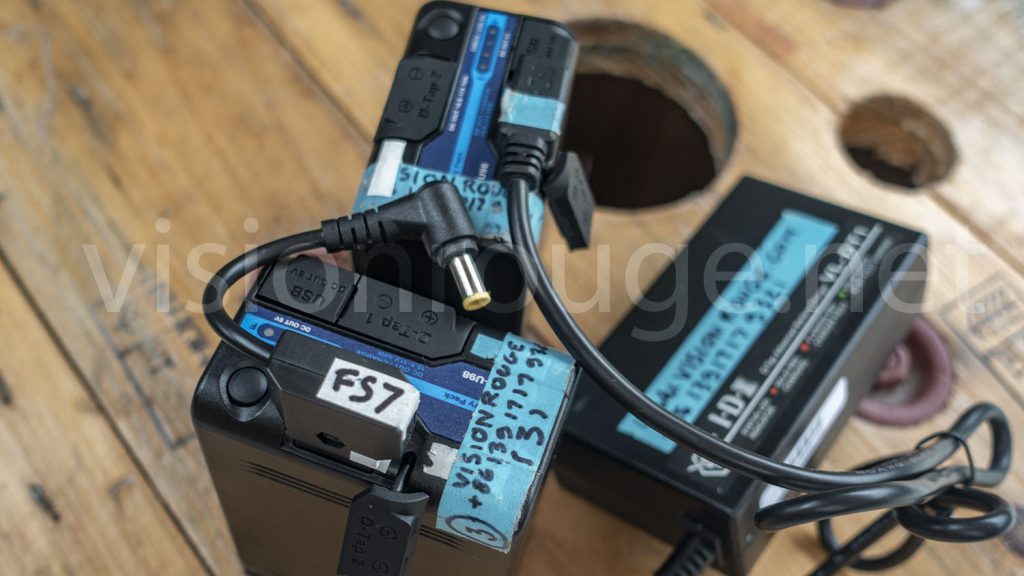 I still recommend to move to IDX from the Sony one's as it's about 4 hours of power even recording 4K. They also have USB output to charge your phone and that's one less accessory to bring on your bag.
Conclusion.
There is not one brand to rules them all when it come to tweak your camera kit as single camera operator. More important is there is also no surprises when comparing price and actual quality of a product. In a world where copycats are everywhere with different names; it's important to check what each component is actually made of. New comers are still far from competition in the world of precision and quality.
Being prepared for almost anything means that you need a bit more than just the basic kit. I also think that a too large rig is not so welcome to fit your client audience and your body resistance.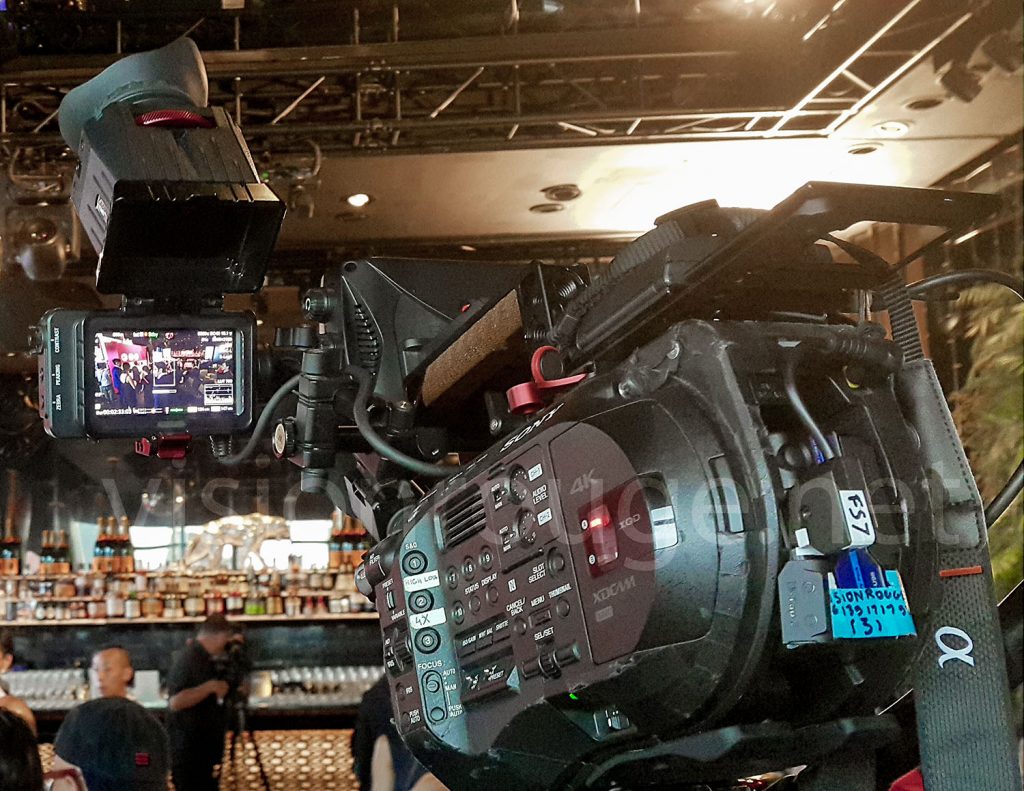 I do not any affiliation with any of the camera rig brands I'm referring in this article. Feel free to connect with me for extra details and questions.